By Christina Knight for NYC-ARTS
Fashion Week has stepped into the spotlight in New York, and hot on its high heels is the new exhibition Shoe Obsession at the Museum at the Fashion Institute of Technology (FIT), showcasing 50 international designers and 150 contemporary shoes to make you weak in the knees. NYC-ARTS asked co-curator and trailblazing fashion academic Dr. Valerie Steele why shoes drive us crazy -- in the best way -- and spoke with designers about what makes their creations anything but pedestrian. Here's a look at 10 shoes you'll wish you had in your private collection.
Why are shoes such objects of obsession? "That's the $64,000 question," said Steele. "They're an intimate extension of the body and seem to say so much about our attitudes, aesthetics, sexuality and social status." Sculptural quality, she added, is another part of the appeal. Viewed in their tall glass display cases, these shoes certainly look a lot like art.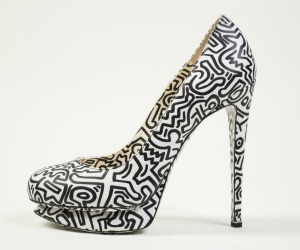 Steele wore Nicholas Kirkwood sandals at the press preview for Shoe Obsession, but in the spotlight was the Nicholas Kirkwood x Keith Haring ) fall 2012 pump, which the English designer created in association with the Keith Haring Foundation. Haring pounded the pavement of sparkling Manhattan schist in the 1980s, and Kirkwood overlayed Haring's prints on his shoes with Swarovski crystals in 2011.
Street art fans: Haring's Crack is Wack mural is on permanent view in Harlem River Park. A show of Haring's fellow street artist Jean-Michel Basquiat opened Feb. 7 at Gagosian Gallery. Groundswell is a mural project that brings street art and graffiti into the realm of public art... and perhaps fashion.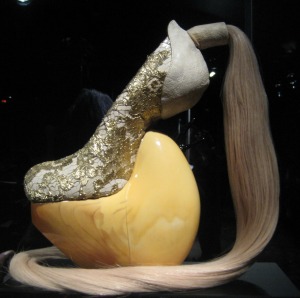 Masaya Kushino's Lung-ta is named for the Tibetan word for "wind horse." Much of the Japanese designer's work references the natural world, but Lung-ta was inspired by the French equestrian theater company, Zingaro. The "pony tail" of this design is made of human hair rather than horse hair, because "the shoes are for a person," he said. "The design has to be in sync."
Kushino's inspiration doesn't come from epochs, places or people, but from the object itself. "It could be art," he said, "it depends on what the individual thinks." Though busy with Fashion Week events, he's taken time to visit galleries in Chelsea, including Gagosian.
Nature-in-art fans: Leather, animal hair and symbols are used in some of the 700 Native American art works at the Infinity of Nations exhibition at the National Museum of the American Indian. Robert Dutesco has captured the wild horses of Sable Island in photos and 16mm film at the Dutesco Art Gallery.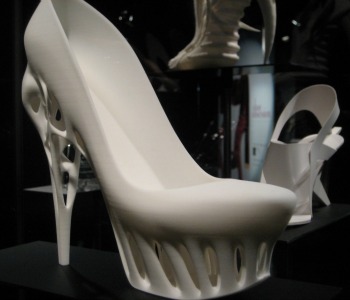 Dutch designer Marieka Ratsma hovered near her haunting Biomicry shoe, based on the skull of a bird (see the heel), the bones of which are tiny, yet strong. The entire shoe is made of 3-D printed nylon, poured one layer at a time, by the Dutch firm Shapeways, which also has a New York City location. Ratsma embraces new technology and looks forward to hybrids that are handmade but also include biodegradable parts.
Is it art or fashion? "I don't want to be a fashion designer or an artist, I want to keep it in the middle," Ratma says, who looks to the world around her and the news for inspiration. She does wish she had time to visit MoMA and see Picasso's work.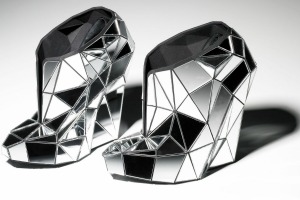 Andreia Chaves' Invisible Shoes (2011) is the result of her focus on optical effects. When she came up with this concept of mirrors as camouflage, in which the shoes reflect the wearer's environment, Italian artisans told her the geometric structure was impossible to make by hand. Her solution? She turned to a 3-D printer to create the structural webbing that supports the mirrors and hides a handmade leather pump.
Chaves wanted to see PUNK: Chaos to Couture, but that won't open until May at the Metropolitan Museum of Art, but she'll still visit the museum this week.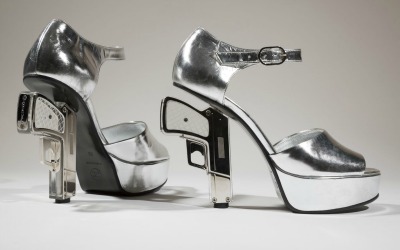 Looking at the smokin' hot Chanel platforms with pistols for heels from 2009, Steele said "The very fact that you refer to a high, thin heel as a stiletto [implies] there's a weapon quality to high heels. The heel is one area in which shoe designers are playing with shape, form and symbolism."
NYPD Blue: If you're feeling a little Angie Dickinson in "Police Woman," head to the NYC Police Museum to see flintlock pistols, police rattles (precursors to today's whistles), shields and badges used before and after 1898.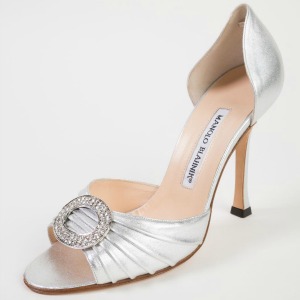 Of course there's a display case dedicated to Monolo Blahnik, famous for filling Carrie's closet on "Sex and the City." This Manolo Blahnik from 2003 is one of the daintier numbers in the exhibition. Referring to his shoes from the 1980s to the oughts, Steele said, "Blahnik is the first superstar shoe designer and from this you can see how shoe heights have gotten higher," said Steele. "But he always resisted platforms."
"Sex and the City" fans: Of all the places to walk in the footsteps of Carrie Bradshaw, none are as timeless and grand as the New York Public Library, where Mr. Big ruined her wedding day, but she looked striking in her Vivienne Westwood dress and Christian Dior gladiator heels.
Gianluca Tamburini's Poisonneuse is inspired by poisonous plants from the Amazon and decorated with semi-precious stones including peridot and amethyst gems. While he loves nature, mechanics is also important to him. He lives six miles from the Ferrari factory in Modena, Italy, and uses the same aluminum facility as the car company to make his soles --- cut with a CNC5 axis drill --- accommodate the ball of a woman's foot with as much comfort as possible. He said if he could take time off from the hustle of Fashion Week, he'd love to visit one of the city's zoos.
Plant, zoo and mineral lovers: The New York Botanical Garden's Tropical Paradise will warm you up this month. The Bronx Zoo is nearby, but Central Park, Prospect Park, Staten Island and Queens have zoos as well. Behold a gallery of glittering gems at the American Museum of Natural History.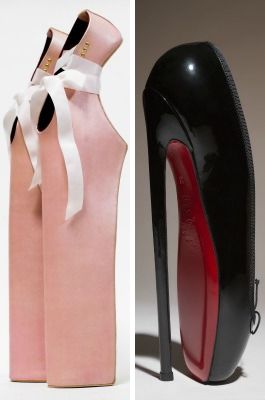 The ballerinas who create the illusion of dancing on air have inspired many fashion designs. Noritaka Tatehana created Lady Pointe (2012) (left image) for singer Lady Gaga. We hope Lady Gaga had her Little Monsters to carry her while wearing these 18-inch stilts. At right, bearing his signature red sole, is Christian Louboutin's Fetish Ballerine, 2007, which perfectly captures the masochistic side of pointe shoe dancing.
"High heels shoes in particular say so much about gender and sexuality, " says Steele. These platforms take it to the extreme.
Get your dance on: You still have time to catch New York City Ballet's season -- Sleeping Beauty is performed Feb. 13-24. In March, the Russian National Ballet arrives in town with Giselle with choreography by Pepita. If barefoot is more your style, Ron K. Brown/Evidence, A Dance Company is performing Feb. 15-17.
The inimitable Daphne Guinness, a close friend of the late Alexander McQueen, loaned her McQueen jointed-heel pump (2010) for Shoe Obsession. Steele so admires Guinness' style that she made the avid fashion collector the subject of an FIT exhibition in 2011. This McQueen heel gives the pump a steampunk feel while also recalling childhood efforts to test our imaginations with erector sets.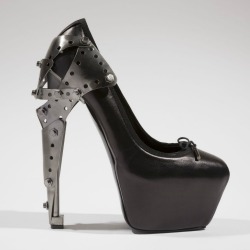 Want to build something?: If your interest in structural support goes beyond high heels, have a look at the Skyscraper Museum, where exhibits and family-oriented workshops let you think bigger about design.
The connection of fashion and the arts is something that Steele constantly addresses in her work at the Museum at FIT. Outside her own show, she said there's one in particular she'd like to see: Drawing Surrealism at the Morgan Library, which highlights works on paper by artists such as Salvador Dalí, Max Ernst, Leonora Carrington and Joan Miró.