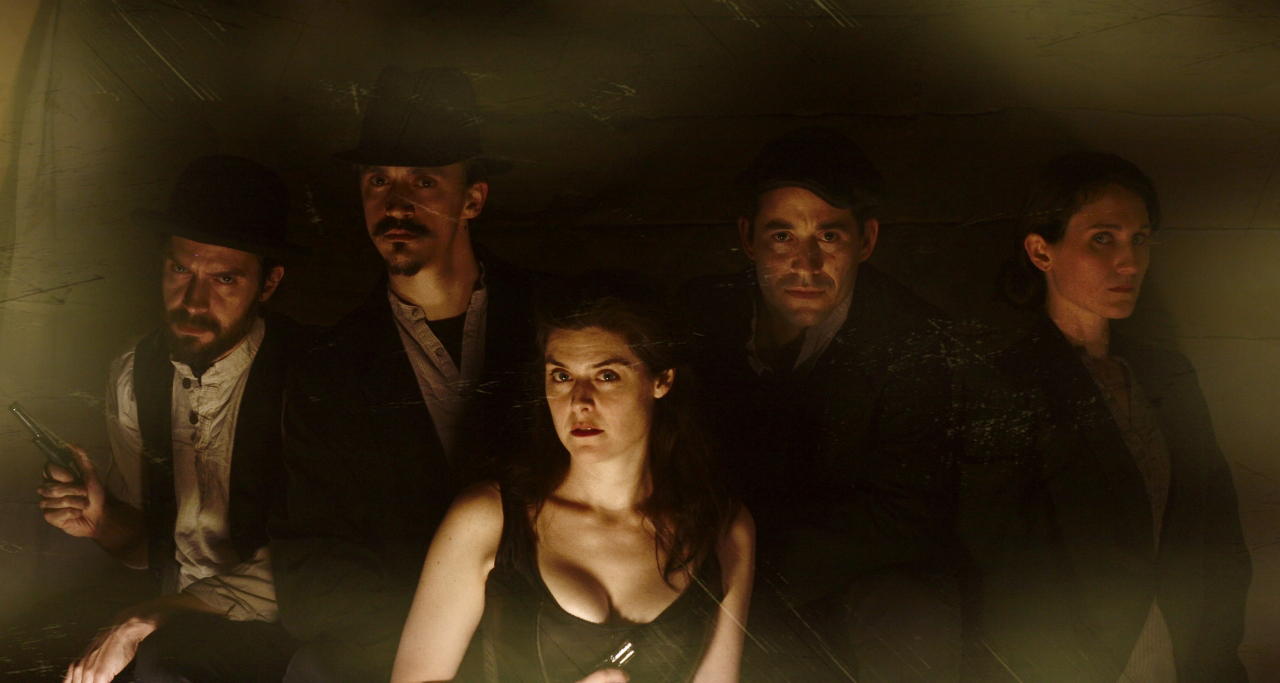 The new play The Pinks toys with cinematic techniques such as jump cuts and slow motion to tell the story of two little known women in Civil War history. With an ominous, tonal score, shadowy characters and a monochrome set, the opening evokes the world of film noir, with its particular combination of investigation and introspection. Two 3-by-6-foot platforms are used as the stage and storyboard frame -- or camera lens if you will -- to compose each image.
Developed by the group Gold No Trade from scores of interviews and years of research, The Pinks begins on the eve of the Civil War in 1856. Confederate Rose Greenhow is in Washington spying on the North and sweet-talking her way through the town's politicians and military generals. At the same time, the witty and wily Kate Warne convinces the Pinkerton Detective Agency to hire her as its first-ever female detective with statements like, "A woman spy? How progressive those Confederates." She is sent undercover to Greenhow's house just as the "Wild Rose of the Confederacy" is about to intercept a pivotal message about an attack.
Seventy-five minutes later, it ends with Greenhow's poetic death, sinking down to her watery grave. But Warne and Greenhow's characters are not cast in broad strokes of good and evil. We see Greenhow's abhorrent acts as a defender of the Confederacy, but also her sympathetic qualities, and in addition to Warne's heroics, is her betrayal of a fellow Pinkerton.
The dialogue, written by founding co-member Megan Campisi, targets empathy for these nuanced female characters. "Me? The villain of this story?" says Greenhow to Pinkerton. "It's all a matter of perspective."
"The values of the Confederacy makes my blood boil, but I also believe in tolerance for people's beliefs," says Campisi, who plays Greenhow . "Rose supported slavery, which is as morally bad as it gets, yet she had so many qualities that I can respect in a person -- she was loyal, well informed, naturally smart, charming, tolerant and quick witted."
In the research phase, Campisi dove into 20th-century dime novels, which were the cheap mass serials of that time, spoke to Civil War experts and even found Greenbow's memoir online. "We always geek out on research," says founding co-member Kevin Lapin.
Campisi and Lapin met in 2001 at L'Ecole Jacques Lecoq in France, a physical-theater school often associated with clowning or mime, but which also emphasizes movement and collaborative theater. It was there that they forged a partnership that would become Gold No Trade.
Now based in Brooklyn, New York, the ensemble considers supporting women in the arts, both on and off the stage, an important part of its mission. "There are so many women actors but the roles out there are so limited," says Lapin. "I think it's important to have good roles for women."
In addition to The Pinks, Gold No Trade's productions have addressed other forgotten moments in history, including female convict ships in the 18th century, and most recently, the story of a Western doctor who travels to China and "discovers" pulse diagnosis. Their work -- not pure physical theater, but an inviting blend of literary drama and low-tech design -- eludes easy definition.
Using only a handful of props, the cast of five changes scenes and characters by literally changing hats (from maid to conductor to chef) and simply transforming a stool into a liquor cabinet, or a lampshade into a bonnet or an actor into a door. Campisi explains:
It's not like a typical play where everything looks realistic... I like to use the example of visual art. One of the reasons painting is such a rich genre of art is because there are so many styles -- both realistic and abstract -- but they can all be truthful. I think there's value in having that kind of diversity in theater too.
With this style of Object Theater, as they call it, it helps to bring with you a bit of imagination and humor. At the venue for The Pinks, Collapsable Hole, it also helps to bring a seat cushion for its hard, wooden risers.
Performances take place at The Collapsable Hole, 146 Metropolitan Avenue, Brooklyn, NY, Thursday through Saturday March 14-16 and 21-23, at 8 pm.
By Perry Santanachote for NYC-ARTS