by Cristina P. Alesci
Gregory Smith calls himself the gardener of a grassroots movement that drove a crowd of Brooklynites to march over the city's most iconic bridge in support of Barack Obama. But Smith was more of a cheerleader than a groundskeeper on Saturday, as he jumped up and down demanding marchers repeat the candidate's buzz phrase--"Yes, we can."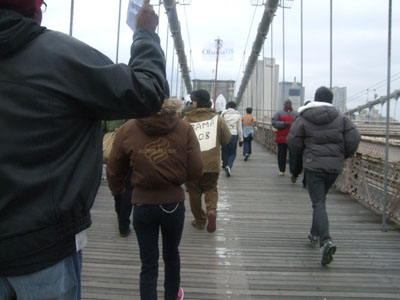 Obama supporters on the Brooklyn Bridge
An immigrant from Jamaica, Smith said he first reached out to Obama in 2004. Shortly after that, the then-Illinois state senator responded by asking Smith to introduce him at a Brooklyn fundraiser. Since then, Smith has been backing Obama's White House bid.
"The day he becomes our next president the world will look at us differently and the world will see that at least we elect a president that did not support this war from the start," said Smith, a 40-year-old father of two.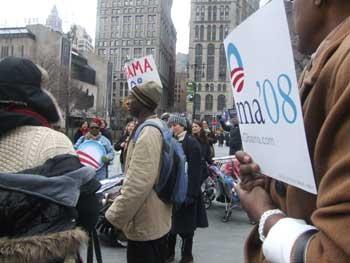 After the walk, marchers are still energized and cheering
Despite his vote in favor of a 2005 Defense Department appropriations bill to continue funding the wars in Iraq and Afghanistan, many at Saturday's rally cited Obama's early stance against the war as their chief reason for supporting him.
The marchers' sentiments, along with MoveOn"s endorsement on Saturday, offer further evidence that Obama's anti-war message is sticking. This issue may hurt Hillary, especially among those voters in New York and California who have a visceral disdain for continued U.S. military operations in Iraq.
"I think, of all the candidates, he is the best. Before we were known as the ugly Americans and now we are known as the really ugly American," said Charles Hylton in front of City Hall after the walk. "Obama will change that."
One of the few (and perhaps the only) undecided participants at the event, Marisa Suescun, mentioned that Obama's potential to improve America's image overseas is an important factor in her decision.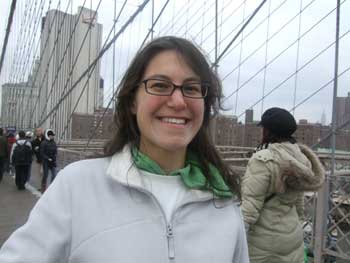 Marisa Suescan said she will decide on Tuesday
"His experience with human relationships, intelligence, flexibility and willingness to listen will help us with our foreign diplomacy," said Suescun who has also volunteered for Hillary's campaign.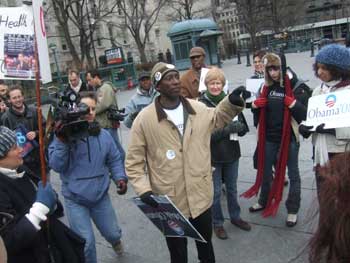 Smith urges people to vote for change on Tuesday