Check out the heaps of hotties that hail from the land down under.
We'd love to take any of these Aussies out back for a quickie. Settle down with a tinnie of Foster's and drool over our list of Australia's sexiest spunks of all time, mate.
Miranda Kerr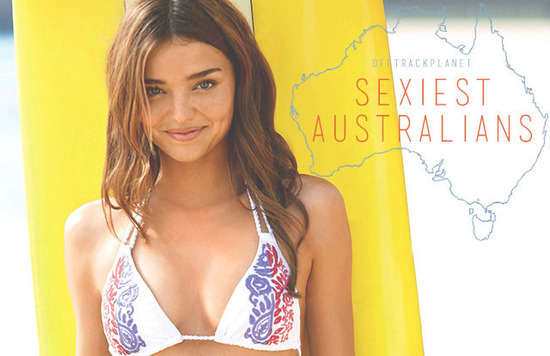 Photo by: discutivo
Fashion supermodel Miranda Kerr rose to fame when she became Australia's first Victoria's Secret Angel. Despite her Angel status, Miranda is surprisingly down to Earth and you can catch her cooking on YouTube, posting selfie videos on Vine and Instagram or just smiling down the streets of New York City. Miranda is also all about the animals, and posed naked chained to a tree to raise awareness toward koala habitat conservation.
Hugh Jackman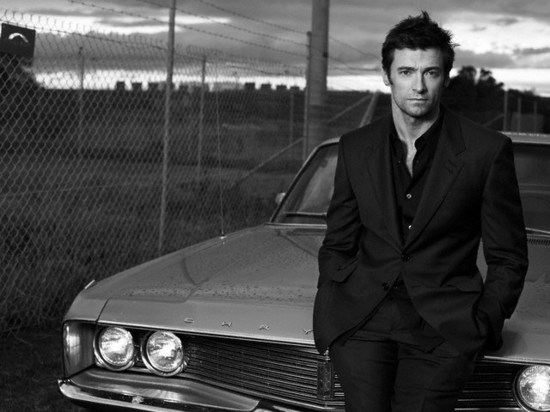 Photo by: Cool Guyz
Burly enough to put the Brawny man to shame, Hugh Jackman actually has a soft side. When he's not waking up in the middle of the night gobbling egg whites to jack up for his portrayal of Wolverine, Jackman might be singing and dancing in a one-man show on Broadway. This dude does it all, including performing on stage on his own birthday to raise charity donations. Wolverine can claw through our sheets anytime.
Nicole Kidman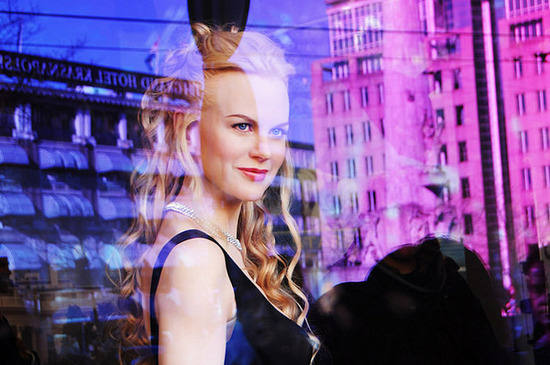 Photo by: Gane
Born in Hawaii to Aussie parents, Nicole Kidman moved back to the motherland when she was an itty bitty ankle-biter. She ditched high school to pursue acting and took advantage of her dual-citizenship by taking over Hollywood. She starred in over fifty films, earned an Academy award for best actress, was ranked the world's highest paid actress ($17 million per movie) and was crowned a Companion of the Order of Australia for bringing pride to her homeland. Hollywood will always have a special place for a fair-skinned, proper Australian actress, but while long-time friend and former classmate Naomi Watts and oft-overlooked Radha Mitchell fill the same gap (we love you both), Ms. Kidman earns the spot by crashing the scene first. Plus she's tall-like, there might be scuff marks on your ceiling type tall.
Ned Kelly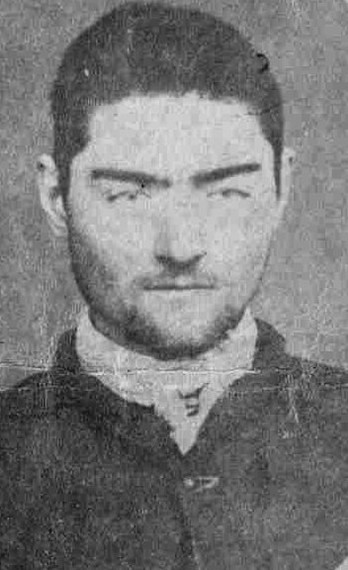 Photo by: Victoria Police photographer
A great outlaw of the 1800s, Ned Kelly is either viewed as an anti-hero a la Robin Hood or nothing more than a cold-blooded killer. Badass enough to ride a cop like a pony, Kelly robbed banks without guns and stood strong in a final showdown against police donning a homemade metal suit of armor. He was captured and hung, but before the rope dropped he uttered: "such is life." Along with those last words, his legend lives on in a 7,000-word manifesto explaining his actions. He had the balls to accept the things that he couldn't change and faced the facts like a true Australian man: shouting and fighting, with his fists held high. And he rocked a grizzly beard.
Elle MacPherson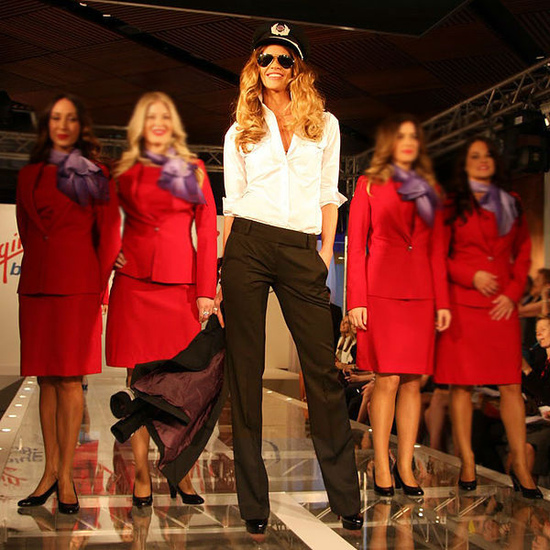 Photo by: Eva Rinaldi
Nicknamed "the body" after flaunting hers on Sports Illustrated's Swimsuit Edition a record five times, world-class model Elle MacPherson formed her own financial agency and bridged the gap in models making fashion labels when she created Australia's best-selling line of lingerie, Elle MacPherson Intimates. She's the star of her own workout videos and produces Britain and Ireland's Next Top Model, which she formerly hosted. "The Body" went topless in the 1994 film Sirens and sent the media spiraling in a boob-crazy search for more naked pictures of MacPherson's statuesque frame. Her response? She called a photographer friend and posed nude in a huge spread for Playboy. We like a woman who takes control of a situation by taking her clothes off.
Chris Hemsworth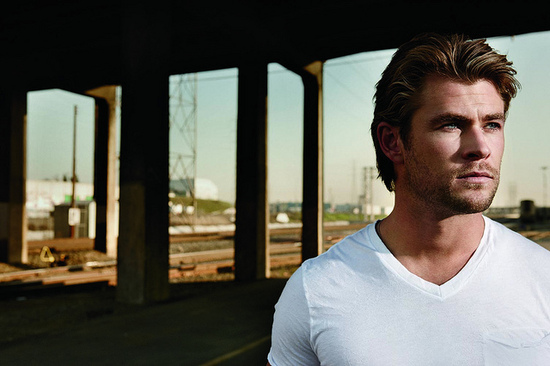 Photo by: discutivo
With a body built to brawl and bright blue eyes, Chris Hemsworth came to fame-hammer in hand-playing Marvel's Thor, based on the god of Norse mythology. After reprising his role in the worldwide mega-blockbuster The Avengers, Hemsworth is seeing his Hollywood career shift into gear with the acclaimed release of F1 racing biopic Rush, and many more Marvel-ous movies (a guaranteed three) soon on their way. Won't you be so kind as to lay that mighty Thor hammer of yours on us, Mr. Hemsworth?
Torah Bright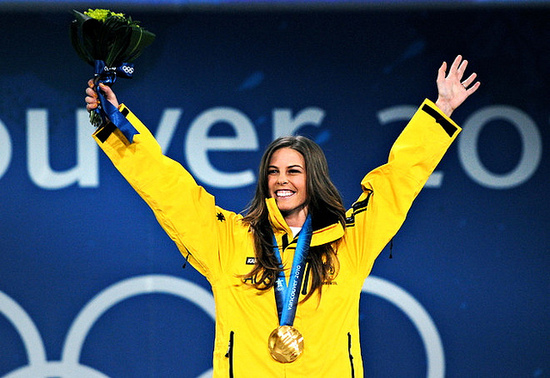 Photo by: YSportsVancouver
Olympic gold medalist and X-Games assassin Torah Bright reps Australia even though she shacks up in Salt Lake City, Utah. She waved Australia's flag during the 2010 Olympics' opening ceremony and brought home the gold despite two concussions and a dislocated jaw disrupting her training. If she can nail a switch backside 720 on snow we think she's fit to take us for a ride in the sack.
Steve Irwin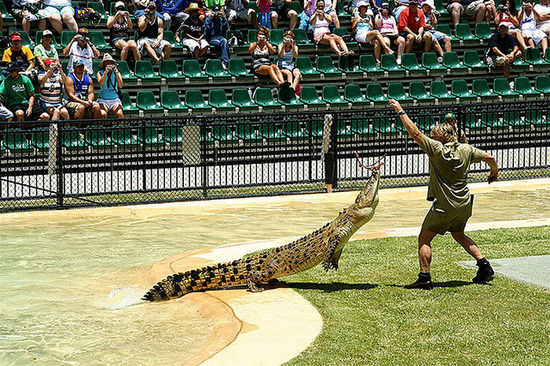 Photo by: Richard Giles
The Crocodile Hunter had an unparalleled passion for wildlife and would devote his life to nature and animal conservation. He owned the Australia Zoo and spent free time filming encounters with apex predators -- the ones that make most men run and scream like bitches. This dude stood up to the scariest of spiders, snakes, lions, tigers and bears -- and of course crocodiles. Fittingly, he was brought down by a fatal stab from a stingray. The Aussies love him -- he was awarded the Centenary Medal by the government, was nominated for Australian of the Year and even had his own species of snail named after him (the Crikey steveirwini). Known as a modern day Noah, Steve Irwin made animals cool again, and that's damn sexy. Crikey!
Sally Fitzgibbons
Anyone that spends 90 percent of her life wet and wrestling massive waves fits our list like a bodyglove. Sponsored by Red Bull, Roxy, and other big money brands, Sally surfs the shit out of anything with a bulge. This year's Sports Woman of the Year, Sal's been hitting the surf since she was 14. Now 23, this salty-haired surf goddess has countless titles under her belt and nothing but sexiness in her wetsuit.
Daniel Conn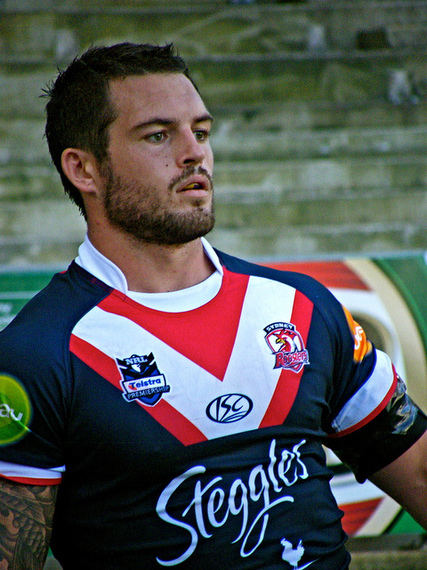 Photo by: NAPARAZZI
No list of Australian hotties is complete without a beefy, bloody rugby brawler. Ours also happens to be a model. Dan Conn is relentless, just like a bad-ass athlete should be: When he had his nose broken on a foul play, he continued to tackle and was forced onto the sidelines because he was bleeding too much. Now, years after his forced retirement from a spinal injury, he's looking into stem-cell surgery to get himself back on the field. Don't stop, Dan, don't stop!
That Australian accent may be foul and confusing at first but these Aussies make you want to head to the bush. If you can't bag a supermodel or superhero of your own, head down under and find a more common Aussie to do the kangaroo-hop naughty with 'til dawn.
Written by: Chris Platis