Raise a glass of fairy juice to Prague's unique formula for getting your party on.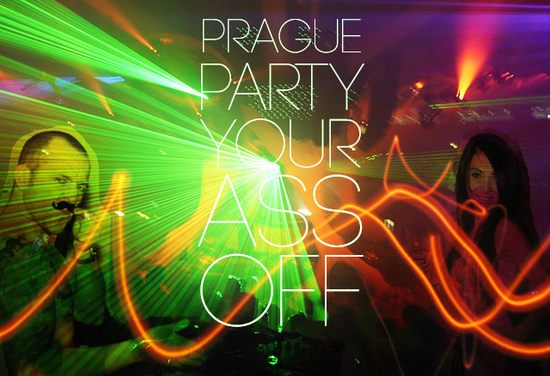 Photo by: kami_pisecka
Prague's party scene is more beer and jazz, less ecstasy and techno. Although not as cheap as it once was, Prague's beer-brewing skills are amongst the best on the planet and you can still party like a king on a peasant's budget. Get seriously shitty in the capital city of Central Europe, with our Guide to Partying Your Ass Off in Prague.
PRE-GAME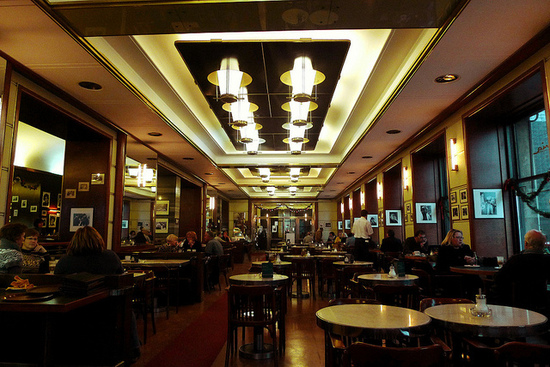 Photo by: V.D.H
Before you drown your liver in malt and hops, it's best to line your stomach with some hearty, pre-pub grub. Start by stepping back in time at Kavárna Slavia-with huge windows facing the River one way and the National Theatre the other, this Art Deco Mecca is a primo people-watching spot. Since it opened in 1881, Kavárna Slavia has been the favorite place for the tragically hip, including Franz Kafka. Prep for your own metamorphosis with a heavy Czech meal, like beef goulash with bread dumplings. Sip on some absinthe for about $4 a glass and become a new piece of the famous cafe's history.
GAMETIME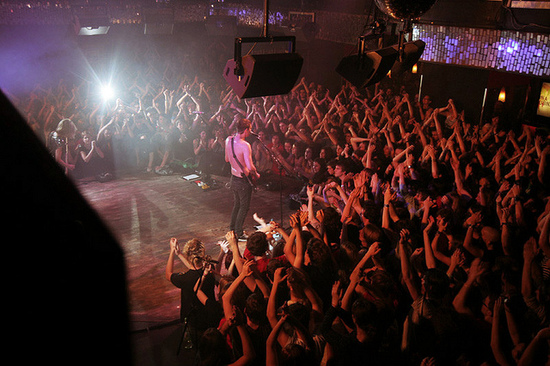 Photo by: PaulVanDijk
Prague is divided into 10 districts (Prague 1, Prague 2, etc.) but the locals often go by their names (Stare Mesto or Old Town) instead of numbers. If you are only in town for a night or two, staying in and around Old Town (Prague 1) may be best, since this area has more bars, clubs and famous shit to see than any other part of town. Pop your Praha cherry at U Fleku, a brewhouse that's been around since 1499 and the only place in Central Europe that has been brewing beer for over 500 years. The crowd here is a mixed bag of rowdy foreigners and chilled-out locals getting down to oompa loompa tunes. From here, hit the streets. Any direction you choose will lead you to awesome, cellar-like pubs or speakeasy cocktail or wine bars.
If you feel like dancing with the "green fairy," continue your absinthe trip at just about any bar or buy it to go at any liquor store. Dirty dance at the Roxy, which attracts hot locals and DJ's. When the weather is nice, party on a mutha fuckin' houseboat on River Vltana. U Bukanyra is a floating electro music party that doesn't stop until 3 a.m. Club Lucerna, a former shopping mall and a short walk from Wenceslas Square, has '80s- and '90s-themed nights as well as cheap drinks. The curfew in Prague is vague, but most clubs will rage until at least 5 a.m. on weekend nights -- letting you party until the absinthe wears off.
DRUNK FOOD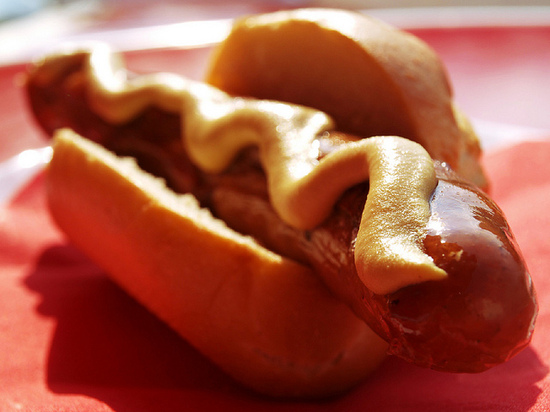 Photo by: Wikipedia
Sometimes the best thing you can put in your face hole at 5 a.m. after infinite pivos of Pilsner, is a huge sausage. Luckily, after much debate and a ban on sausage stalls in Wenceslas Square in 2007, City Hall decided vendors could once again peddle their meat in the street in 2008. Pile on the mustard and let these klobásas soak up some of that rotting sauce in your gut.
AFTER PARTY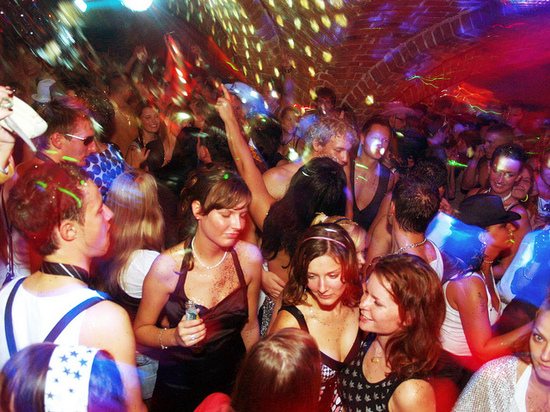 Photo by: Zeitficierer
Sleep is for the weak and Studio 54 will keep you moving well into the next afternoon. Don't worry about distorting your sense of time -- there are no windows in here, just insomniac party vampires.
HOSTEL LOBBY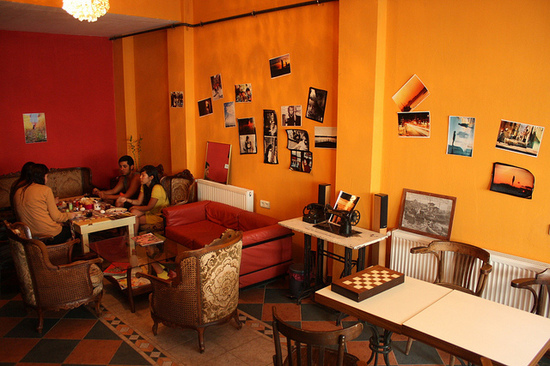 Photo by: Ramblurr
When the anatomical clock in Old Town Square strikes time to go the fuck to sleep, head to the Charles Bridge Economic Hostel. True to its promise, this hostel is both economic and near the Charles Bridge. Stumble your ass toward the river for a clean, private room that's actually more like an apartment, with your very own kitchen. Just so you know: People with kitchens can throw their own hostel parties.
THE HANGOVER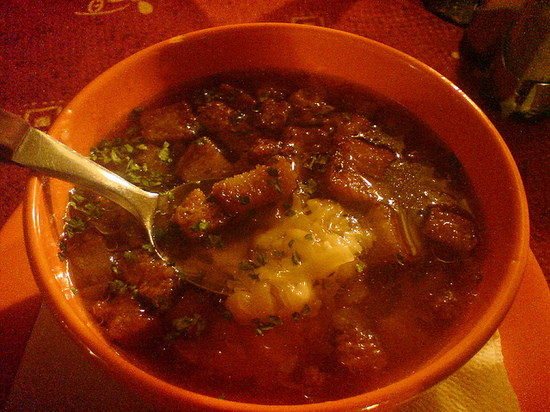 Photo by: Kelly
The Czech hangover recipe book dictates that the super hungover must take down a hearty bowl of garlic soup to cure shittyiness. Become the most popular guest at your hostel and whip up a batch of this simple Czech soup yourself. It's a miraculous, anti-barf stew made up of a few, simple ingredients: broth, potatoes, onions, bacon fat and shitloads of garlic. Even if you have no motor skills left, you can make this soup happen in about a half hour. For a challenge, convince whoever woke up next to you to have some post-soup morning sex, the universal hangover cure.
Prague was once called Bohemia and still reeks of relaxed, beer-brewin' cool. Sip the green drink till you turn purple and leave some room for mind-blowing sightseeing on non-party days.
Written by: Sara White