There's a reason people who visit the San Francisco Bay Area want to move, and people who live in the Bay Area never want to leave (real estate prices be damned) -- and it's not just the weather (as any San Franciscan will tell on on a chilly July day). San Francisco's skyline sparkles on a clear day, and it's just as magical encircled in tendrils of fog. But beyond the city, a veritable treasure trove of visual delights await, from rolling vineyards to hilltop vistas to the rugged California beaches.
These 10 views will make you weak in the knees. They'll also make your friends jealous, so be sure and upload that money shot (or many). While you're at it, share your photos with offMetro SF and be entered to win amazing prizes in our photo contest.
1. Work for it:ᅡᅠMount Tamalpaisᅡᅠ| Panoramic Highwayᅡᅠ|ᅡᅠMill Valley
In exchange for a light dosage of blood, sweat, and tears, Mt. Tamᅡᅠoffers a stunning bird's eye view of redwood forests, oak groves, and the huge, glittering ocean. Hike or bike to the summit. (mttam.net,ᅡᅠparks.ca.gov)
Directions Take Golden Gate Transit Bus 92 toward Manzanita. Get off in Marin City at Donahue and Terners and transfer to Marin Transit Bus 61 toward Brighton Avenue. Get off at Panoramic Highway and Pan Toll Road.
2. The great escape:ᅡᅠRiver's Endᅡᅠ| 11048 Highway 1ᅡᅠ|ᅡᅠJenner-by-the-Sea
Named for the place where the Russian River meets the Pacific, this unassuming bluff-top restaurant and inn on the Sonoma Coast reminds us that California is paradise. (ilovesunsets.com)
Directions Because of its secluded locale, driving is the only way to get there. Consult the map below for directions.
3. Fired up:ᅡᅠLa Costaneraᅡᅠ| 8150 Cabrillo Highwayᅡᅠ|ᅡᅠMontara
The only thing better than the Michelin-rated Peruvian cuisine at this gorgeous Half Moon Bay restaurant is the beachfront deck, replete with fire pits. (lacostanerarestaurant.com)
Directions TakeᅡᅠBARTᅡᅠto the Daly City station and transfer toᅡᅠSamTransᅡᅠbus number 110. At the Linda Mar stop, transfer toᅡᅠSamTransᅡᅠbus 294 and get off at 2nd Street. (Visitᅡᅠsamtrans.comᅡᅠfor more information.)
4. Vine in the sky:ᅡᅠSterling Vineyardsᅡᅠ| 1111 Dunaweal Laneᅡᅠ|ᅡᅠCalistoga
Gondola rides, Napa Valley's rolling hills, and world-class vino. Need we say more? (sterlingvineyards.com)
Directions Hop aboard theᅡᅠBaylinkᅡᅠVallejo ferry, and then take theᅡᅠNapa VINEᅡᅠroute 10 bus to Calistoga.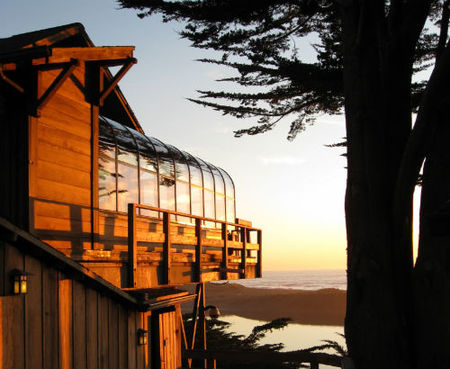 5. Adrenaline rush: Indian Rock Parkᅡᅠ| 950ᅡᅠ Indian Rock Avenueᅡᅠ|ᅡᅠBerkeley
Beginner and veteran rock climbers alike will go gonzo for Berkeley's magnificent, craggy rock outcrop. But be careful: If the climb doesn't halt your breath, the views might. (ci.berkeley.ca.us)
Directions TakeᅡᅠBARTᅡᅠto the Downtown Berkeley station. Walk to Shattuck Avenue and Center Street, and take bus number 18 toward Albany. Get off at Sutter Street and Hopkins Street and walk north to Indian Rock Avenue.
6. Dine at the top of the world:ᅡᅠMeritage at The Claremontᅡᅠ| 41 Tunnel Roadᅡᅠ|ᅡᅠBerkeley
From its post in the Oakland Hills, this opulent restaurant offers a wine-driven menu and some of the best views imaginable. (meritageclaremont.com)
Directions TakeᅡᅠBARTᅡᅠto the Rockridge station. Take Bus 49 to Claremont and Ashby and walk to Tunnel Road.
7. The deck out:ᅡᅠHorizons Restaurantᅡᅠ| 558 Bridgewayᅡᅠ| Sausalito
Terrible puns aside, sipping a Bloody Mary on this sun-drenched deck is your recipe for a perfect weekend afternoon. (horizonssausalito.com)
Directions Take theᅡᅠGolden Gateᅡᅠferry to Sausalito.
8. Drink it all in: ᅡᅠSilverado Vineyardsᅡᅠ|ᅡᅠ6121 Silverado Trailᅡᅠ| Napa
Drink fine wines on the terraces of this lovely winery, where views of Napa Valley abound. (silveradovineyards.com)
Directions Take theᅡᅠBaylinkᅡᅠferry to Vallejo and catch theᅡᅠNapa VINEᅡᅠroute 10 bus to Yountville.
9. Rock out:ᅡᅠGreek Theatreᅡᅠ| 2001 Gayley Roadᅡᅠ| Berkeley
This impressive amphitheater on the UC Berkeley campus draws the big bands for its incredible acoustics, but we're pretty sure the fans love the views just as much. (calperformances.org)
Directions TakeᅡᅠBARTᅡᅠ(Richmond line)ᅡᅠto the Downtown Berkeley stop and make your way through the campus. (You can also catch bus 52 at University and Shattuck and take it to Gayley Road.) The theater is just off Gayley Road.
10. Golden Gate gazer:ᅡᅠTheᅡᅠCapriceᅡᅠ| 2000 Paradise Driveᅡᅠ|ᅡᅠTiburon
Offering misty views of the Golden Gate Bridge and French/Italian cuisine, this small Tiburon restaurant is a treat. (thecaprice.com)
Directions TakeᅡᅠtheᅡᅠBlue and Gold Fleetᅡᅠferry to Tiburon. Walk east along the coast to the restaurant.
Shoot to win: offMetro SF wants to give you prizes for your photos! Just tag your Instagram photos with #traveloffsf or upload them here. Fabulous prizes await!