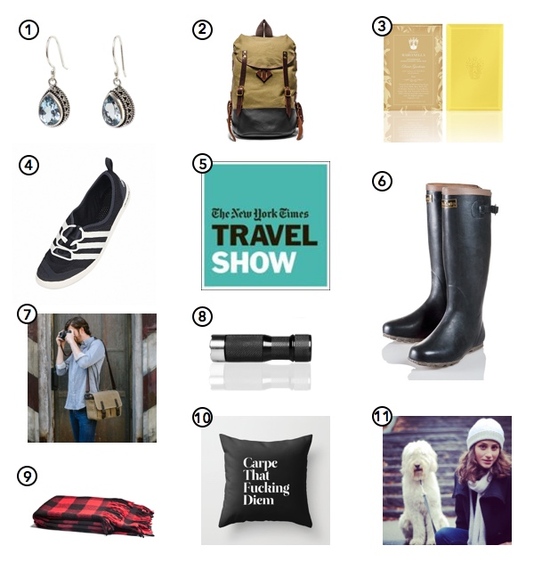 These products are so durable and dreamy, you'll want to put them on your wish list.
1. For the leading lady
Giving back to the world looks especially good with these Balinese earrings, which provide children with much-needed doses of measles vaccine. Sterling Silver Topaz Earrings, $52.99, market.unicefusa.org
2. For the trendy trekker
Fashion meets function for a chic guy or gal on the go. Seil Marschall Hiking Pack, $359, kaufmann-mercantile.com
3. For the frequent flyer
Wash away the road weariness with these rejuvenating soaps that will last a trip around the world--and work wonders as suitcase potpourri. Desert Gardenia Antioxidant Moisturizing Milk Bar, $16, marianellasoap.com
4. For the active traveler
This shoe is both stylish and sensible - you'll never travel without them. Women's Climacool Boat Sleek Water Shoes, $60, adidas.com
5. For the globetrotter
Use code "OFFM" to get two New York Times Travel Show tickets for the price of one--they come with rum shots and a lifetime of travel inspiration--and make sure to stop by offMetro's panel on Northeast Getaways. New York Times Travel Show, $17, nyttravelshow.com
6. For the rainmaker
Make a splash in these foldable wellies that may inspire singing in the rain. Foldable Japanese Rubber Boots, $129, kaufmann-mercantile.com
7. For the sharp shooter
Gear up for a great adventure--or walk to work--with this handcrafted water-resistant messenger bag that fits a camera, two lenses, and a tablet or 11-inch laptop. The Prince Street, $269, onabags.com
8. For the survivalist
This waterproof and indestructible beacon blasts 250 lumens of daylight anywhere you want it. EDC Rotary LED Flashlight, $269, kaufmann-mercantile.com
9. For the happy camper
Get cozy on the couch or by a campfire with this classic wool throw. Faribault Buffalo Check Blanket, $99, kaufmann-mercantile.com
10. For the armchair traveler
Dream about your next getaway while leaning against this great conversation piece seen in Neighbors (and now a home theater near you). Carpe Diem Throw Pillow, $20, thetake.com
11. For the workaholic
If there's no time for a city break, book the "All Wrapped Up" package for a revitalizing winter retreat at one of four W hotels in NYC; the offer comes with a limited edition scarf and hat from Orley, MAC makeup, Paintbox manicure, $75 Uber credit, and cocktails. All Wrapped Up Package, from $450, whotelsnewyork.com
--Lauren Matison
Visit offMetro.com for car-free getaways from your favorite city.