As travelers, we strive to collect more moments than things, but sometimes it's those things we carry with us that make the moments even richer. These 15 Valentine's Day gift ideas are sure to do just that.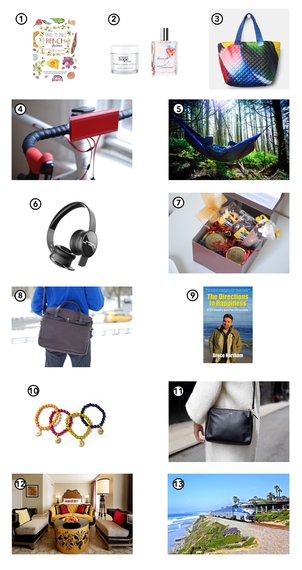 1. Bon Appétit
The Farm to Table French Phrasebook
is the perfect present for Francophiles, and aspiring home cooks, wine connoisseur wannabes and the farmers market flâneur are sure to devour it.
$12.93, amazon.com
2. Message in a Bottle
Discover philosophy's new product
renewed hope in a jar
or the brand's tried and true
loveswept fragrance
--either way,
1% of all philosophy.com product sales will now support community-based mental health efforts.
$47 and $48, philosophy.com
3. Carry On
Brighten up your winter wardrobe and get inspired to pack for a romantic weekend away with
MZ Wallace's Large Metro Tote in Cosmic Oxford
. As for where to take the tote? Co-founder Monica Zwirner has been going to
Montauk
for 15 years and says "the pure natural beauty has remained unchanged. Every time we arrive in Montauk, I marvel at the fact that 120 miles from New York City you can find deserted beaches, a classic old lighthouse and miles of unspoiled walks in undeveloped parkland."
$225, mzwallace.com
4. Muse-ic to My Ears
Whether typing emails, riding the rails or flying high, these Tracks Air wireless Bluetooth headphones from
Sol Republic
will tune out the world and, with 15 hours of battery life, they're sure to help you get through your day with no interruption.
$199.99, solrepublic.com
5. Well Hung
If you're not one to let winter stop you from enjoying the great outdoors,
ENO Hammock's Vesta Top Quilt
and
Vulcan Underquilt
are must-haves; whether you're just out for a day hike or camping overnight (at 35 degrees and above), this easily compressible velvety cocoon is the warmest place to stretch out and stare at the sky.
$169.95 and $174.95, eaglesnestoutfittersinc.com
6. Sounds Good
The
Soen Transit XS
Bluetooth portable speaker has surprisingly great sound for such a small size. The tripod mount and included clip allow it to be installed on your bag, bike, or anywhere you feel like dancing.
$129.95, amazon.com
7. Bite Me
It'll be love at first bite when you sink your teeth into the chocolate wafels and spekuloos cookies, a few of the many goodies tucked inside the
Wafels & Dinges Love Box
. New York would not be the same without this company's delicious concoctions and neither will Valentine's Day. Available at 15 Avenue B, the Cabana in Herald Square, the kiosk in Bryant Park, and the trucks on 2/13 and 2/14 only.
$20, wafelsanddinges.com
8. Man's New Best Friend
Commute to work in style with the classic
Filson Original Briefcase
from
Standard & Strange
. The rugged build of this water repellant cotton twill and leather bag will convince you that you'll still look this good carrying it decades from now.
$248, standardandstrange.com
9. Write This Way
In
The Directions to Happiness
,
the gallant globetrotting New Yorker Bruce Northam writes that smiles "can inspire contagious winds of change." Well, so too will this captivating book inspire you to start a travel log and fill its pages with tales of adventure. Whether you follow in Northam's footsteps in 135 countries--hiking Nepal's Himalayas, setting sail for Cuba, volunteering in East Africa--or forge your own path, you're certain to be carried by the book's undercurrents of "If not now, then when?"
$14.99, amazon.com
10. Bead Around the Bush
Show her how much you love her--and making a difference--with these festive
FEED 5 Bracelets
from Lauren Bush Lauren's FEED organization that provide five school meals to hungry people around the world.
$18 each, feedprojects.com
11. Love Sack
Classy and practical and as precious as its namesake,
The Pearl Bag
from
Lo & Sons
won't leave your side on your next day trip or weekend getaway.
$248, loandsons.com
12. Suite Deal
At the Preferred Hotel Group's newly renovated 
Scarlet Huntington
, book the 
Suite Attraction package
, which includes a luxurious night in a suite, a bottle of Roederer Brut Rose from Anderson Valley, and access to the Nob Hill Spa, featuring a relaxation pool, zen room and sauna. 
$599, thescarlethotels.com
13. Romance the Rails
Plan a trip on the Pacific Surfliner or San Joaquin line and take advantage of
Amtrak California's Sweetheart Deal
; when you buy one full-fare adult ticket you'll get 50% off a companion's fare. Use code V613. Book by February 25. Valid for travel until Feb 28. 
amtrakcalifornia.com
For romantic getaway ideas, visit offMetro.com