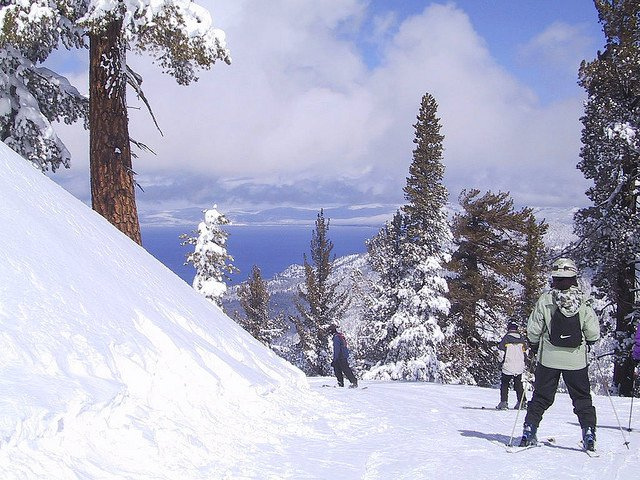 Sure, we've got it pretty good on the left coast. No two-degree days or sludgy puddles... But that doesn't make that morning frost on our windshields any less maddening, and, hey, sometimes we wanna throw a snowball or two.
And so, while your New Year's resolutions are still fresh, tackle one more: Plan a fun winter getaway, whether it's to escape the chill, whoosh down the slopes, or simply get out of the house. Here, five fun and easy ideas.
1. Crushing it
There's something magical about a perfect white blanket of snow (especially when we don't have to shovel it). If you're one of those who can't get through the winter without at least one snow trip, Tahoe is is the place for you, a winter wonderland with ice skating, fun wintry bars, and ski slopes to spare.
Serious skiers will feel right at home on North Shore, especially now that nine of the most popular ski resorts are connected by a free ski shuttle. Or if South Shore is your game, all array of adventures await, from traditional skiing to zip-lining to "air-bagging" (a ski jump onto a giant air mattress).
2. Island hopping
Maybe you don't feel like traveling far, or or maybe vowed to save some green this winter. Either way, you can't sit at home all the time. Play tourist for the day in your own fabulous by hitting two of San Francisco's quirkiest and most fascinating islands: Alcatraz (with fewer crowds, winter is the best time to visit, and did you know about the gardens and night tours?) and Forbes Island (go ahead, find it--you won't be sorry!).
3. Endless summer
Where do they have even better year-round weather than we do in the Bay Area? We hate to admit it, but when it comes to sun (Santa Monica boasts about 300 sunny days a year) and surf, So Cal takes the cake. And public transit is making it easier and easier to explore southern California towns without a car. So if you're feeling the need for an extra dose of sunshine, grab an airfare deal and zip on down to Huntington or Laguna Beach. Better still, take the "Slo" route by training from San Francisco to San Diego, with plenty of great stops (including San Luis Obispo) along the way.
4. Walk on the wild side
Now is the time to see the splendor that is the elephant seal. Each winter, Año Nuevo State Park is overrun by these massive, majestic creatures as they mate, fight for dominance, and give birth on the craggy shores in San Mateo County. Learn all you need to know about visiting (or making a weekend out of it) here.
5. Nature calling
If you haven't gotten to Yosemite in a while, get there! It's just as magical (if not more so) in the winter as in the oh-so-populated summer. And it's easy to visit by Amtrak.
-- Suzanne Russo
Photo: wka