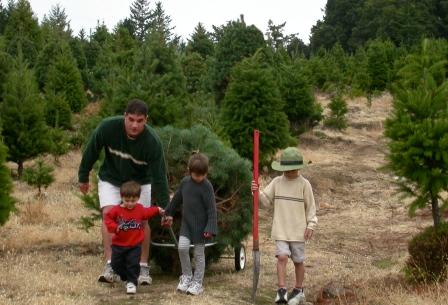 Photo courtesy of Denise Calafato Russo
REAL or FAKE? We've been embroiled in this debate for years now.
We're talking Christmas trees, of course, and which is better for the environment. Is it better to cut down more of our already disappearing forests or to set up ticking time bombs of chemicals in our living rooms? With passionate arguments on both sides, it looks like the jury is still out on this problem.
So what's a treehugger to do when it's time to deck the halls? Cut your own tree! According to some research, artificial would need to be reused for at least 20 years to be greener than buying a fresh-cut tree, while cut trees can be recycled. Plus, a visit to one of the many Christmas tree farms in Half Moon Bay makes for fun, festive holiday activity.
Christmas trees grown on cut-your-own-tree farms are renewable, biodegradable, and locally sourced. They're carbon neutral, they pump oxygen into the environment, and they won't end up in the landfill like your fake tree. So grab your coat, boots, and gloves, and get to some holiday merrymaking!
Given the logistics of transporting your tree, we understand that this is a trip where it's best to drive. But we've thrown in a few tips to offset your footprint while you're making merry. Here, a few great (and green) tree farms.
The Farm: Rancho Siempre Verde |2250 Cabrillo Highway | Pacifica | rsvtrees.com
The Trees: Douglas Firs, Monterey Pines, Sequoias, Incense Cedars, Arizona Cypresses or Swift Silvers are all available for the cutting. All trees cost $60, and the farm's expert staff will help you tie and load your tree.
Why it's Farm-tastic: Giant swings, marshmallows, and ocean-view picnics are only a few of the fun activities on offer at the farm (read about more of them here).
When to Go: The farm is open from 9 a.m. until 5 p.m. on all weekends in December.
Green Tip: The trees at the "always green ranch" are coppiced or stump cultured, which means a few of the bottom branches are left when a tree is cut down, allowing another tree to grow from the same stump.
Directions: The farm is located at 2250 Cabrillo Highway (Highway 1).
Farm: Santa's Tree Farm |78 Pilarcitos Creek Road | Half Moon Bay | santastreefarm.com
The Trees: This giant tree farm has every type of evergreen you could want, from Firs to Redwoods to Monterey Pines. They cost between $46 and $69.
Why it's Farm-tastic: Twenty-two fields of green and amazing smells. Plus Santa's workshop, a holiday train, and more fun for the whole family). We dare you to get more Christmas-ey than that!
When to Go: The farm is open from 9 a.m. until 5 p.m. on weekdays and from 8 a.m. until 5 p.m. on weekends. Shows, Santa, and the Sleighbells Gift Shop are available on weekends only.
Green Tip: Opt for a pesticide-free tree, and before you go make sure your car is tuned and your trunk empty, which will reduce the amount of fuel burned.
Directions: The farm is located at 78 Pilarcitos Creek Road in Half Moon Bay.
Farm: Little Hills Farm |961 Chapman Lane | Petaluma | littlehillschristmastree.com
The Trees: Choose from Monterey Pines, Leyland Cypresses, and Sierra Redwoods. They cost anywhere from $42 up, and fresh-cut trees are also available.
Why it's Farm-tastic: Kris and Carol Mungle, who own and run Little Hills, are all about family. And their farm is about family tradition, from their gorgeous trees to their barn animal friends).
When to Go: Little Hills Christmas Tree Farm is open from 10 a.m. until 6 p.m. on weekdays and from 9 a.m. until 5 p.m. on weekends (cut your own until 5 p.m. all days). Santa visits on weekends only. If you don't find what you like, head down the road to the Mungle's other outpost, Liberty Christmas Tree Farm, open 9 a.m. until 5 p.m. on weekends.
Green Tip: The folks who run Little Hills Christmas Tree Farm and Liberty Christmas Tree Farm down the road are committed to sustainability, from pesticide-free planting to recycling and mulching.
Directions: The farm is located at 961 Chapman Lane in Petaluma.
Farm: Valley of the Moon/North Eagle | 6191 Sonoma Highway | Santa Rosa | valleyofmoonpottery.com
The Trees: The farm offers eight varieties including firs, pines, redwoods, sequoias, and cedars. Prices range from $35 to $48.
Why it's Farm-tastic: Part pottery shop, part Christmas tree farm, this two-named spot has a Zen quality to it. Apple cider, candy canes, and smiles all included. Plus, you can probably knock of some of your gift list while you're at it. (Here's how.)
When to Go: The farm is open daily, from 9 a.m. until dark.
Green Tip: A few bottom branches are left when the tree is cut, so that a new tree can grow in its place.
Directions: The farm is located at 6191 Sonoma Highway in Santa Rosa.
Keep on Keepin' Green
Most cities will collect Christmas trees curbside after the holidays. There are also nonprofits and recycle centers that will take them as well. Check Earth 911 for everything you need to know about "tree-cycling."
- Kaitlyn Ellison