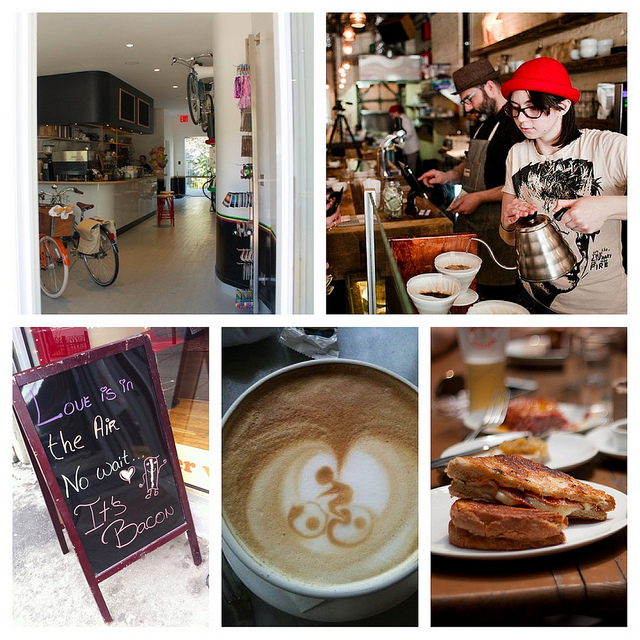 So you're a hearty bicyclist who's undaunted, even invigorated, by cold weather. You're not alone. For many New Yorkers, the joys of cycling--keeping fit, saving money and sailing past traffic jams--are an all-season proposition.
Whether you're stepping off on a weekday morning commute in Manhattan, looping around Prospect Park or cruising through Astoria on a relaxed weekend afternoon, there's a bike-friendly hangout where you can unstrap your helmet, peel off your gloves and wrap your palms around a warming coffee or a quenching brew. (Go ahead, you've earned a carbo indulgence!)
The following cafes and bars welcome and appreciate the ever-growing population that chooses two wheels for travel and recreation:
Baconery Café | 911 Columbus Ave. | baconery.com
It turns out that bacon is a baker's new besty. Pork-infused favorites here include bacon chocolate chip cookies and bacon pecan pie, as well as sandwiches with familiar names like the Wilbur and the Miss Piggy, plus bacon macaroni on Saturday nights.
"You only go around once," says owner Wesley Klein of the ever-expanding menu of salty-sweet treats. "So why not enjoy something fun and unique?"
Situated just north of the Columbus Avenue protected bike lane and within temptingly easy reach of the Central Park Loop, the café has nabbed the attention of the road cycling community through its sponsorship of the Asphalt Green Women's Cycling Team. Ample seating is offered and cyclists can bring their rides inside in cold weather.
Brooklyn Roasting Company | 25 Jay St. | brooklynroasting.com
Just a block from the East River in DUMBO, Brooklyn Roasting Company, a supporter of local cycling advocacy, offers Fair Trade, Rainforest Alliance and organic certified and sustainable coffees, which it roasts in small batches for packaging and café service. Choose from a full range of coffee beverages (limited-release Ka'u Hawaiian recently was in the spotlight) plus donuts from Dough, sandwiches from Margo Patisserie of Williamsburg and other Brooklyn-made treats. It's an ideal place to pause on a visit to nearby Recycle-A-Bicycle or the new Red Beard Bikes. Check out the BRC-logo bicycle caps, too.
The Cannibal | 114 East 29th St. | cannibalnyc.com
The more casual little brother of the Belgian boite Resto next door, The Cannibal is a cozy café during the day and a lively watering hole after dark, with charcuterie, cheeses and small plates, plus 450 beers on the menu. It's named for Belgian cycling legend and five-time Tour de France champion Eddie Merckx, who was known as "The Cannibal."
Richard Bravo, a New York-based journalist and a member of the Rapha Continental Cycling Team, says the bar has developed a reputation within the NYC cycling community and beyond. Regulars gather to watch televised bike races, and related events, including Lance Armstrong's confessional about doping to Oprah Winfrey.
"Not only do you regularly run across local racers there, but I've seen [British pro cyclist] Roger Hammond and even Patrick Dempsey hanging out," says Bravo.
The City Bakery | 3 West 18th St. | thecitybakery.com
It doesn't get any more bike friendly than City Bakery. CEO Maury Rubin, known for his long-standing eco-friendly business ethos, uses cargo and regular bikes to transport goods between City Bakery and his Birdbath Neighborhood Green Bakeries.
"Cycling crystallizes that vision of green," Rubin says. "Everything about it is good."
Cyclists get 15 percent off on their purchases, which is a good thing to know right now as the 21st Annual Hot Chocolate Festival offers a different flavor every day for the month of February. Think spicy caramel and dark rum--pillowy handmade marshmallow optional, but recommended. Pair these with toothsome baked goods, like the signature pretzel croissant, or a wide array of freshly prepared foods to eat in or take out.
Juice Pedaler | 154 Prospect Park Southwest | juicepedalernyc.com
With its fireplace, this combination bike shop and café offers a welcoming respite from winter's chill. You'll find fitness enthusiasts from nearby Prospect Park, Windsor Terrace moms and other neighbors who pause here for a healthy snack. "It's become a meeting place for friends," says owner Deborah Capone, who along with Nicole Bilu, opened this family-friendly business last October.
Order up a steaming Stumptown espresso or replenish with fresh, seasonal juices and a pastry. Then browse city bicycles and accessories rent a bike (baby and child seats available) or get your steed repaired in the service shop. During the warmer months, there's a deck and garden out back.
Red Lantern | 345 Myrtle Ave. | redlanternbicycles.com
This laid-back café and bike shop, with its exposed brick, red-painted walls and cycling memorabilia, offers coffee, pastries and fresh nut milks by day, and beer and wine in the evening from a counter up front. Bicycle sales and service are located at the back. Specialists in bikes for commuting and cargo hauling, Red Lantern is the departure point for morning BikeTrain group rides into Manhattan. The shop also teaches maintenance and repair classes and hosts cycling and other community events, all presided over by owner Brian Gluck and the shop cat Landshark.
The Queens Kickshaw | 40-17 Broadway | thequeenskickshaw.com
This bustling Astoria enclave serves up specialty coffees, fancy grilled cheese sandwiches (Manchego and ricotta with minted eggplant and capers on multigrain bread) and an impressive list of craft ales, cider and wine in an airy setting with rustic touches. On Friday nights, there's live music. Noting that many of their customers, as well as employees, arrive by bicycle, owners Ben Sandler and Jennifer Lim have applied to the City for a bike corral, which replaces a single automobile parking space with a cluster of bicycle parking.
Bunbury's Coffee Shop | 460 Piermont Ave., Piermont, NY | yelp.com
Situated in the heart of the picturesque Hudson River town of Piermont, Bunbury's is a popular stop for road cyclists who stream cross the George Washington Bridge on weekends for points north along Route 9W. It's not unusual to see the bike racks filled with high-end, carbon-fiber hardware on Saturday and Sunday mornings. Inside, the Spandex clad and local regulars savor their caffeine fixes (including the house Dog's Bollix blend), teas and freshly made pastries and wraps. Lance Armstrong (see The Cannibal above) famously stopped by in 2009 to snack on a cinnamon scone.
Post by Susi Wunsch, founder of Velojoy, a blog about the fun of bicycling. Visit the site for hints, happenings and fabulous finds from the bike lanes of New York City. Read the Winter Cycling Guide for great tips on riding through winter.
View Best Bike-Friendly Cafes in NYC in a larger map
Photos: Baconery chalk board by Susi Wunsch/velojoy, The Queens Kickshaw by Noah Deveraux, The Cannibal by Thread & Salt
Follow @offMetroNY or visit offMetro.com for more getaway ideas, car optional.