By Suzanne Russo, offMetro SF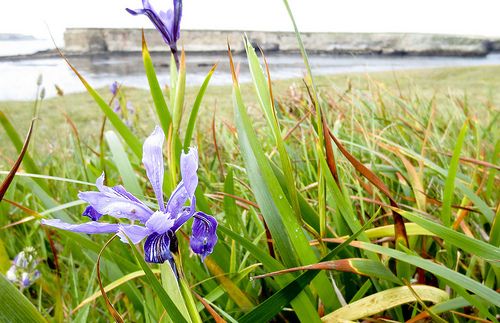 They are purveyors of place, touting their own hometowns to tourists, meeting planners, and writers. By trade, they are experts on and champions of the iconic places, under-the-radar gems, and newfangled darlings in their areas. But where do the tourism board professionals go when they're off duty?
To go hyper-local, oM SF asked the representatives of tourism boards throughout California where they get away (at home). We wanted secrets, and they obliged--with contagious enthusiasm and entertaining, inspiring answers.
From forgotten hillside staircases and bizarre botany to beer shacks and riverside jams, we present secret spots throughout California. What's your secret?
Humboldt County Convention & Visitors Bureau
Slogan: Home of the world's tallest trees.
Richard Stenger, Media and Marketing Manager
Ping pong and PBRs: "The Shanty (213 Third Street) in Old Town Eureka is a relaxed dive bar. Don't let the rough-and-tumble look of some of the patrons  fool you. The really cool kids are out back playing ping pong on the patio. (Actually, it's not just the cool kids. I got creamed the other day by a 55-year-woman who hardly broke a sweat between pints of PBRs and backhands.)"
Treasure hunt: "The foot trails along the Avenue of the Giants conceal at least six rare albino redwoods, including the picturesque Christmas Tree on an unmarked path in the Women's Federation Grove. Ask politely at the nearby Humboldt Redwoods State Park visitor center, and they just might draw a treasure map for you that leads to the location."
Sacramento Convention & Visitors Bureau
Slogan: California begins here.
Steve Hammond, President and CEO
River run: "Swabbies (5871 Garden Highway) on the river is a dose of good old-fashioned Americana, a true Sacramento hidden treasure. It's a chill place a few miles away from the bustle of downtown, with grass for carpet, picnic tables for 'fine dining,' and live music for your listening pleasure. It's the kind of place where shorts and flip flops are the recommended attire. The famous fish, shrimp, and prawn tacos are so addictive they ought to come with a warning label. Seriously."
Sonoma County Tourism
Slogan: Do you speak Sonoma?
Tim Zahner, Chief Marketing Officer
Park perks: "Riverfront Regional Park (7821 Eastside Road) features a stand of Redwoods, picnic areas, and two lakes for hiking. Secret trails run off to the other lakes (former quarries, now used for fishing) and the Russian River itself. My son had his ninth birthday party there, and we had to take a 30-minute break from capture the flag for the wedding of two guys named Eric and Hector. My wife was worried that we were having a birthday party next to the wedding, as she felt bad for the grooms. Eric and Hector were totally cool, however, and the two parties got along swimmingly. So, in Sonoma County, our parks are perfect for professions of love, games of tag, and quiet recreation. Bonus: Parts of 'The Bachelor' were filmed at the park."
Birgitt Vaughan, Public Relations Manager
Bon appétit.: "Chloe's French Cafe (3885 Airway Drive Suite 145, Santa Rosa) comes straight from St. Tropez to the first floor of a medical facility (Sutter Health Center). You'd never expect this café to have some of the best quiches, salads, and hot and cold sandwiches. (Open Monday through Friday, 8 a.m. to 5 p.m.)"
Marin Convention & Visitors Bureau
Slogan: Just a little out there...
Shannon Bohlke, Sales and Marketing Director
Watering hole: "Locally known as the Seventh Wonder of Marin County, Inkwells in West Marin is closer than the coast and warmer than the beach. It has tall rocks, perfect for jumping in to the swimming holes on the Lagunitas Creek. And it's a great place to gather with friends since only locals know of its location."
Lindsay Wright, PR and Communications Manager
Viewfinder: "The best views of the San Francisco Bay can be found at Middle Harbor Shoreline Park (2777 Middle Harbor Road), a location that many of the locals in Oakland have yet to discover. From the park's location on the tip of the Port of Oakland, you can watch the cranes in motion, and the sailboats cruising past Oakland to San Francisco. It's a perfect spot for a barbecue and a fantastic place to get away from the urban landscape."
Santa Cruz County Conference & Visitors Council
Slogan: Find your flow and follow it...
Christina Glynn, Communications Director
Beachy keen: "I adore the beaches in the southern part of Santa Cruz County. My favorites are Manresa State Beach (1445 San Andreas Road) and Sunset State Beach (Sunset Beach Road and Shell Road), both in Watsonville. Both have wide expanses of shoreline, and neither is heavily trafficked, so at times I feel like I have the beach to myself. I can walk in solitude without seeing anyone else--except the dolphins and seals playing in the surf.  My fondest memory here is when a low, misty fog rolled in and completely enveloped me.  I felt like I was walking on a cloud."
Monterey County Convention & Visitors Bureau
Slogan: Grab life by the moments.
Jessica Felton, Marketing Communications Assistant
Carmel-by-the-drink: "Visitors don't often come to Carmel-by-the-Sea for the nightlife, but locals know where to find it. Brophy's Tavern (4th and San Carlos Street) is well off of Carmel's main street and offers an extensive selection of beers on tap, local wines, and creative cocktails, plus some great late-night munchies." oM Note: Make a Carmel trip special with a stay at historic La Playa Carmel.
Monterey caliente: "I've been eating at Turtle Bay Taqueria (431 Tyler Street) since high school, and it's still my hands-down favorite restaurant in town. It's a healthier choice than your typical Mexican/Latin American fare, with super-fresh ingredients, and a to-die-for self-serve salsa bar. Try the habanero salsa if you dare!"
Santa Barbara Conference & Visitors Bureau 
Slogan: The American Riviera
Michelle Rodriguez, Director of Communications
Art corner: "By name, the Museum of Contemporary Art Santa Barbara (653 Paseo Nuevo, Upper Arts Terrace) sounds anything but hidden, but the gallery's location (upstairs at the Paseo Nuevo shopping center) means you have to know it's there to enjoy its amazing exhibits." oM Note: You can find more fantastice art (plus wine tastings!) in Santa Barbara's Funk Zone.
Stairways to heaven: "Up in Santa Barbara's Riviera is Franceschi Park (1510 Mission Ridge Road), named for the 19th-century botanist Francesco Franceschi, who owned the Riviera and is responsible for the area being so lush (and bringing zucchini to California). His old house is beautiful to see, and there are hidden staircases all over, some of them really overgrown. There is also little round-about from the days when a trolley ran up here. It's fascinating to wander around, and the views (and sunsets!) are incredible."
Visit West Hollywood 
Slogan: Living forward.
Andy Keown, Director of Communications
People-watching perch: "My favorite spot for breakfast is a small and humble corner café. Beyond delicious and health conscious food, the highlight of Joey's Café (8301 Santa Monica Boulevard) is sitting outside and watching the people along Santa Monica Boulevard. Plus, I love that it's dog-friendly." oM Note: Meet the "pet-friendliest" getaways in California.
The wine library: "V Wine Room (903 Westbourne Drive) is just a year or so old and tucked away in a historic building (WeHo's first library). It doesn't have much in the way of signage, but if you can find it you'll be glad you looked. The owner rehabbed the entire building and themed this wine tasting room around an old library, with a card catalog system visitors can use to keep track of their favorite wines. Most of the wines here are from local and regional wineries that distribute in small quantities, so these are not wines you would find just anywhere."
Beverly Hills Conference & Visitors Bureau
Slogan: Love Beverly Hills
Julie Wagner, Executive Director
Designer Bagels: "You may not think about Barney Greengrass (9570 Wilshire Boulevard), located on the fifth floor of Barneys New York, if you're not shopping, but the views are great and the food excellent. The s lox and New York bagels are my favorite!
Designer handbag magic: "The pros at Progressive Shoe Repair (9418 Dayton Way) can make any designer shoe or handbag look new again."
Santa Monica Convention and Visitors Bureau
Kelly Nagle, Communications Manager
Swim club: "A short and refreshing bike ride just north from the Santa Monica Pier, the Annenberg Community Beach House (415 E Pacific Coast Highway) is a great place to lounge by the pool, play volleyball, have lunch, take yoga classes, and check out art exhibits and lectures right on the beach. Besides the endless array of activities, what I love most about this unique property is its commitment to history and sustainability. Originally constructed by William Hearst for his beloved Marion Davies in the 1920s, the refurbished original guest house offers free docent-led tours and is a Gold LEED certified property." oM Note: Santa Monica boasts more than 300 sunny days a year. Visit now and do this!
Destination Irvine
Slogan: Center of Orange County.
Wendy Haase, Director of Tourism Marketing
Natural habitat: "The San Joaquin Marsh & Wildlife Sanctuary (5 Riparian View) encompasses more than 300 acres of coastal freshwater wetlands, half of which have been restored to a natural state. The remaining acres are quality habitat and are not in need of restoration. Nearly two-thirds the size of New York City's Central Park, the marsh is a natural respite with 12 miles of trails." oM Note: The marsh is also only one of many kid-friendly activities in Orange County (and we're not talking Disneyland!).
Palm Springs Bureau of Tourism
Slogan: Like no place else.
Mary Jo Ginther, Director
Secret garden: "John Henry's Cafe (1785 E Tahquitz Canyon Way) is hidden away behind a 'have to hear about it to know where it is' door, which leads into a charming outdoor patio under the trees."
Candice Eley, Public Relations Manager
Bait and brew: "Located directly above the San Diego Bay on the Shelter Island Fishing Pier, Fathom Bistro, Bait & Tackle (1776 Shelter Island Drive) offers 15 varieties of craft beer on tap. I enjoy the selection, but what makes the experience special is sitting on a stool outside the tiny shack, looking out over the bay with the downtown skyline in the distance. And Fathom has an innovative way of chilling the beer--by dangling kegs into the Pacific Ocean waters below the pier. The kitchen serves sausages, hot dogs, and sandwiches, but if you're feeling adventurous you can always try to catch your own dinner utilizing the supplies from a neighboring bait shop!"
Robert Arends, Public Relations Manager
Message in a sand dune: "The sand dunes on Coronado Island spell "C-O-R-O-N-A-D-O." It's really cool, but what I love is that the letters form private little patches of sand, which you can claim and sunbathe all by yourself, with no one around. I especially like the top part of the 'R' or any of the 'O's. It's like having your very own little island on Coronado Beach." oM Note: Coronado often ranks on lists of America's best beaches, but these other San Diego beaches are equally fabulous.
Desert dream: "Font's Point is located in the desert oasis of Borrego Springs. It's just a few miles off one of the main roads and one of the most spectacular natural wonders in San Diego, with badlands and slot canyons stretching for hundreds of thousands of acres. California Overland runs off-road trips there (you need four-wheel drive to reach it). It's seriously like seeing the Grand Canyon or the South Dakota Badlands for the first time. Atop Fonts Point I feel like I'm on top of the world (and it looks like it too!)." Editor's note: That's Robert in the Font's Point photo!
These are just a handful of the splendiferous secrets we received. Check out the rest, and if you take an adventure yourself, don't forget to share your getaway photos to win great prizes in the oM SF Photo Contest.
Photo: Mendocino Land Trust