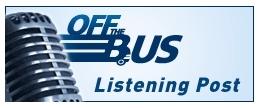 WHO: Senator Richard Burr, (R-NC) and Doug Holtz-Eakin, senior policy adviser, John McCain 2008
WHAT: Press conference call to discuss Senator Obama's energy policy.
WHEN: Tuesday, June 24 at 2:40 p.m. EDT
SUMMARY
On this call, Sen. Burr attacks Obama's opposition to John McCain's energy proposals, calling the presumptive Democratic nominee "Dr. No." He claims Obama's plan is single-faceted and "ludicrous" compared to the "detailed plan McCain is unveiling around the country" including his "visionary proposal of a $300 million prize for a change in battery technology that allows US consumers to move to products that are not reliant on petroleum for the future which address a dependency issue and an emissions issue that John McCain takes very seriously."
The above audio was recorded as part of the OffTheBus Listening Post project.
HOW TO SUBSCRIBE TO THIS FEATURE
A) Receive e-mail alerts about new uploads by clicking the "Get E-mail Alerts" link at the top of this post.
B) Subscribe to the OffTheBus Listening Post podcast by plugging http://www.gcast.com/u/OffTheBus/main.xml into your RSS scraper, or the "Subscribe to Podcast" window under the "Advanced Menu" in iTunes.
C) Check the OffTheBus Listening Post Homepage for a full directory of recordings:
D) Sign up for our Listening Posts "OTBpresscasts" twitter feed.