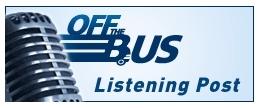 WHO: Bob Bauer, General Counsel, Obama for America
WHAT: Press conference call to respond to recent McCain conference call on public financing
WHEN: Thursday June 19, 6:45PM EST
SUMMARY
This call was a response to this evening's McCain campaign conference call discussing Sen. Obama's decision not to accept public financing for the general election. Obama for America General Counsel Bob Bauer offers an account of his discussions with McCain 2008 General Counsel Trevor Potter, contesting assertions made by the latter downplaying the depth of their discourse on the question of campaign financing, and describing the rationale for Obama's decision not to receive public money.
Note: Special thanks to Veracifier for catching this call!
The above audio was recorded as part of the OffTheBus Listening Post project.