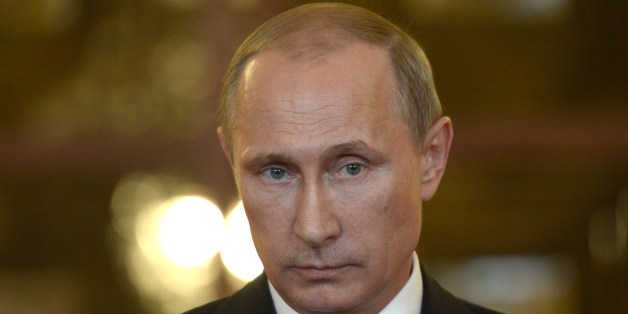 KIEV -- My heart is bleeding for the innocent victims who died in a crash of a Malaysian airliner two days ago. This tragedy left no one in Ukraine without tears. For many months, we have been mourning the death of the sons and daughters of Ukraine, and now that the Kremlin's belligerence has claimed innocent lives of Dutch, Malaysian, Australian and Indonesian citizens, it pains us no less and our entire nation is grieving with the world.
As an investigation into the exact details of the crash continues, it is too early to draw definitive conclusions, but to understand the broader context in which this catastrophe has occurred, we must chronicle the events leading up to it and examine the root causes of the unrest in eastern Ukraine.
A month ago, the terrorists shot down a Ukrainian military transport plane killing 49 people. The leader of an alleged grassroots separatist movement known as DNR (Donetsk People's Republic) is a Russian national, who is also believed to be an officer of Russian security services -- Mr. Girkin.
Reuters reported that "the European Union added Strelkov (aka Girkin) to its sanctions list on April 29, describing him as a staff member of Russia's GRU military intelligence." There is no shortage of evidence when it comes to supplies of sophisticated weapons coming from Russia into eastern Ukraine. How can anyone possibly procure a latest-generation Russian-made grenade launcher, or a tank, or a ground-to-air missile? Is it imaginable that such arsenals just "fall into the hands" of terrorists and Mr. Putin has nothing to do with it?
On the Malaysian plane crash, Ukrainian intelligence services are actively cooperating with the international community and have released an audio tape that clearly implicates the DNR terrorists. But here again, we have to wait for an independent verification and the conclusion of the official investigation. Kyiv Post reported on the involvement of Mr. Girkin, alleging that he had taken credit for shooting down a plane. Believing that he had downed a Ukrainian military aircraft, Mr. Girkin made an announcement on social media, but he took it off promptly after realizing that this was not the case.
Mr. Putin has had many opportunities to condemn the violence, but he has failed every time. I want his words to be addressed to Girkin and other Russian citizens disturbing Ukraine, not to my president. Putin's silence, which effectively condones the terrorists' activities in eastern Ukraine, bares a grave cost. Ending the violence has been the essence of an agreement reached in Geneva many months ago to which Russia was a signatory.
The terrible tragedy that took the lives of 298 people, 80 of whom are innocent children, is a direct or an indirect consequence of Putin's policy towards Ukraine. The hybrid war waged by Russia has now spilled beyond our borders. There is nothing we can do to bring back the lives lost, but we owe to the victims and their families a full investigation, and we owe it to the world to stop the Kremlin's aggression now.