Co-authored by Amanda Garza, an Art History and Archaeology student at Boston University and also a closet political junkie and sci-fi nerd.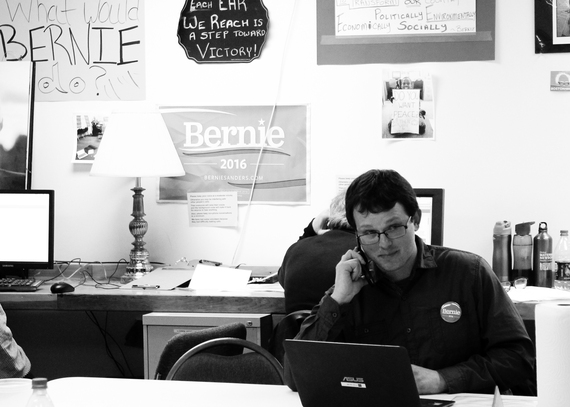 A volunteer for the Boston for Bernie campaign makes phone calls to prospective voters. PHOTO BY OLIVIA DENG
On a Wednesday evening, the Boston for Bernie campaign office in Charlestown, Massachusetts, was abuzz with volunteers calling residents to make a final push before Super Tuesday on March 1, a day in which 12 states hold primaries. When Bernie Sanders first launched his campaign in May 2015, he polled at 15 percent according to the Quinnipiac University National Poll. Fast forward nine months - Sanders won the New Hampshire primary.
Sanders may be questioned about the feasibility of his plans, but that's not the point for many Sanders supporters - his idealism is a draw. "The lofty goals that are set by the senator, attainable, but still lofty, definitely give the young people something to look forward to," said Joe Caiazzo, communications and political director at Bernie 2016.
A political outsider, Sanders' success is indicative of a brewing rebellion against the political establishment. Brian Garvey, a volunteer for the Sanders campaign, said that Sanders' status as a political outsider can bring positive change to the White House.
"I think the money and influence is the biggest issue that's holding back our government right now," Garvey said. "I think he's [Sanders] definitely not going to pick someone who used to work at a big bank to be the [Secretary of the Treasury]. I think he's not very interested in the money so that's going to allow him to make clear decisions that aren't biased."
For Cristian Morales, president of Boston University Students for Bernie and senior in the BU College of Engineering, Sanders' viewpoints on topics such as LGBTQ rights and getting money out of politics resonated with him.
"Having a rigged system is a thing that needs to be addressed first because we can't solve problems of systemic racism without addressing it," Morales said, pointing to private prisons and fossil fuel companies as examples of corporations backed by special interest.
Morales said he initially found out about Sanders through Facebook and was motivated to take further action after discovering that his political typology matched with Sanders'.
"I took an online quiz, [I think it was] iSideWith.com and it was a 90 percent [match with] Bernie Sanders," Morales said. "I saw that he's a candidate who's almost once-in-a-lifetime...I realize this election is really important and I have to do something more than [saying] 'well wishes his way.'"
BU Students for Bernie has canvassed at the University of New Hampshire the weekend before the New Hampshire primary and in Boston, in areas close to BU and Northeastern University.
"A group of around 10 BU students got 200 people wanting to vote and answered people's questions," Morales said about canvassing at UNH. "There's been a lot of people who've been helped by what we are doing."
With 75 to 80 college chapters and 351 sub-campaigns dedicated to electing Sanders in Massachusetts, the statewide campaign emphasizes a hyperlocal strategy, Caiazzo said.
"The thing about this campaign that's really cool is that this is a very hyperlocal race. Instead of doing a statewide race, we're doing 351 small campaigns," Caiazzo said. "There are 351 towns and cities in the Commonwealth. Basically the way we're going and working these is we're going in and empowering our volunteers to take ownership over their own hometown for the campaign."
Benchmarks from FiveThirtyEight suggest that Sanders must win Vermont, Minnesota, Colorado, Massachusetts, Oklahoma and Tennessee to remain a serious contender for the Democratic nomination. Aside from Vermont and Massachusetts where a Sanders victory is virtually assured in the former and highly likely in the latter, the majority of the Super Tuesday states represent weak points for Sanders. A Sanders victory in either Tennessee or Oklahoma is highly unlikely, but if he manages to close the gap into the single digits in one or both states, he may be able to maintain momentum. Polling data from Minnesota and Colorado is spotty at best, with no clear frontrunner currently visible. A true long-shot would be for Sanders to close the gap in Texas, where Hillary Clinton is holding steady with a double-digit lead. If all the hype about Sanders gaining ground among Latinos holds true, a narrow margin of victory for Clinton in the Lone Star State (where the electorate was 32 percent Latino in 2008) may be Super Tuesday's biggest surprise.
Regardless, Clinton's lead among superdelegates adds a sense of unprecedented urgency to the actions of the Sanders campaign. Composed of "unpledged party leaders and elected official delegates" super delegates are considered one of the best predictors of who will win the nomination. After the Nevada caucus Sanders only holds a modest 70 delegates compared to Clinton's 502. As of February 23, a staggering 451 of Clinton's delegates are superdelegates while Sanders only has 19. Without the influence of superdelegates, Clinton and Sanders would have been tied 51-51 in election contests post-Nevada. After her win in South Carolina Saturday night, her lead has only grown. Despite grassroots movements for change in the Democratic party, the establishment is still holding strong. Now that many in the media are already claiming that the Sanders campaign is singing its swan song after defeat in Nevada, a loss in Massachusetts would be especially devastating. Super Tuesday is the final exam for many of the supporters volunteering for the Boston for Bernie campaign.
Traditional campaigning methods such as canvassing and phone banking meet political technology innovation to create an information-rich environment for voters.
"I think that we are all low-information voters before the internet and social media," said Hilary Robinson, a volunteer for the Sanders campaign. "Corporate media has interests that reflect the interests of Wall Street and most of these anchors on television are the multimillionaires who will be taxed at a slightly higher rate under Bernie's plan for healthcare for all. So to be able to receive media that doesn't come through these channels, that's a shift."
Taylor Peck, co-founder of popular political typology quiz iSideWith.com, said that open data increases the accuracy of predictions.
"We've had Trump since last June as far as a leading candidate goes. A lot of people thought Trump was behind," Peck said. "I think the wakeup call is that these polls are right, these online polls capture the sentiment of the American people - it's not people in D.C. making guesses about who's going to win...It's going to bring the data from all the voters back to make it more aware of all the candidates and everything."
iSideWith.com boasts over 30 million quiz-takers, Peck said. The appeal in taking quizzes to better identify political ideologies lies in the personalization of results and social sharing aspects.
"Voters are not going to sit through a 30-second infomercial about how tough [the candidate is]," Peck said. "Voters want to know the real deal and they want to know where politicians stand."
For Bil Lewis, a volunteer for the Sanders campaign, sincerity is key.
"Hillary is in there because she wants to become president. That's perfectly reasonable," Lewis said. "Bernie is in there because he wants to make sure that we have a democratic union where minimum wage is at least $15 an hour and students graduate with no debt."
Growing up in a biracial family, Robinson said that she is sensitive to topics regarding race.
"Hillary Clinton has talked about the firewall in Southern states, which I consider to be extremely offensive because it as though there's this monolithic demographic category called black people and we can make a bunch of assumptions about what they want and who they'll agree with," Robinson said.
Significantly, the Nevada caucus was the first contest of the 2016 election that was not in a majority white state. Hispanic and African American voters made up a staggering one-third of the voters in the Nevada Democratic caucus, as opposed to the 3 percent and 8 percent they made up in New Hampshire and Iowa. Entrance polls suggest that Clinton won the support of 76 percent of black voters in Nevada and similar proportion in her victory in South Carolina. However, given the strong foothold that Clinton has with minority voters and the long-standing broad base of support she enjoys among union workers there is an argument to be made that her margin of victory in Nevada should have been larger. Should Sanders continue to gain support among Latinos and if his campaign's ground game galvanizes a large voter turnout on Super Tuesday he may well do better than most pollsters are predicting.
"All of us are coming together and pulling our respective people power and sort of becoming a small army of Bernie Sanders volunteers," Morales said. "We know exactly what our mission is."