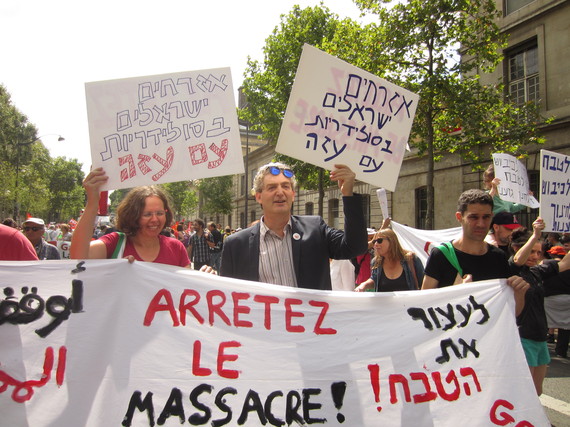 A small but determined group of 30 or so Israelis living in France marched in a demonstration held in Paris last weekend in solidarity with Palestine. The local police estimate 11,500 people attended the march in a city that empties out during the month of August.
Participants included documentary filmmakers Simone Bitton and Eyal Sivan; Yael Lerer, founder of Andalus publishing and a candidate on the Balad party list in the last Israeli elections; artists Xavier Klaine and Ruth Rosenthal; and writer and academic Yael Dagan.
The group marched in front of the organizations French Jewish Union for Peace and Jews and Arabs United for Justice and carried signs in Hebrew and French that read, "Stop the massacre! Israeli citizens in solidarity with Gaza."
The march was organized spontaneously. The Israelis present were all distressed and deeply troubled by their government's latest attack on Gaza. "Blood is being spilled in our names," said Simone Bitton, whose recent films have included Wall and Rachel, about American peace activist Rachel Corrie. "It is our brothers, our fathers, our society doing this. It would be too easy to hide from this reality."
Yael Dagan, who has lived in France for 20 years, said that she was at the protest to show that not all Israelis approve of their government's actions. "It's very important, first of all, to stand by the Palestinians, because they need it, and because this is a universal cause, and these are my people shooting my brothers."
When asked how she felt when she heard protestors chanting, "Israelis, assassins," Dagan shrugged and said, "It's reality."
Another Israeli woman said it was "painful" for her to hear; yet another said she wished that she heard the chant in Tel Aviv.
Ron Naiweld, an Israeli scientist at the French National Center for Scientific Research, told journalists that he was against the massacre of Palestinians. "Because I am Israeli does not make me insensitive. I condemn the Israeli government."
As the group marched, they were applauded, given the thumbs up and told "bravo" by the other demonstrators. "C'est magnifique," commented a protestor well into his 80s. "Merci," said others.
Eyal Sivan, whose latest film, Common State, included 20 interviews with Ashkenazi and Sephardic Jews and Palestinian Arabs in Israel, said, "This is our last chance to fight for our humanity. Now there is a choice to be made; we no longer have the privilege of not choosing...."