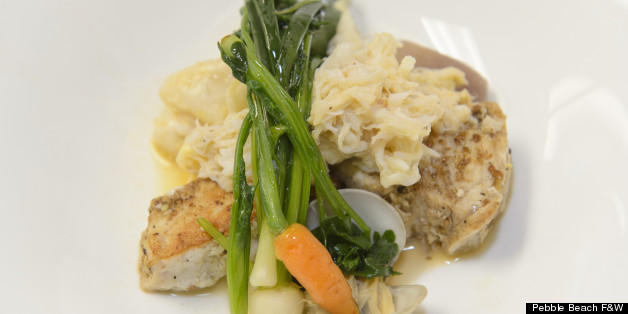 The Pebble Beach Food & Wine Festival is the Las Vegas of food events -- celebrity sightings, after-parties and happy hours sponsored by the Cosmopolitan. It's where chefs go to promote their books, TV shows and restaurants, and where everyone else goes in the hopes of mingling with chefs.
And here's an important lesson learned from this first-timer: if you stay focused, you can taste some seriously delicious food and wine.
My alarm went off at 6:30 am Saturday morning, and I didn't even hit "snooze" before jumping in the shower. After a two-hour car ride, I arrived in Pebble Beach before 11. By noon, I was wearing a silk dress with a glass of wine in hand.
I was in the grand tasting tent, the main event of the festival. There, hundreds of chefs and wineries set up booths for tasting -- either bites of their most creative dishes or sips of their best vintages -- as the crowd meandered. For three hours. Needless to say, what starts out as sophisticated quickly becomes boisterous and a little messy.
After the grand tasting, the group sectioned off into groups for chef demonstrations, winery events and happy hours (yes, more wine!). For us, happy hour was followed by a six-course seated dinner in a ballroom at the Inn at Spanish Bay, where each course was created by a renowned chef and, of course, paired with a glass of wine.
And finally, the after-party, where I was more than ready for a cold beer.
Here's a recap of highlights from one very full day of wining, dining and shmoozing at Pebble Beach 2013. Cheers!
PHOTO GALLERY
Pebble Beach Food & Wine's Top Ten Moments