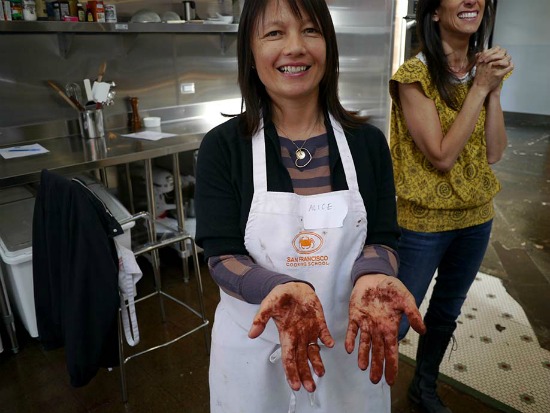 Alice's hands are dirty, and she loves it.
"Take a picture!" she tells me, laughing, and I do, closing in on her fingers caked in cocoa powder. People around us talk loudly across a wide table; the conviviality in the kitchen is infectious.
Alice has spent the last 15 minutes rolling some of the richest, luscious chocolate truffles I've ever tasted, soft and warm from her palms. The secret ingredient is homemade caramel, one of the many things she's learned to cook today at the new San Francisco Cooking School.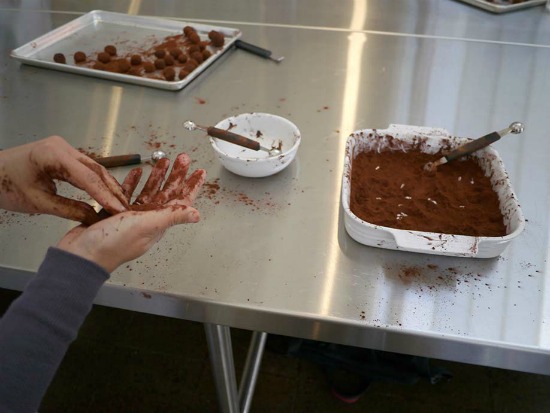 The school opened last fall with local fanfare, as San Franciscans took note of the deans associated. The names Craig Stoll (Delfina), Daniel Patterson (Coi) and Bill Corbett (Absinthe) are bound to make ears perk up. And just in January the school welcomed its first full-time professional class, a group of 14 students committed to making food and cooking into their careers.
But back to Alice. She's here on a Saturday afternoon for a tasting workshop, which teaches students how to use their palates to create delicious food. Today, she's tasted parmesan cheese, both caged and pasteured eggs, and plain butter, all to understand how individual ingredients -- whether acidic, salty or fatty -- impact the flavor of a finished dish. The class is taught in the school's front kitchen by Samin Nosrat, a Bay Area cook, writer and teacher who's worked at Chez Panisse. In fact, it was Nosrat who lured Alice to the San Francisco cooking school today.
"I love her," she says. "She's so generous with her knowledge."
Watching Samin throw up her hands in awe over the truffles -- "they're just so good!" -- its easy to see why her enthusiasm has caught on. And it didn't hurt when she insisted I try one, too. Her hair is wild and curly, and her eyes are alive with interest, both for the food her students are making and the conversation happening around her.
Here, a dozen strangers are joking, dirtying their hands, and really tasting the flavors of food, while sunlight pours in the front windows and the room echoes with laughter. I can tell that for them, today will be a day well spent.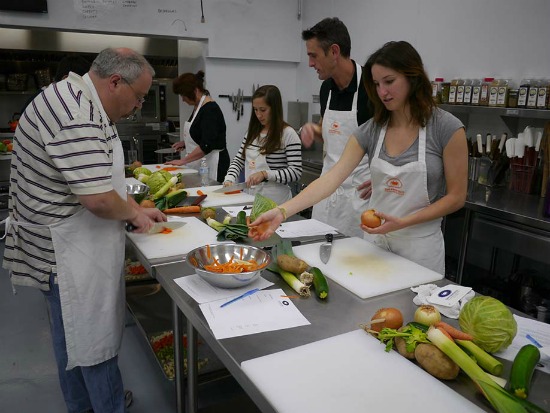 If the scene in the front kitchen is lively, the one in the back is quiet and controlled. I pass through a bright orange swinging door (it's the school's signature color) to see a room full of people lined up on both sides of two tables, chopping diligently. Piles of diced carrots, celery and onions sit next to them as they slice and dice, creating perfect cubes. Offering guidance along the way is David Groff, an alum of Zuni Cafe and Gioia Pizzeria, who is now the lead recreation instructor at SFCS. A low rumble of conversation buzzes, but the students are looking down with brows furrowed in concentration, wielding sharp, heavy chef's knives. They're here for Knife Skills, and each one of them will chop enough vegetables today to make four pots of minestrone soup. At the end of the class, they'll take the veggies home, recipes in hand, to do just that.
Perhaps part of the reason this class feels more intense is the space itself. Unlike the front kitchen, which is bright and airy and stocked with kitchen equipment for the home cook, the back kitchen is designed to mimic that of a restaurant. All of the equipment is professional, and it's here that the full-time students learn how to cook on the line in a tight, efficient space. Commercial quality ranges line the back wall, along with ovens and a deep-fryer. It's the real deal -- and that was exactly the point.
"I knew exactly what I wanted." That's Jodi Liano, Director of Programming and Head Recreational Instructor, also my tour guide for the day. Liano is petite, with big eyes and long, dark hair. She has a subtle authority that's evident in the way she moves around the kitchens, and she's passionate, not just about food and cooking, but about the practice of teaching.
If Liano has the presence of someone who's recently achieved a long-time dream, it's for good reason. After almost 15 years of teaching cooking classes in San Francisco -- and working in restaurants and writing cookbooks -- she has opened a school of her own.
"What I heard from chefs was that culinary graduates were unprepared, and they were having a hard time finding cooks," says Liano. "I said, 'I'd love to help.'"
The first step was getting Catherine Pantsios on board. Pantsios was Liano's own mentor and instructor as a student at Tante Marie's Cooking School, so the choice was natural. The next step was more involved: building a curriculum.
"When I started putting pen to paper we brought in chefs to see what exactly we needed to teach," says Liano. "I kept hearing that young cooks needed to be more intuitive in the kitchen. They were good at following recipes but lacking at fixing mistakes or understanding the why and how of what they were doing."
Instead of teaching with recipes, Liano prioritized good common sense and understanding -- no "robots" in the kitchen. That means tasting incessantly, learning to balance the flavors of dishes, seasoning, and other basics that could be built upon.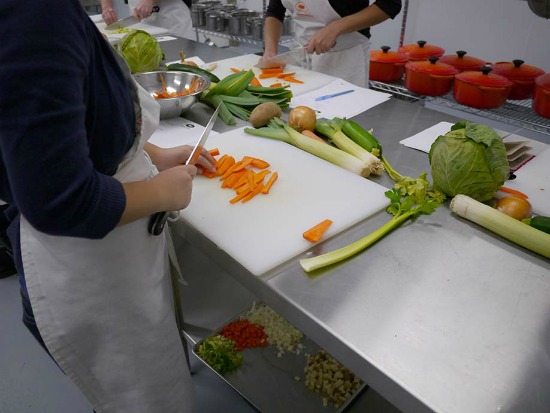 The professional course at SFCS is divided into three sections: fundamentals, focusing on French techniques, stocks, knife skills and the like; applications, which teaches cooking proteins and composing finished dishes; and extended learning, including baking and pastry. Full-time students are required to complete an eight-week externship arranged by the school, too. Placements at Coi, Absinthe and Delfina -- as well as Perbacco, NOPA, Frances, Aziza and more -- have already been secured for the current class. Field trips to visit purveyors like Monterey Fish Company and small food businesses such as Hodo Soy are regular features of the program, as are classes taught by guest instructors from some of San Francisco's top restaurants. Later in the term, they'll go foraging for whatever's in season, from clams to mushrooms.
"We have so many food resources in San Francisco," says Liano. "It's hard for schools that are part of a larger chain to take advantage of them, but we have a lot of freedom. The city is our campus. Also, there are so few of them -- just 14 students -- so they can build relationships while they're in school to jump-start networking."
But you don't have to have restaurant aspirations to take advantage of the classes at SFCS. Liano believes she has the largest catalog of recreational classes on the west coast. Most are hands-on, even if they're taught by renowned chefs or artisans. What's better than learning how to make ice cream from the Bi-Rite team or tacos from Tacolicious?
The base level fundamentals class is easily the most popular class in the repertoire, almost always sold out. The six-week program is where, in Liano's opinion, every cook should start before branching out to more specialized areas.
Other classes are more leisurely and social, where students may cook a multi-course meal from one cookbook and sit down with a bottle of wine to enjoy it. Liano sums it up nicely: "Fourteen people who don't know each other want to cook new things, meet new people, and just have fun."
Today, that's why Alice is here. "I want to be a better cook," she tells me simply.
She has poached eggs, made mayonnaise and caramel, and learned how to layer flavors into a finished dish. Soon, she wants to try all those things again at home. Especially the truffles.
Samin's truffles are adapted from a recipe by Pierre Hermes, so we can't publish them here, but Liano did pass along the SFCS recipe for Minestrone. It's a delicious way to use all those vegetables you've practiced chopping.
Minestrone with Pesto
Soup:
3 tablespoons extra-virgin olive oil
1½ cups diced onion
2 medium carrots, cut in ½-inch dice
2 medium leeks, white and light green parts only, finely sliced
2 stalks celery, cut in ½-inch pieces
coarse salt and fresh pepper to taste
2 potatoes, peeled and cut in ½-inch dice
6 cups hot chicken or vegetable stock
1 14-ounce can chopped tomatoes
1½ cups Savoy cabbage, thinly sliced
1½ cups zucchini, cut in ½-inch dice
1 14-ounce can cannellini beans, drained and rinsed
Pesto:
2 cups gently packed basil leaves
1 medium garlic clove, chopped
¼ cup toasted pine nuts
½ cup extra virgin olive oil
½ cup freshly grated Parmesan
In a large stock pot, heat the olive oil over medium heat. Stir in the onions, leeks, carrots, and celery with a pinch each of salt and pepper. Cook until the vegetables are lightly browned and beginning to soften, 5-6 minutes. Add the potatoes and cook, stirring occasionally, 2-3 minutes more.
Stir in the chicken broth, tomatoes and a pinch each of salt and pepper and cook until all the vegetables are tender, about 1 hour. Add the cabbage, zucchini, and beans. Cook until cabbage and zucchini are just tender with a bit of a bite, about 6 minutes more.
While the soup is cooking, make the pesto. Using your knife, finely chop the basil, garlic, and pine nuts together. Place in a small bowl and add the oil until the mixture is shiny and moist. Stir in the cheese and season to taste with salt and pepper. Serve the soup with a drizzle of the fresh pesto over the top. Serves 6.