Hi. My name is Olivia. I'm a recovering shopaholic. I used to work in the corporate headquarters of a massive retailer. The mall was my spot, shopping a leisure sport, weekends an all out paycheck-annihilating bender; birthdays and Christmas justified a binge. This Friday is going to be especially difficult for me. It's Black Friday, also known as "the day after Thanksgiving," or "the biggest shopping day of the year." I'm scared.
Yes, this Friday malls across America will open at 5 AM to crowds of deal-hungry, coupon-carrying, insatiable holiday shoppers. For the first time since I can remember, I will not be joining the consumer feeding frenzy. Instead, I will be participating in Buy Nothing Day, a 24-hour shopping fast in celebration of the fact that we (the all-inclusive consumer) don't need more sh*t.
Buy Nothing Day is an informal day of protest against consumerism organized by Adbusters, a not-for-profit global anti-consumerist organization. The international shopping moratorium has started to gain mainstream recognition as people, my shopaholic self included, realize unrestrained consumption is a major contributor to environmental catastrophe.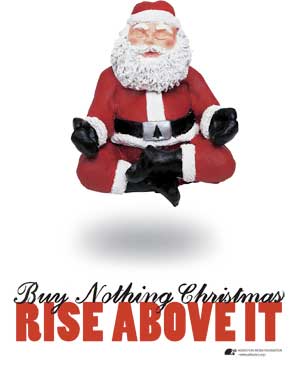 Adbusters
All over the world people are taking on the 24-hour shopping detox. In Japan, a group called Zenta Claus will lead, "stop-shopping meditations." In London, the Forest Recycling Project will hold a bric-a-brac exchange. In the US, partakers from North Dakota to Texas, plan to use the rare day off to spend more time with their families and less time at the mall.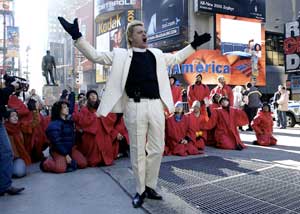 In New York City, Reverend Billy and the Church of Stop Shopping will gather in the busiest of shopping areas to preach against the commercialization of Christmas. Singing anti-consumer carols and asking the question, "What would Jesus buy?" Reverend Billy believes a "shopocalypse" is upon us if we do not confront the empty promises of commercialism.
While critics of the day charge that Buy Nothing Day simply causes participants to buy the next day, Adbusters' president and founder, Kalle Lasn, states that it "isn't just about changing your habits for one day," but "about starting a lasting lifestyle commitment to consuming less and producing less waste. Driving hybrid cars and limiting industrial emissions is great' but they are band-aid solutions if we don't address the core problem, consumption."
Lasn believes that while most participants used to see the day simply as an escape from the marketing mind games and frantic consumerism that have come to characterize modern life, the focus has since shifted in light of the new political mood surrounding climate change.
Bottom line: as consumers we need to question the products we buy and challenge the companies who produce them. We need to ask, what are the true risks to the environment and developing countries?
Although it looks like a lot of fun, I don't plan to join Reverend Billy's brigade this Friday. I'm just going to challenge myself to chill out, enjoy the day with my family, and as corny as it sounds, switch off from shopping and tune into life (wow, that was really corny). Join me as I spend a day without spending, participating by not participating, indulging by not indulging. Come on, doesn't free time away from long lines and panic-inducing crowds sound nice?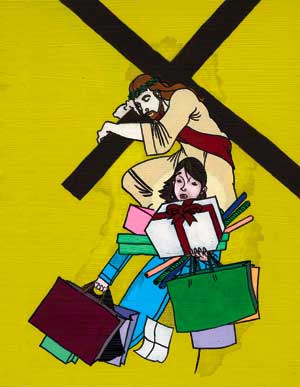 Adbusters