Forget primetime and American Morning. For critical breaking news turn on Planet in Peril, CNN's worldwide investigation into the issues of climate change, vanishing habitats, species' extinction, human overpopulation, and Anderson Cooper's athleticism. You won't get better up-to-the-minute news. It's real crisis happening in real time.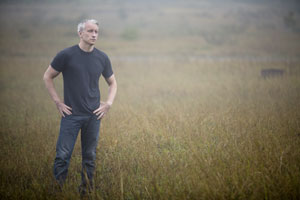 Cooper in Cambodia
Monday night, I had the chance to watch a condensed screening of the anticipated series at the Museum of Natural History's Fauchman Theater in New York City. Though a bit sensationalistic, overworked and slightly drawn out, the documentary provides a stunning high-def illustration and first-hand account of environmental strife in 13 countries across four continents.
CNN's Anderson Cooper, Dr. Sanjay Gupta, and Animal Planet host and wildlife biologist Jeff Corwin, lead the tour, as undercover investigators probing environmental catastrophe from Madagascar to Greenland, Yellowstone to China, Brazil to the Carteret Islands off Australia. Using "the ripple effect" as a cinematographic metaphor, the three amigos explore the interconnectedness of environmental problems--as human population grows, forests recede, ice evaporates, ecosystems break down, animals disappear . . . yada, yada, yada.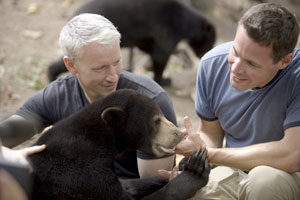 Cooper and Corwin suckle a bear cub in Thailand.
Cooper and Corwin traveled to Brazil to examine connections between the rapid deforestation of the Amazon River Basin and changes in the world's climate. Additionally, they traveled to Greenland where Cooper walked on one of the world's newest islands, revealed under quickly melting ice.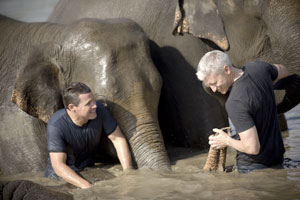 Cooper and Corwin frolic with animals
In China, Dr. Gupta examined how the world's fastest growing country uses natural resources and the toll it takes on its people and the entire world. CNN sent Gupta to investigate cancer rates in the Guandong province, an area notorious for corporate-sponsored industrialism and where my previous employer used to have factories (but that is for another post . . . waiting for my gag order to be lifted).
Monday night, as Anderson Cooper's flaxen complexion glowed against an arid scrub of pillaged rainforest, it was clear: the magnitude of environmental disaster is no longer a distant theory. It's a very real and very scary present crisis.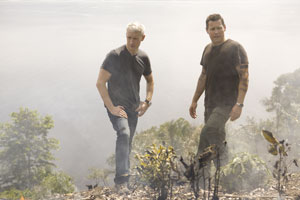 Baw-Chicka-Wa-Wa
On Tuesday, October 23 and 24 at 9 p.m. ET watch this important documentary with me. If for some legitimate reason you have to miss it, be sure to check in as I share highlights and perhaps a candid interview with Dr. Sanjay Gupta himself . . . I can't promise anything, but I'm working on it.
For more on Planet in Peril and "Green Media" read my review on The Daily Green.