This post was originally published on 5centwords.com.
In the soft light of St. Cece's Pub, an Irish bar in Detroit's Corktown neighborhood, rolls of sushi are being served next to pints of dark stouts. Through the porthole windows of the kitchen's swinging doors, one can see the perpetrators causing this odd juxtaposition. They are a group of young people in street clothes hunched over their work rolling maki and frying okonomiyaki, a japanese cabbage pancake. The gentleman sporting the blue and yellow tie-dye shirt and giving the occasional word of direction is Nick George, the executive chef and creator of Dr. Sushi, Michigan's first and only sustainable sushi operation.
"Traditionally speaking, we're all a bunch of hacks," says George about his 10 person team, "and we have no shame in saying it, but we're in America, where the worst sushi in the world is passed off as healthy gourmet meals at Kroger and Trader Joes." On a different night, you might find fiddlers and guitarists playing old songs for one another in front of the stone fireplace, but tonight is a special, monthly deviation from the pub's old-world charm; it's sushi night.
After starting in the early spring of 2012 as an underground takeout service run from an apartment, George struck a deal with St. Cece's Pub in October: once a month, he could use their kitchen to sell sushi to patrons. He called the pop-up restaurant "Dr. Sushi's Experiments in Fine Dining" -- a name that is somewhat appropriate for the cosy, anachronistic setting, but certainly not for the $5 per roll prices. George has put on four subsequent pop-ups since its inception, and each round musters a larger crowd and more likes on the business' Facebook page, which just recently passed 400.
The growing popularity has delighted the chef:
My customers are the best. Their faith in trusting a stranger to prepare raw fish for them out of a Corktown kitchen is what really gave this business some legs. People from all walks of life would come into my kitchen and I'd show them where their food was made. It brought me closer together with my neighbors and the Detroit community in ways I'd never thought. People traded me homemade booze and homegrown veggies for sushi; it was incredible.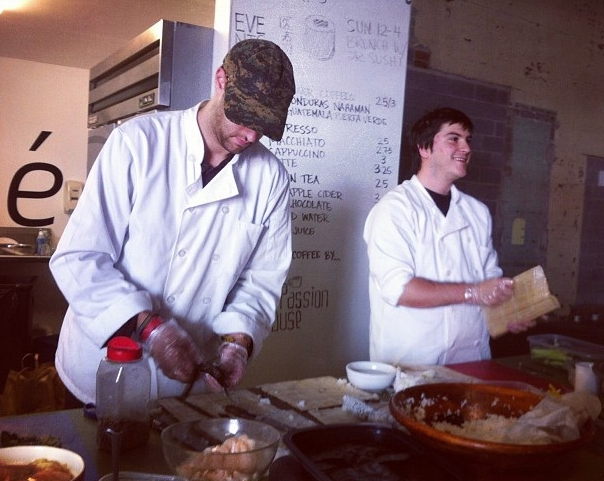 Nick George (right) with sous chef Ben Christensen at a pop-up in the MOCAD café
Dr. Sushi is one example of a number of hopeful projects that are gathering momentum in the struggling city. There is -- most prominently in a handful of central neighborhoods -- a growing list of stores, services, events, nonprofits, renovation projects, and startups whose media buzz is beginning to compete with the persistent bad news surrounding the city's serious issues of crime, population loss, political corruption and financial ruin.
George, a 25-year-old Royal Oak native, quietly acknowledges this auspicious phenomenon: "I gradually started noticing opportunities for various entrepreneurial and creative endeavors as I explored the city over the years." Though Dr. Sushi may inherently benefit from the city's dearth of similar restaurants, its growing creative class, cooperative business culture, and loyal and excitable clientele, George does not offer much on the hot "Emerging Detroit" topic beyond a simple nod.
Having thoroughly experienced the city's rich music and food scenes throughout high school, George arrived in Detroit with a down-to-earth attachment for the place:
All my friends and family are here, it never crossed my mind to move away from here. School was cheap, rent too, it's a nice place, but I definitely didn't see Detroit as an emerging brand or group project that people were working on as a reason to stay here.
George prefers to talk about his sushi process, which is nine years in the making, rather than speculating about big picture sociological developments. "It's really all about the ingredients," explains the self-described trial-and-error chef. "I like to think I'm just selecting good ingredients and just assembling them for the diner, letting the flavors do the talking." His approach is uncomplicated, but selecting delicious ingredients that do not adversely affect the environment takes a large dose of research and some finesse.
When building a menu for a pop-up he starts by securing a seasonal fish that is either sustainably harvested or of an unthreatened population, a rigorous task, especially being so far from the ocean. "Most seafood counters find me irritating! I ask way too many questions that most places can't handle." With the fish secured, he bounces around gathering local produce at Eastern Market, sushi supplies from the Japanese grocer and revered sushi bar, Noble Fish, and miscellaneous items at nearby Honeybee la Comena. Back in the lab, he experiments with preparation methods, and the tastiest results end up on the next menu.
The "assembling" bit of the job is extremely laborious. To pull off one of his initial lunch-dinner takeout events would typically require eight hours of prep and organizing the night before, six or seven hours of cooking and rolling for the lunch orders, and another seven hours to finish the dinner orders. Around nine, George would break for his own dinner, then do three hours of clean up before calling it a night.
Sushi has played an important role in George's life since childhood when he would spend his entire allowance on the Japanese import. As soon as he could drive, he got a job prepping food at a sushi bar, in part to learn the trade but also to afford his expensive sushi habit. Yet it was not until he found himself unemployed and back in Detroit after a three-month, filmmaking trip to Southeast Asia that he considered exploiting his sushi-rolling talent and going into business. And it wasn't without outside inspiration either. "Then I remembered that there was this lady making noodles out of her Woodbridge house and that it was wildly successful, with people lining up around the block to get some noodles. Then I thought, dang, yeah, I could do that too."
The noodle lady was a California native pursuing a doctorate in community food systems and entrepreneurship named Jess Daniel. Her impromptu food business was called Neighborhood Noodle, and Dr. Sushi was not the only culinary hopeful to take note of her sprawling success: "Now there's so many DIY chefs doing pop-ups that it's hard to keep track," George says. "You can eat some unconventional food any day of the week."
Dr. Sushi is alive and well, but Neighborhood Noodle is not. After outgrowing her home kitchen, Daniel, like George, transitioned Neighborhood Noodle into a pop-up run out of an existing restaurant -- in this case Supino, the Eastern Market pizzeria. But she decided to fold the project shortly after. "As much as I love preparing and serving food, my real passion is in organizing, building systems, and supporting others to get where they want to go," Daniel explains. Neighborhood Noodle started as a way for Daniel to meet neighbors and local growers, and not long after its genesis, she found herself around a kitchen table of like-minded food entrepreneurs discussing ways to support and grow businesses that are economically successful, socially fair and ecologically sustainable, known as 3D or triple-bottom line businesses. Daniel set aside Neighborhood Noodle to develop this conversation into a network for food entrepreneurs, who are "committed to making the possibility of good food in Detroit a sustainable reality."
The network composed of 200 members, including Nick George, is now called FoodLab. One of its main focuses is to facilitate classes that help food entrepreneurs tackle difficult obstacles like connecting to capital, accessing commercial kitchen space, and navigating the licensing and regulation specifications of concentric government agencies. Upcoming developments catalyzed by the FoodLab network include the opening of a bagel shop, Detroit Institute of Bagels, on Michigan Avenue, the opening of a vegan restaurant, Detroit Vegan Soul, in the West Village, and market expansions for the confiture company, Slow Jams, and fresh sausage makers, Corridor Sausage.
Despite positive reviews from customers and some attention from local media, the story of George and the rest of Detroit's culinary underdogs is uncertain. Just like the days of his youth spent binging on sushi, the food entrepreneur has difficulty affording his-now commerce related-sushi habit:
The problem is that it's hard because I've never had any start-up capital or anything. If I were to take a giant risk I would be screwed. It's actually very common that I'll spend my last $400 on ingredients for a sushi day and hope that I can at least double it.
Without the benefits of angel investors or deep pockets, George walks a thin line to keep the business running and the bills paid. The free use of commercial space and the nature of pop-up restaurants, which all but guarantee a high concentration of customers and minimum food waste (Dr. Sushi serves from 6 p.m. until supplies runs out), are great crutches to keep overhead low and returns high.
According to St. Cece's executive chef, Adam Verville, the deal is also sweet for the host who benefits from the scores of fresh faces Dr. Sushi introduces to the establishment. But the format is a double-edged sword. The every-so-often nature of the operation means that capital is earned only a fraction of the time that a traditional restaurant earns. The trajectory of the business is made murkier by the fact that George, who has been dogged recently by a pinched nerve in his back, is not pursuing a means to take Dr. Sushi full-time: "I can't see myself opening up a restaurant anytime soon because I'd like to further my career in documentary and ethnography." Instead, George says he can see himself doing Dr. Sushi indefinitely, but as one of five to 10 other creative projects. This outlook begs the question: Is entrepreneur the right word? Or is Dr. Sushi a hobby put on by a versatile and eco-friendly artist?
"Many of the entrepreneurs we serve in FoodLab are not necessarily interested in getting big," explains Daniel. "Many work other jobs, many are parents. Some are only interested in supplementing their income in a sustainable way and maybe provide opportunities for youth or family or neighbors to have meaningful work."
Regardless, Dr. Sushi remains exactly what George says it is: an experiment. Fueled by passion, the experiment has developed over the past year and its conclusion is yet to be realized.
George, acutely aware of the project's fragility and his own disparate interests, maintains the same one-foot-in-front-of-the-other strategy that has brought Dr. Sushi to this point. In the days ahead, he will focus on connecting with Detroit's urban farmers and pushing his gastronomic craft to incorporate noodles, shellfish, cured fish, and fresh catches from the Great Lakes.