How often are you inspired?
In my TEDx talk "Reprogramming Your Brain to Overcome Fear," I speak about the importance of becoming a beginner again. So in 2011, I decided to learn the game of polo after watching a Ralph Lauren commercial. The only issue was that I was a rocket scientist-turned-CEO who never rode a horse before, and I knew nothing about the sport. To better explain, riding a polo pony as a beginning equestrian is equivalent to learning how to drive a manual transmission on an Italian luxury sports car. However, after learning how to ride horses and play polo, I was introduced to a new form of humanitarian influence where philanthropy, polo charm and science would all meet.
In Los Angeles on May 30, 2015, the 2nd Annual British Polo Day USA was the event where magic came alive. I was thrilled to be a special guest at British Polo Day USA as a celebrity TEDx speaker and a TV personality. Promoted by special members of the British Royal Family, British Polo Day is a private organization which prides itself on philanthropy coupled with elegant charm over the prestigious game of polo.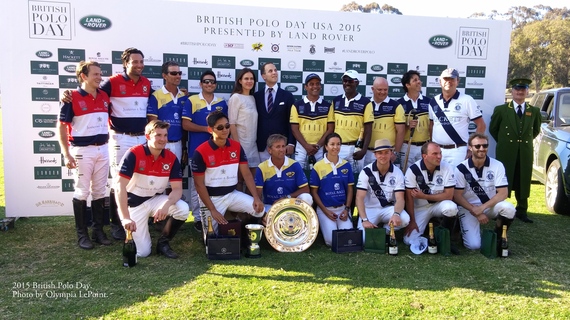 Above: Lord Frederick Windsor and his wife, Sophie Winkleman with the 2015 British Polo Day Teams in Los Angeles, California.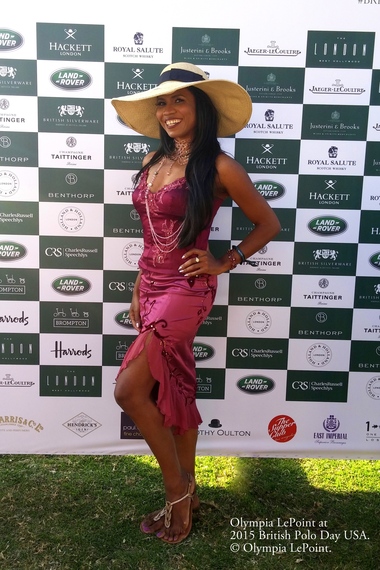 Above: Me, Olympia LePoint, on the "Green" Carpet.
Presented by Land Rover, British Polo Day returned to the USA and was hosted by the president of the Will Rogers Polo Club, Andrew Bossom, British Polo Day's USA Representative -- and member of the British Royal Family -- Lord Frederick Windsor and his wife, actress and writer Sophie Winkleman. Many guests and VIPs were treated to a day of networking, philanthropy and polo entertainment through the skills of Los Angeles' historic Will Rogers Polo Club with polo player Imelda De Alba. With exquisite planning executed by British Polo Day's executive staff William Mawby, Heather Schraeder, Sophie Rawe plus Supper Club Founder Tasmin Lonsdale, guests were thrilled with an extraordinary polo experience which will be remembered for years to come.
As a global humanitarian and educational philanthropist, I have experienced countless events that support notable causes. And, British Polo Day exceeded guests' expectations. While at British Polo Day, I was personally pleased to support my coaches and professional polo players Domingo Questel and Ardeshir Radpour, as well as support the powerful philanthropy opportunity. The British Polo Day proceeds benefited the UK Stem Cell Foundation and the Homeboy Industries organizations. With ground-breaking science, the UK Stem Cell Foundation, chairmanned by Sir Richard Sykes, specializes in finding cures to human diseases through stem cells. Founded by father Greg in Los Angeles, Homeboy Industries specializes in offering the necessary hope, training and support to formerly gang involved men and women allowing them to redirect their lives. Naturally, each of us were excited to contribute and support these philanthropic causes.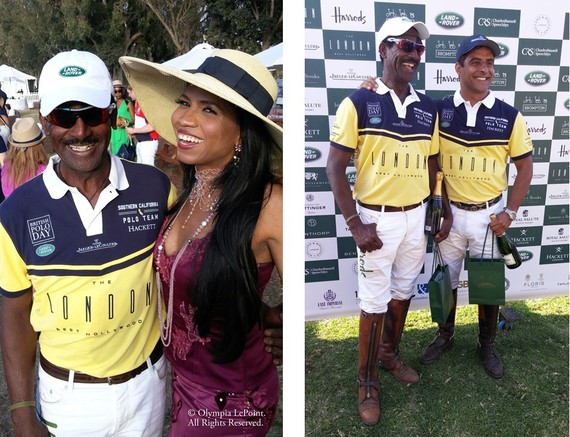 Professional polo players and my polo coaches Domingo Domingo Questel (left) and Ardeshir Radpour (right).
Naturally, polo inspires people to have beautiful fun over a memorable game. Guests were inspired to enjoy the beautiful world of polo. The following images are photos that I took from my camera phone. Each picture naturally depicts the day's elegance and charm.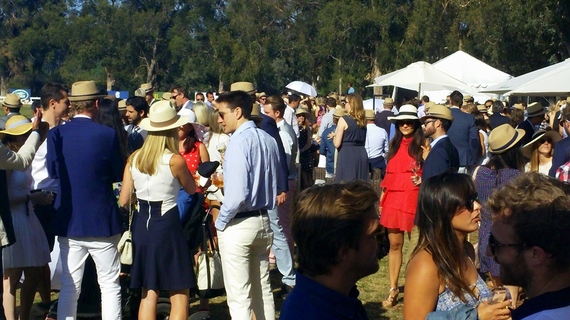 Above: Friendly guests meet each other over champagne.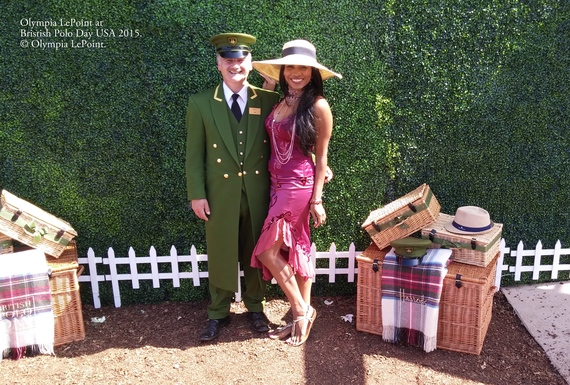 Above: A lovely showcase.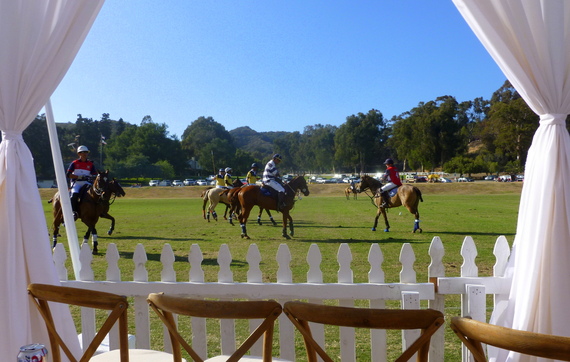 Above: The elegant game during a Time out.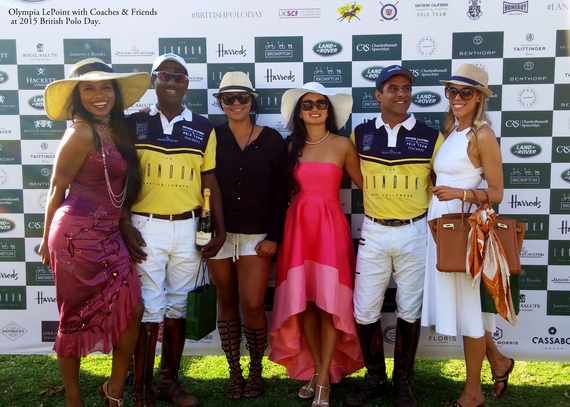 Above: Polo experts and friends. (L-R) Olympia LePoint (me), Domingo Questel, Gabby Questel, Karen Lilly, Ardeshir Radpour and Victoria Firestone.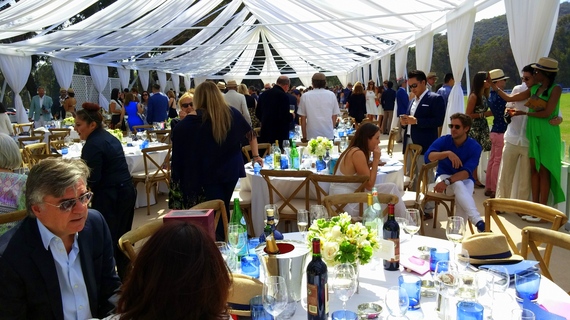 Above: Guests dine at the Will Rogers State Park.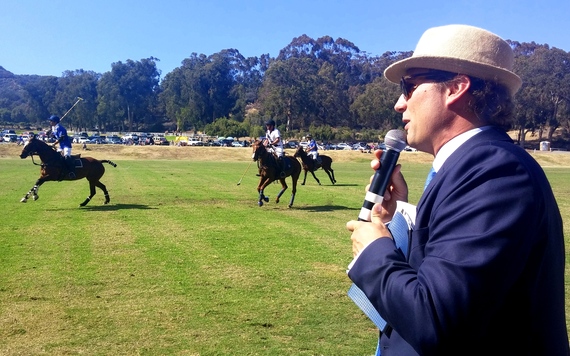 Above: British actor and polo commentator, Ebe Sievwright brilliantly explains each polo play and the game rules as horses power pass on the Will Rogers polo field in Pacific Palisades, California.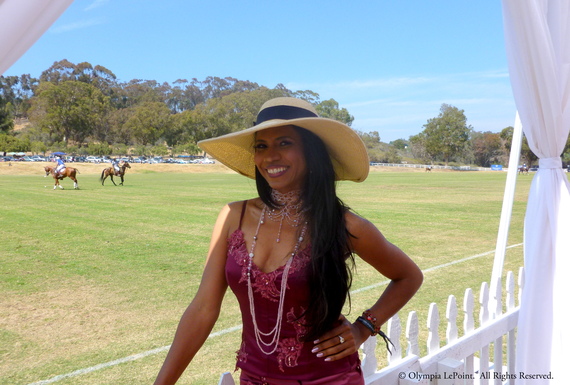 Above: As a polo enthusiast, here I am watching the polo game!
Many guests, including myself, thoroughly enjoyed the connection opportunities. Many top philanthropists, leading film producers, real-estate investors, CEOs and great technical minds were just a few of the people in attendance. And of course, I was delighted to meet a fellow mathematician and fan James Creighton who supports my book Mathaphobia. It was a pleasure to network and gain his insight on Chaos Mathematics. This new mathematical knowledge with chaos applications will be in my upcoming second book. The writing will explain how to reshape your human brain for success through practical steps based from chaos mathematics and neuroscience.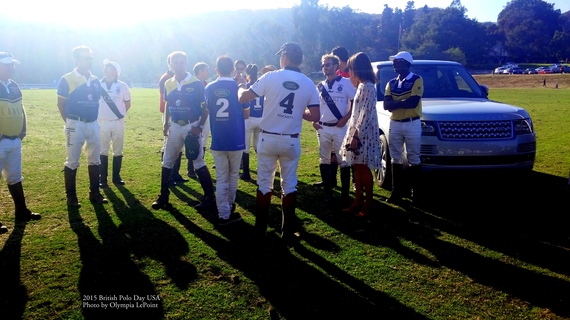 Above: In the setting sun, British Polo Day players rest after excellent matches.
Become inspired. Greatness is defined by breaking away from the norm. Many times in life, we simply must decide to leave our comfort zone and master something that will transform us. This principle holds true in my life, for organizations, and in your life. My love for polo came after I decided to become a beginner again. Now I am a skilled equestrian, and I play polo for fun. Who knew that learning how to ride a horse would unlock doors for humanitarian philanthropy? Invoke the "newness" principle. What can you learn today? What personal doors will you unlock? What will inspire you? How will you inspire greatness? Let time deliver your answers.
For more inspiration, find me on Facebook. Until next time, may greatness lead you.