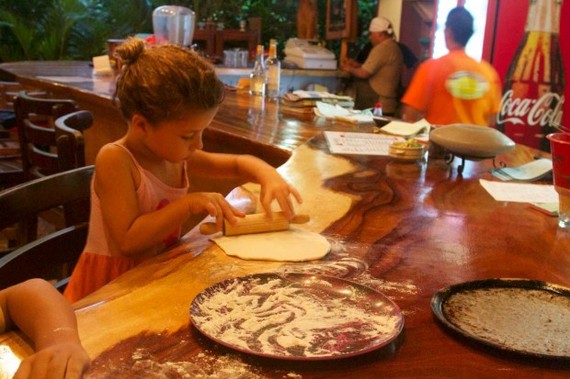 Photo Courtesy of Viva Tropical
When I was 3 years old, my dad decided to take us on a road trip to Paris. Our departure point was Naples, Italy. Boy, was I not eager to leave my beloved home, my cherished yard and my local beach to embark on a 48 hour trip towards an unknown destination with an unpronounceable name! Little did I know, though, that once there, I truly and genuinely would have never wanted to go back home. That innate human curiosity that seems to be helplessly in bloom during childhood, had been poked in such a way that every corner of magic Paris was worthy of my utter and indiscriminate attention.
I started traveling at a young age and I never stopped, thanks to my parents, who nourished and incited my passion to discover different cultures and realities. Those parents, who understand the importance of letting their kids embrace diversity and multiculturalism, are actually paving a path of success for their children's future. According to the U.S Travel Association, indeed, adults who went on educational trips during their childhood make $5,000 more per year and had higher chances of graduating from college than those who didn't travel in their youth.
Besides that, the American Speech-Language-Hearing Association reports that exposing children as young as infants to a second language, other than English, allows them to learn words more easily and to use information in new ways.
These facts become especially interesting if we consider that more and more families decide to take a gap year to fully enjoy abroad destinations and introduce their children to new cultures in an attempt to enrich them intellectually and emotionally.

Gap Years, Where?
In the past few years a wave of American families have established a second temporary or permanent residence in Central America.

Nosara, Costa Rica
With a wide range of available activities for kids, high quality education in an international environment, safety and highly rated healthcare, American families often consider Nosara, Costa Rica, as their gap year destination.
Nosara has proved to be an optimal location for those families who would like to immerse themselves in a slow paced kind of life, where English is still a widely spoken language and outdoor activities, fresh food, nature and beaches are only a step away. The David Kitson Public Library, with its huge selection of English and Spanish volumes, along with the choice of organic meats and vegetables available at the Deli Market and at the Local Fare represent, in fact, a major attraction for families with children.

Boquete, Panama
Alternatively, since Nosara lacks some of the comforts they leave back home (like consistently available high speed internet), others decide to temporarily relocate in the scenic Boquete, in Panama, where rainbows and mountains are a perfect surrounding for its well established community of expats.
Retirees have been enjoying this country paradise for years, taking advantage of the many convenient amenities it has to offer in its small-town settlement. Families are following them on the premise they are going to find a welcoming atmosphere and low cost of living. Its lively art community and the presence of indigenous groups such as Ngope-Bulge and Kuna, both of whom are famous for their fine craftsmanship, are a perfect example of Boquete's local and international fusion, making it a great spot for children.
Cuenca, Ecuador
An evergreen destination, widely appreciated by retirees and families, Cuenca, Ecuador remains a top choice for gap year-expats. While Cuenca is still a rather affordable town with spectacular views and comforts, it differs from Boquete for its city-like charm and the related pros/cons that come with it. Besides its scenic mountains, Cuenca is rich in history, architecture and culture, so much so that, when Ecuadorians who previously moved to Europe decide to go back to Ecuador, they tend to establish themselves there.
These are three examples of great and diverse environments, ideal for families who want to experience a new world. If you could, where would you and your family escape for a year?