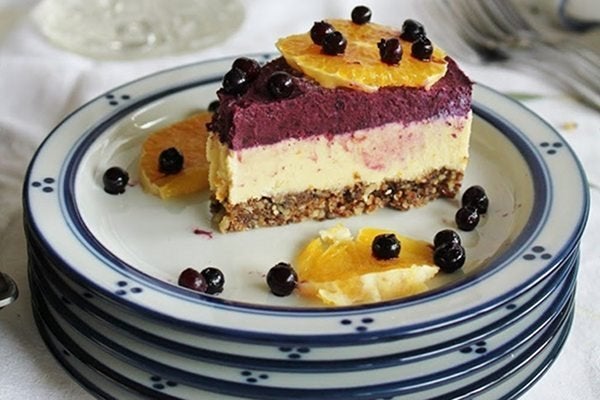 Which foods seem like they would be the most difficult to veganize?
Besides some obvious meat-based dishes, anything that relies heavily on eggs, cheese, or cream for its taste or texture would seem to pose a problem. Quiche, omelettes, mousses, and cheesecake come to mind.
Interestingly, though, cheesecake isᅡᅠsurprisinglyᅡᅠeasy to veganize, and the results are incredible!
Vegan cheesecakes are also markedly healthier than their conventional dairy and egg-laden counterparts. Free of cholesterol and animal fats, many of the recipes below feature whole grain and dried fruit crusts; fillings made from raw, soaked nuts and natural sweeteners; and fresh fruit toppings.
But how do they taste? Well, from the looks of the amazing collection of recipes below, pretty delicious! Perhaps we really can have our cake and eat it too...
Raw Orange and Blueberry Cheesecake
Crust Ingredients:
2 cups raw nuts
1 cup dates or raisins
pinch of salt
Orange Cheesecake Ingredients:
3 cups cashews
3/4 cup fresh orange juice
1/2 cup agave/maple syrup
1/2 cup meltedᅡᅠcoconut oil
juice of one lemon
zest of all the oranges you juiced
pinch of salt
Blueberry Layer Ingredients:
2 cups organic blueberries (I used frozen)
1/4 cup of the orange cheesecake mixture
Preparation:
To make the crust: process the nuts and dates/raisins in yourᅡᅠfood processorᅡᅠuntil the nuts have become crumbs and the mixture sticks together when you press it. Press into the bottom of aᅡᅠspring-formᅡᅠpan and put in the fridge.
To make the orange cheesecake: blend all ingredients (except orange zest) in your high speed blender until very smooth, then add in the orange zest with a spoon. Reserve 1/4 cup of this mixture for the blueberry topping -- pour the rest onto your crust and put in the freezer.
To make the blueberry layer: blend the blueberries and the 1/4 cup of cheesecake mixture in yourᅡᅠfood processor or blender until creamy but still with small pieces of blueberry for texture. Spread this over your cheesecake and keep in the freezer or fridge overnight. If you can wait a day -- this is best after 2 days (and not frozen, of course) enjoy with sliced oranges and blueberries!
BELIEVE IT OR NOT BUT HERE ARE MORE CHEESECAKE RECIPES BELOW!
Got a delicious vegan cheesecake recipe you'd love to share?ᅡᅠSend it in!