It's Memorial Day weekend! Time to enjoy some grilling, maybe catch a baseball game and spend some time enjoying the nice weather with friends. Beyond that though, it is a time to honor the sacrifices made by the men and women of our armed forces and their families. Our nations veterans have given more to this country than many of us can even begin to imagine. Deepak Chopra recently sat down on NEWSWIRE.FM's program ONE WORLD with two men who are all too familiar with the sacrifices our veterans make and are working to ensure that they are well taken care of when they return home; Ben Patton and Steve Robinson.
Steve Robinson's father was a marine and both he and his brother have also served. After Steve's twenty year military career, he has gone on to advocate for veterans. "It's a huge population and they need all the tools they can get to help them reengage with society," he explained to Chopra. "I'm concerned we're not doing enough." Steve went on to explain that the suicide and divorce rates, along with other indicators point to the fact that society simply isn't doing enough to ensure that when our men and women in uniform return home, they get the support they need. The government can't do it all though. Steve believes that the communities these veterans live in are key to ensuring these men and women can successfully return to civilian life.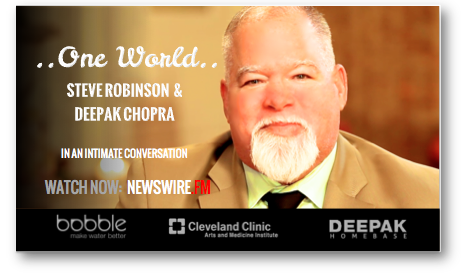 Ben Patton tells a similar story. The grandson son of the famed World War II General, and the son of another General Patton, Ben discussed with Deepak Chopra the fact that although he has not followed his father and grandfather into military service, he has honored their legacy by working to care for the mental health of veterans. "My grandfather and father were very well known for their audacity and their bravery on the battlefield but also for their care of the soldiers," he told Deepak. "The one area they weren't so good at was the area of mental health." Ben is continuing the Patton legacy by focusing on this very important piece of veteran's health by teaching film workshops for veterans. He is using the therapeutic nature of storytelling to help ensure the health and safety of the men and women who have given so much to keep us safe. Men and women like his father and grandfather.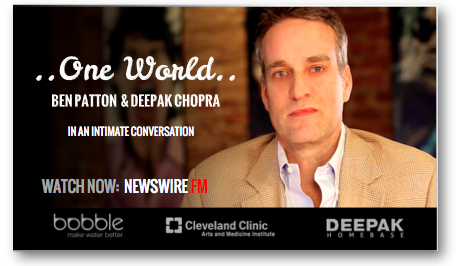 Both Ben Patton and Steve Robinson come from military families but they recognize that the burden of helping our veterans recover from the scars of battles- both seen and unseen- cannot be left just to their loved ones. As we light the barbeques this weekend, we would do well to reflect on the sacrifices our veterans have made and perhaps consider what we can do to help the likes of Ben and Steve in their mission to ensure that our veterans return to safe, happy and productive lives at home.
This is a blog series produced in partnership with One World, a video series with Deepak Chopra and NEWSWIRE.FM. To view the full video and subscribe to all the episodes click here: