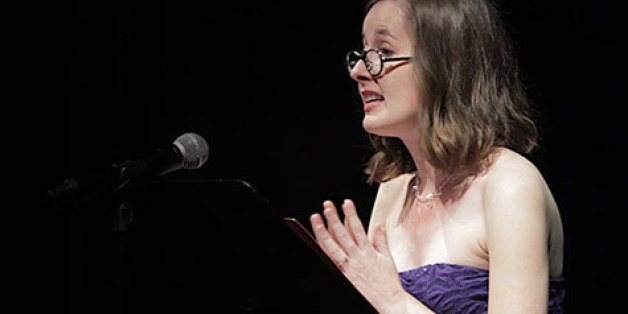 This story was written and performed by Tiana Lightfoot Svendsen for the live, storytelling show Oral Fixation (An Obsession With True Life Tales) at Hamon Hall in The Winspear Opera House in Dallas, TX on October 28, 2013. The theme of the show was "Bun in the Oven."
Oral Fixation creator Nicole Stewart suggests, "If you enjoy reading this piece, you've got to watch the video of her "Bun in the Oven" performance. Tiana brings a Saturday Night Live style to reading her story that demonstrates her fun, wacky personality!"
After tying the knot at 25 years young, family and friends began their quest to convince me to join them as fellow breeders. At every festive gathering, an inquiry was made on my womb's status. My father called me on my birthday to tell me to freeze my eggs, as a precaution. After graduation, all of my friends from college had been awarded MRS degrees. The name of the game now was fertility roulette. Becky did not understand why I was shocked when she tried to negotiate unprotected sex in exchange for holiday gifts. Of course I have always preferred jewelry or a nice box of chocolates for Christmas. Did we have to fib to our husbands about birth control or pressure them into producing people? I loved our happy hours, but loathed the non-stop fertility talk.
Work wasn't even a safe haven. A colleague rubbed my belly during a meeting and told me that I was pregnant. Sorry Linda, that's just cake. Everyone around me was advocating for a mini-me with more fervor than a PBS pledge drive at the end of a fiscal year. Speeches on the glory of babies were given ad nauseum. Their fresh smell, their adorable smiles, how you can ever love anything or anyone more than you do your own offspring?
It's not that I didn't want kids. All I wanted was everything. I wanted to be a mom later; after I had become an exemplary wife with a stellar career. Having just wed, I was still learning to share my life and closet with another. I was doing a mediocre job at best, and husbands, unlike babies, can feed and dress themselves. How would I fare with a tiny creature who could not manage bowel movements independently and needed constant support for survival?
And besides, our apartment was stationed above a Rastafarian drug dealer. He was nice enough, but the space was so small that we jokingly had visitors spin around in a circle when they requested a tour. Where would the baby go? The balcony? Finances were also a concern. Most of our money was allocated to student loan payments. The rest went to living expenses.
As I continued to rotate around the sun, childless, our status began to improve. Our student debt was still mountainous, but the summit was in sight. I found my dream job working as an institutional Lorax, helping drive sustainable change. We purchased a condo in a safe neighborhood. During this time, my husband caught the baby fever. His temperature for fatherhood was so high that I thought he might need to be hospitalized. He wanted a resident for our spare bedroom, which was currently just a resting ground for over-indulgent party guests. He would kiss every baby he met. My inbox was a constant stream of pictures of baby animals he saw in a nearby pond. While I had not chugged the same big gulp sized cup of Kool-Aid, I felt ready to be a mom. I found myself smiling at babies -- when I was certain no one was looking. The new job came with an excellent health insurance package, so I decided to get things checked out.
News from what should have been a standard well-woman exam turned my heart into cannon fodder. Not only was my malfunctioning thyroid causing my hair to fall out and turning my skin into sand paper, it had also broken my vagina. The husband took the news of my infertility like a boss. He scooped me up and reminded me that he loved me regardless. I knew this news was hard for him to swallow, but he never let it show. It is impossible to know how much you want something until you can no longer have it. After announcing to loved ones that I would not be able to replicate the natural way, the prodding halted.
We took advantage of our status as DINCs and spent our funds on nice dinners and trips. Our bellies and schedules were full, but our home seemed empty. We considered adding a pre-fabricated child to the Svendsen household. Melissa, age 5, loves soccer. Devon, age 7, enjoys making new friends and is looking for his forever family. These were just two of the dozens of profiles of beautiful children I swooned over on the Texas Adoption Resource Exchange.
Doctors are smart, but certainly not omniscient. You may have noticed that I am presently growing a child both in my heart and in my uterus. As soon as I found out, I found a new doctor. The first trimester sucked. Only being able to complain to my husband was a burden on both of us. He is a great listener, but was only pregnant with a food baby. He could not commiserate over symptoms such as breast tenderness or rectal bleeding.
Thank goodness for the second trimester. Sharing the news of our fetus was a bigger delight than the decrease in nausea. We made the announcement through a tour of our condo. Since my Mom was told that I, her oldest child, could not have babies, the crib was an especially creepy touch. After realizing, however, that the news was true and we weren't just playing house with our teddy bears, the room was consumed by a joy-filled scream that I imagine can only be produced by expectant grandmothers. While my father did not shout, he said he had decided he was going to be a grandfather 5 months before I got pregnant and had been refinishing my great-great-grandmother's rocking chair.
Some people decided to take word of my bun in the oven as an opportunity to get their own experience off of their chest. Tiffany shared the story about how her baby bit off half her nipple while breastfeeding. Her face relived the pain as she then revealed that with one top hat dangling she had to continue nursing. My grandmother told me that I would sh*t the bed and scream my head off after providing me with a play-by-play of her 12-hour delivery. I've heard all about diaper blow-outs, breech births and post-partum depression. Several friends asked me if I am worried about getting fat. No, actually, I am more terrified about what will happen to my lady bits during and after birth. Thanks, Grandma.
While most people actively terrify me, the husband reminds me that everyone comes from women, so it can't be that bad. He even pumps gas for me because as a paranoid environmentalist, I have a fear of toxins absorbing into my skin and harming the baby.
However, sometimes a difference of opinion arises. Initially, he pushed for a natural birth. I reminded him that when he had an ingrown toenail he was given pain killers. That's right, a f*cking toenail. If natural child birth means having a baby in a hospital, with an epidural, then yes, that's what I'm doing. If he's thinking I want to pop a person into our bathtub while a lady wearing a headscarf plays the bongos, think again.
While pregnancy has challenged my digestive system and destroyed my boyish figure (hello, boobs!), I am ready to welcome all that motherhood has to offer. One day, I hope to add an adopted child to the mix, but for now, my time and energy will be devoted to this life. Bring on the fresh smells, the ripe smells, the adorable baby smiles and the sleep-stealing cries. Even my grandmother closed her genital crushing story by saying that upon meeting her babies, they were the most beautiful things she had ever seen.
Being a great mom is probably out of my reach. My language and mood can rival the surliest Sea Captain. Coming from a long line of defrosters, pasta is still the only dish I willingly cook and it tends to be soggy on top and burnt on the bottom. But I can't wait to meet my son. He is the best surprise and already has all of my love.