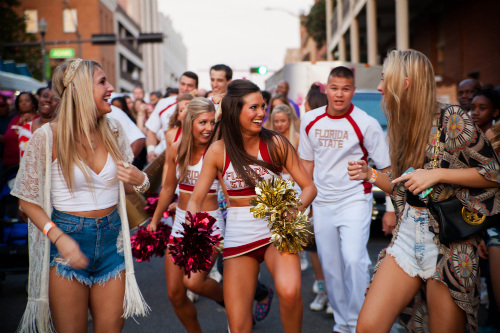 By Dalia Colon for the Orbitz blog
It's game time, and touchdowns and tailgating are in full swing. But not everyone is ready for some footballlll. Fortunately, these five great college towns offer plenty of amusements beyond the end zone. These are Orbitz's top picks for destinations that score big with football junkies and non-fans alike.
Take the University of Texas out of Austin, and what do you really have left? Plenty. Live music is ubiquitous in the self-proclaimed "live music capital of the world," and you can't go wrong with a taping of PBS music show Austin City Limits. When you get hungry, browse the food trucks along South of Congress Avenue—better known as SoCo. Also make reservations for a free guided walking tour to explore the city's architecture, history and lore.
Game day game plan: The night after a Longhorns victory, look for the 27-story-high UT Tower to be glowing with orange light.
If University of Oregon football isn't your bag, there are lots of other ways to get an adrenaline rush. Hike to the Salt Creek Falls Observation Site, or head to the McKenzie River for rafting, fly fishing or mountain biking along the banks. Next, slow things down with a scenic drive to explore the region's covered bridges; along the way, stop by one of the area's many wineries to taste what Oregon Pinot Noir is all about.
Game day game plan: Hate the cold? No problem. Before home games, join thousands of Ducks fans for an indoor tailgate party at the Moshofsky Center.
If the Florida State University Seminoles and Florida Agricultural & Mechanical University Rattlers don't do it for you, spend your Saturday at the outdoor Tallahassee Downtown Market. Also tour the Florida Historic Capitol Museum for sweeping city views. From there, walk to Andrew's Capital Grill & Bar for some of the best political people-watching in the state. As day turns to night, catch a live show at Bradfordville Blues Club or an outdoor concert in Cascades Park.
Game weekend game plan: Every Friday night before Saturday home games, fans of both teams head to the center of town for two celebrations: the Downtown Get Down on Adams Street and the Friday Night Block Park in Kleman Plaza. Both events include live music, food vendors, street performers, kids' activities and more.
The home of the University of Hawaii Rainbow Warriors isn't just football paradise; it's actual paradise. Hike the Makapu'u Point Lighthouse Trail for gorgeous coastal views, then head to Manoa Marketplace for the semi-weekly farmer's market. To pick up the pace, go three miles west to indulge in Honolulu's world-class restaurants, shopping, spas, historical landmarks... We could go on.
Game day game plan: Visit a local florist to pick up a ti plant, which fans wave at Aloha Stadium (what did you expect it to be named?) for good luck.
The University of Notre Dame catapulted this quiet Midwest town into the spotlight. But even if you don't know the Fighting Irish from a bar of Irish Spring, you'll appreciate the Potawatomi Zoo and Wellfield Botanical Gardens. And while everyone else is noshing on stadium footlongs and cheap beer, treat yourself to a tour of the South Bend Chocolate Factory and Museum.
Game day game plan: On Saturdays, two-and-a-half hours before kickoff, catch a free performance by the school's glee club at the serene Hesburgh Library Reflecting Pool.
More from the Orbitz blog:
New York's funniest comedy clubs
Rick Bayless tells you where to eat in Mexico City
Top 9 things heard on family road trips (and how to deal)