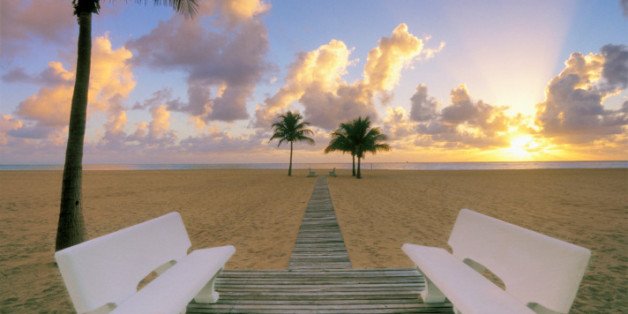 By Dalia Colon for the Orbitz blog
Panama City Beach is the go-to destination for Spring Break. Miami's South Beach is a playground for the beautiful people. And Key West has been lauded by everyone from Ernest Hemingway to Kenny Chesney. But with 663 miles of beaches, Florida still holds a few sandy secrets, including these seven under-the-radar spots we Floridians would rather keep to ourselves.
1) Crandon Park: While tourists flock to Miami's bustling South Beach, the locals quietly make their way to Crandon Park in nearby Key Biscayne. The two-mile beach is family-friendly, with gentle Atlantic waves, a carousel and even an outdoor rollerskating rink.
2) Bahia Honda State Park: Key West gets all the glory, but it's not the only island in the the Lower Florida Keys that's worth writing home about. Travelers seeking a destination that's more family-friendly or romantic (read: quiet) can experience the stunning views as they drive across the Overseas Highway from Miami to Bahia Honda. The day's itinerary? Take a snorkeling excursion before watching the sunset.
3) Amelia Island: It's not exactly a state secret, but this barrier island flies under the radar compared to nearby Jacksonville Beach. Take a kayak or paddle boarding excursion along Amelia Island's 13 miles of Atlantic coastline, then keep an eye out for dolphins and even wild horses during a sunset cruise to neighboring Cumberland Island, Georgia.
4) Caladesi Island State Park: In 2008, famed coastal researcher Stephen "Dr. Beach" Leatherman christened Caladesi America's best beach. But what keeps it uncrowded is that you have to take a ferry from Dunedin to get there. It's worth it, though, for a Gulf of Mexico getaway where soft, white sand and wildlife meet modern amenities including a snack bar and gift shop.

Don Pedro Island. Photo by Dalia Colón.
5) Don Pedro Island State Park: A little more than an hour's drive south of Sarasota is Don Pedro Island, a sleepy seven-mile stretch of Gulf of Mexico beach that's accessible only by private boat or the public ferry. You can bring your car aboard, but golf carts are the vehicles du jour.
6) Delray Beach: When Floridians want a beach town that's vibrant but not overrun, they head for this upscale destination between West Palm Beach and Fort Lauderdale. The beach is accessible from East Atlantic Avenue, whose boutiques, sidewalk cafes and ice cream parlors round out the natural lure of the Atlantic Ocean.
7) St. George Island: Nestled in Florida's panhandle, this barrier island is enveloped by the Gulf of Mexico and the Apalachicola Bay. By day, climb to the top of the 72-foot-high lighthouse for a panoramic view of the area. Then at night, hit the restaurant scene for seafood and live music.

More from the Orbitz blog:
Holiday travel: The 3 Absolute Best Days to Book
How to Get Behind the Wheel of the Wienermobile
Fall's 8 Best Deal Destinations