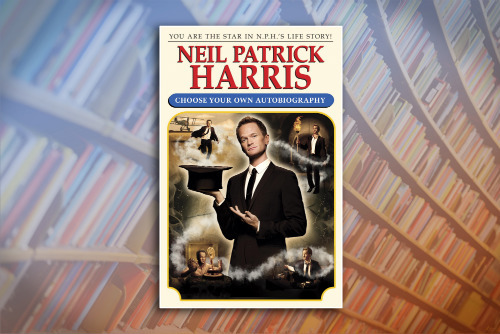 By the editors of the Orbitz blog
Travel can feel a lot like an exciting choose-your-own-adventure book. And so can Neil Patrick Harris's life. In his new memoir, Neil Patrick Harris: Choose Your Own Autobiography, the Tony Award-winning Broadway actor (Hedwig and the Angry Inch) and TV star (How I Met Your Mother) allows the reader to make every important decision in his life. To celebrate choosing one's own adventure—namely, that age old question, East Coast or West Coast?—NPH shared his top picks for hanging out in both L.A. and New York City.
Hinoki & the Bird "This restaurant is a haven: super-delicious food—right by Fox, where we filmed How I Met Your Mother—in a lush and sexy setting. The skate wing entrée is magical. Even more so after a few of the cocktails...."
Kiwami "THE BEST HAPPY HOUR IN ALL THE LAND. My family loves it. Sashimi plates, baked crab rolls, spicy tuna rice cakes, a cold beer and sake combo. Boom. Done."
No Vacancy "Hollywood isn't always the best for bars (or anything), but this secret little guy is suuuper cool. It features one of the coolest ways to enter a bar that I've encountered. A modern-day speakeasy in the midst of...well, hobos and tourists."
The Magic Castle "Okay—this place is literally magical. A private club where everyone is dressed to the nines and unbelievably talented. And the magicians—you will not believe their talent. The shows here defy logic and most laws of nature. Also, great cocktails."
CorePower Yoga "I love me some hot yoga, and this place is one of the best. Clean, hot and stretchy. I think I'm still talking about the yoga place.... (Great for detoxing those aforementioned cocktails.)"
Disneyland "DISNEYLAND!! I mean...do I really have to explain this one? I would live here if I could. Do they have residences? I could really get into that."
Fox Studios "I lived here for nine years, but it never stopped feeling special. Old-school Hollywood filled with such history. Don't miss NY Street."
NEW YORK

Toloache "I almost don't want to reveal this one. Best Mexican food in the Theater District. Try any of the amazing tacos or potent margaritas. And the guac! Ooh, the guac."
Red Rooster "Harlem is my new home, and this spot is one of the best things about it! The food, the ambience, Ginny's Gospel Brunch on Sundays! Yes, it's a restaurant. But with Marcus Samuelsson at the helm, it's also an experience."
Per Se "So fancy, but just unbeatable. A once-in-a-lifetime meal every time. Thomas Keller is a God."

Children's Museum of Manhattan "My kids Gideon and Harper love this place—it's really cool. Yes, it's meant for kids, but it's cool enough for adults. Family fun!"
Equinox "Best gyms in existence. No question. It's not a secret that this place knows what it's doing. They motivate me and make working out a joy."
Broadway "Where some of my most incredible memories have been made. I will never forget my most recent home, the Belasco Theatre, and Hedwig, for which I just won my first Tony Award. Good times."
Want to visit some of Neil Patrick Harris's favorite hot spots? Enter to win your choice of either a Los Angeles or New York City package (before October 6, 2014).
More from the Orbitz Travel Blog:
The absolute 5 best college football towns for haters
The 5 Mexico City restaurants Rick Bayless can't live without
Top 9 things heard on family road trips (and how to deal)