Shark Week is jawsome. There, we said it. It makes us want to become one with the sharks. And by "one" we mean safely behind the narrow-gapped bars of a shark-diving cage observing them. Or, okay, maybe on the boat. Look, there's really no telling what will happen once the time comes. Shark Week definitely spurs the urge to travel, whether it's to cage dive with Great Whites on Guadalupe Island off the coast of Mexico or stay safely on dry land in Las Vegas.
Looking for a minimal commitment way to become one with the sharks? Find your shark name. You're 100% guaranteed to still have all your limbs after doing so.
Click to view full size image.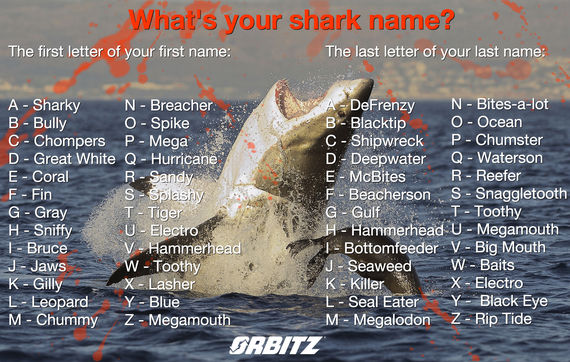 More from the Orbitz blog:
Aloha, budget Hawaii! Your 5 secrets to cheap
Food on the fly: 10 awesome airport restaurants
Secret beaches: Try these less crowded lookalikes