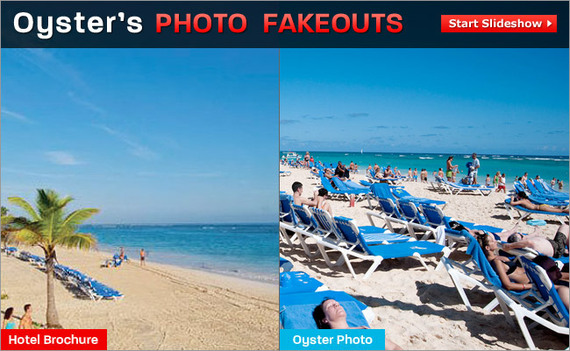 Throughout our hours and hours of travel and hotel investigating at Oyster.com, we've come across quite a few photo fakeouts: Situations where the hotel website showed the property as one way, and we found it to be a totally different way when we arrived. Like in the cases of "crowd-free" beaches, "delicious" buffets, and "massive" pools. And we've become quite famous for our discovery of these sneaky marketing ploys.
So today we're sharing our latest findings: from two mattresses magically merging into one to disappearing beach crowds, hotels we've visited recently have been up to plenty of tricks.
Trust us, you've got to see these for yourself.
Jamaica Photo Fakeout: It's What You DON'T See

Sure, photo fakeouts have taught us that you can't always believe what you see in the glossy marketing photos. But they've also demonstrated that you should be wary of what you don't see as well. Take this pic from the Samsara Cliff Resort hotel website, for example. We're sure the hotel does have a lovely smiling instructor ready to assist guests with their backhand, but it's a bit odd that the website doesn't also show the lovely facilities too, right? Well, perhaps it's because they're not so lovely... but instead dilapidated and in need of some serious repair.
Read the full Samsara Cliff Resort & Spa review.
Barcelona Photo Fakeout: Don't Fall in the Crack!

Unfortunately, it's a common practice in European hotels to place two twin beds side by side, sharing the same headboard. It's also unfortunately a common practice for these hotels, like Hotel Sagrada Familia in Barcelona, to disguise this "two-becoming-one" trick in their marketing photos, instead making the two mattresses appear as a single larger one. So make sure to look before you leap -- you won't want to fall in the crack when diving into bed after a long day of sightseeing!
Read the full Hotel Sagrada Familia review.
Grenada Photo Fakeout: This Sexy Couple is Distracting You From the Fact That This Pic is a MAJOR Pool Crop Offender

Okay, this marketing pic totally plays into our Caribbean fantasies -- gorgeous view, gorgeous guy, gorgeous bod, gorgeous pool, even a gorgeous cocktail in hand! But these well-placed (and, we must say, well-selected) models are distracting us from asking the important question: Why can't we see the entire pool in this shot? Well, it's because the marketing team over at Maca Bana did the good ol' pool crop, where they strategically cropped out the edges of the pool to hide the fact that it's really closer to the size of a bathtub. Our Oyster investigator revealed the truth.
Read the full Maca Bana review.
Williamsburg Photo Fakeout: A Gym with Shrinking Walls

This Comfort Suites property in Williamsburg, VA makes no claims that it has a BIG on-site gym -- but the photo on the hotel's website does not truly portray just how tiny and cramped it is. We personally feel claustrophobic within the confines of a gym no matter its size, and this one is so tiny that it can cause shortness of breath -- before you've even stepped onto the treadmill.
Read the full Comfort Suites Bypass review.
Ocean City Fakeout: Bright Suits and Tubes Disguise a Drab Pool Scene

This up-close shot of happy guests (with, we must say, great dental hygiene and impeccable taste in swim trunks), hides the fact that the pool at Dunes Manor has DEFINITELY seen better days -- maybe back when the hotel website's photo was taken? Oh, and it's pretty small, too.
Read the full Dunes Manor Hotel review.
Sicily Photo Fakeout: What Does That Hedge Hide?

When most people dream about a beach getaway, they don't fantasize about sharing it with a bunch of strangers -- which is exactly what you'll do if you book a stay at Delfino Beach Hotel in Sicily. Don't get us wrong, it's still a lovely beach. But that hedge in the pic on the hotel's website deceptively hides the fact that loungers are chock-a-block on the sand.
Read the full Delfino Beach Hotel review.
Tuscany Photo Fakeout: Like, We DO Care Whether It's One or Two Beds

There's nothing like planning a romantic getaway and finding that the massive queen bed you saw on the hotel website and thought you booked is, in fact, two twin beds. We don't know about you, but two twin beds side by side are NOT the same as a queen bed. In fact, they can totally ruin your plans for some hanky panky. Or if not ruined, just really awkward...
Read the full Hotel Athena review.
Jamaica Fakeout: The Sexy Lady and Pool Crop Team Up

This marketing photo from Tensing Pen delivers a one-two punch. The image features an almost-definitely-not-there-when-you-arrive sexy lady (punch one), who distracts the viewer from noticing that the tight crop of the camera hides the fact that this pool is actually way smaller than you may expect (punch two). The gorgeous ocean view is fortunately the same in both the marketing fantasy AND reality.
Read the full Tensing Pen review.
For more photo fakeouts check out the slideshow:
PHOTO GALLERY
Worst Hotel Photo Fakeouts