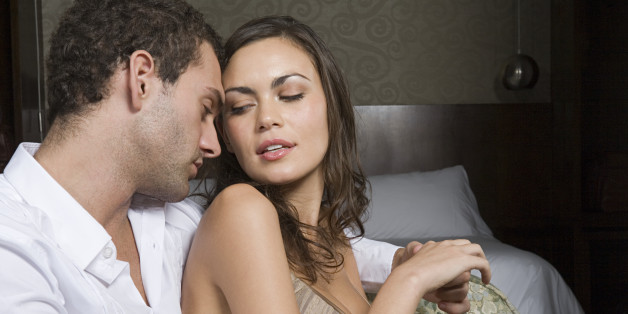 Some hotels (our favorites) go all out to provide a sexy space for travelers looking to up the romance level, whether they're celebrating a honeymoon, anniversary, or hey -- simply a kids-free Saturday. The more modest features these hotels offer include steamy whirlpool tubs or intimacy kits in the minibars, while more elaborate options include rooms equipped with erotic photographs, rotating beds, and mirrored ceilings. We searched for some of the naughtiest, most NSFW guest rooms and found some real, er, winners at the following nine hotels. Don't worry -- they're all safe enough for work, just maybe not the correct venues for a work event... But all these options are sure to make your vacation an amorous one!
-- Lara Grant, Oyster.com
Hotel Pelirocco; Brighton, England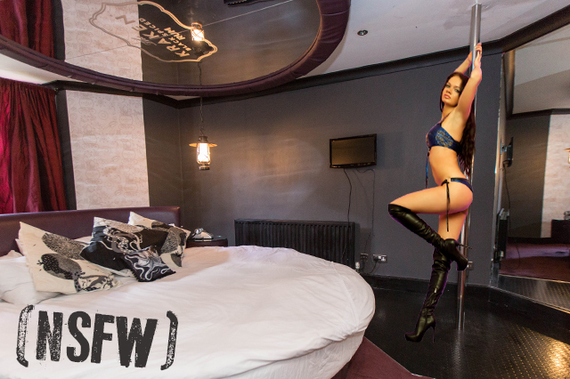 Calling itself "England's most Rock 'n' Roll hotel" certainly gives the upper-middle-range Hotel Pelirocco a lot to live up to, but it makes a sterling effort. The focus is on the hotel's individually themed rooms (from burlesque to sci-fi), which are very imaginatively finished and truly unique. Some rooms verge on X-rated, particularly the Kraken's Lair Suite, which has a mirror above the bed and a stripper pole. A red chandelier and risque mermaid photos also dial up the sexiness. There's also the Ophelia Fancy Room, which has a lingerie-theme.
Desire Resort & Spa Riviera Maya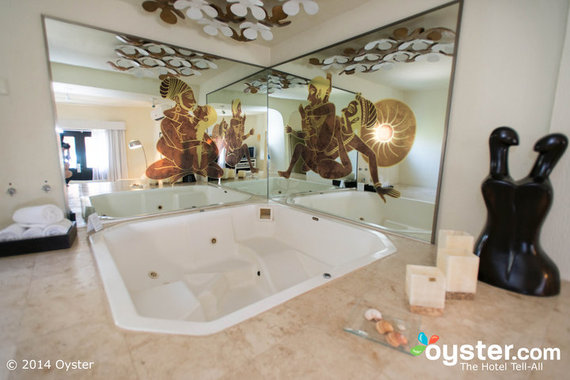 Desire Resort & Spa is an all-inclusive, couples-only, clothing-optional resort that attracts a range of couples, from older married ones to young nudists to swingers. This is a place only for those interested in a raucous vacation; after all, sex is allowed in some public spaces, such as the whirlpool area and the Sin Room. One of the more provocative rooms is the Passion Suite; steamy photos, a Kama Sutra-inspired mural above the two-person whirlpool, and a tantra essentials gift box are present.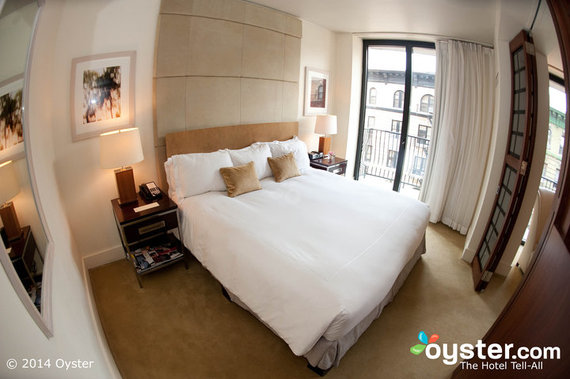 A 100-room boutique with an inventive design, attentive service, a chic restaurant, and an exclusive rooftop bar, SIXTY SoHo epitomizes swank, SoHo hip. Its location amidst prime shopping, dining, and all-night debauchery helps keep it at the top of the cool meter. Stay in the King Suite and in addition to the typical chips and tiny liquor bottles in the minibar, there are also condoms, massage oil, an intimacy kit, and a boudoir candle. Expect to pay a pretty penny for those sexy amenities, though.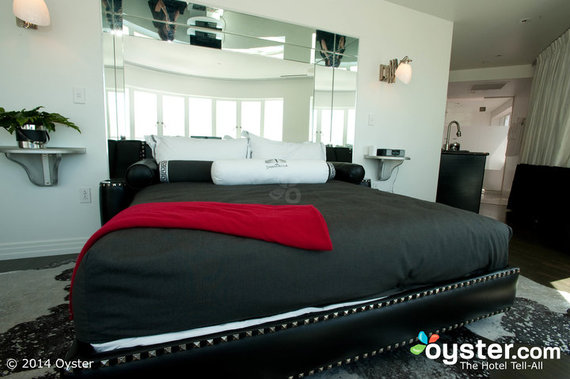 A slick and inviting boutique hotel overlooking the Pacific, the Hotel Shangri La has 71 exquisite rooms and lustrous interiors in an iconic Art Deco building that invokes the curvy contours of an elegant ocean liner. For a NSFW vacation, stay in the hotel's Rock & Roll Suite. In true rock fashion, the suite has a six-person shower (we guess for saving time?), studded bed frame, and mirror headboard.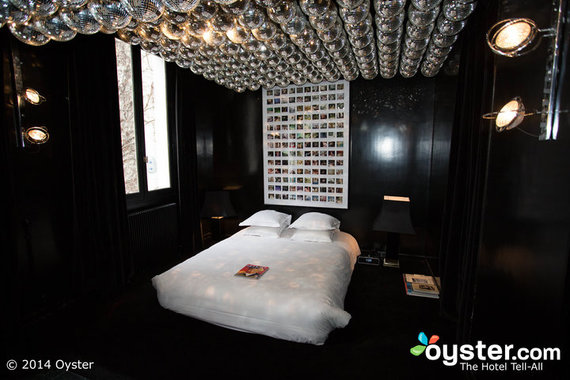 Situated in the Pigalle quarter near the Moulin Rouge and Basilica of the Sacred Heart, The Hotel Amour attracts fashionable Parisian youth with its hip restaurant and bar. The hotel itself was inspired by the Japanese model of love hotels, and the owners have invested a tidy sum of money in developing the concept -- for example, they hired the services of well-known fashion designer Chantal Thomass to design certain rooms. Those interested in an erotic hotel experience should book the Supérieure or Big Double Room; each is filled with either erotic photographs or phallic furniture.
When it comes to hourly-rate hotels, very few are as heavy-handed with sexual overtones as the Liberty Inn. The experience starts with guests selecting their room type, checking in with the man behind bulletproof glass, and walking past the vending machine stocked with condoms and sex toys. It continues with the lewd in-room drink menu, six channels of free porn, romantic mood lighting, and provided "exercise pillows" to help guests...uh...work out.
The Palms Casino Resort, Las Vegas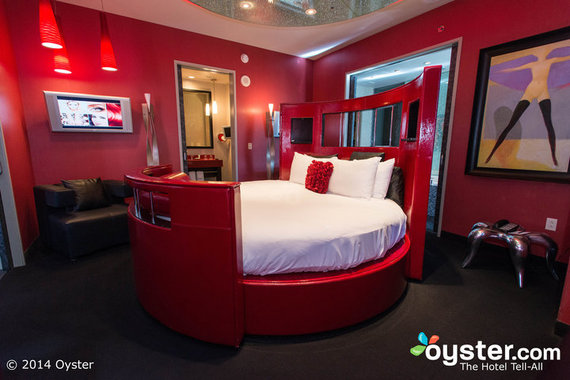 This three-tower, off-the-Strip hotel is known for its crazy parties and celebrity stopovers. It features 428 sleek rooms with up-to-date technologies, numerous popular clubs, and two large pool areas. The hotel offers a few Luxury Suites, including the pink and doll-filled Barbie Suite. But for a more adult room, the Erotic Suite has suggestive art, a whirlpool tub for two, and sexy red and black furniture, including lace-up chairs. Additionally, the bed rotates under a mirrored ceiling and there's a stripper pole in the large shower. Hey, what happens in Vegas, stays in Vegas.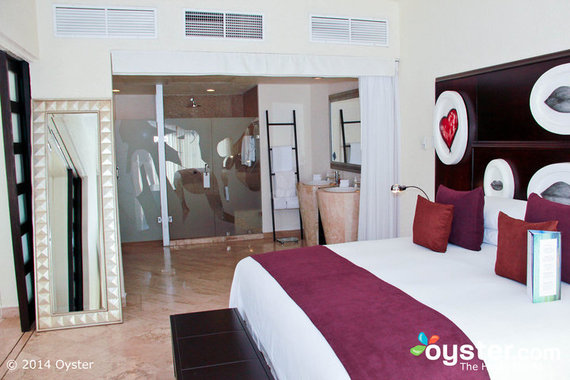 ME Cabo is working on bringing sexy back at this party-infused resort. With Passion Club & Lounge and Nikki Beach (a global restaurant and nightlife hot spot), this trendy, 155-room property keeps the celebration going constantly. Its excellent location near downtown Cabo San Lucas means even more fun is close by, and the property offers direct (and private) beach access. For a sexy setting, opt for the Loft Suite, which has lips and heart artwork throughout. The shower has suggestive etchings and there's a hot tub on the private sun deck.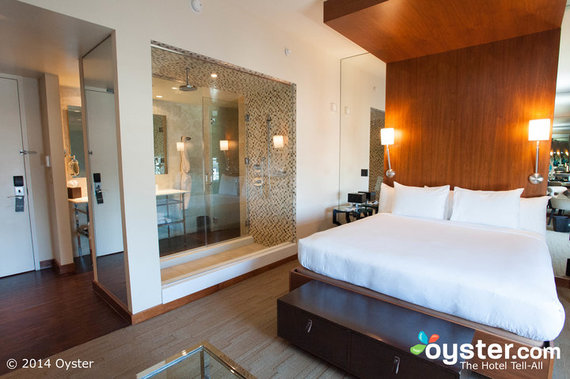 This 159-room boutique is one of the sleekest hotels in the Gaslamp Quarter, with a popular rooftop lounge and a sexy wine bar. Rooms are minimally decorated but attractive with modern amenities like flat-screen TVs. Note that you probably will want to stay here solo or with a significant other, as the showers are enclosed by glass and exposed to the whole room. Depending on your traveling partner, this could be alluring or a nuisance.