At South Middle School in O'Fallon, Missouri, the Zumwalt Alternative Education Program (ZAEP) was in-school suspension. ZAEP was overseen by a man named Lipka. Teachers sent Lipka assignments for problematic students who sat all day in an over-air-conditioned room by the school's main office. Lipka rented students new to ZAEP's frigid temperature ancient letterman jackets from South High School (where he once coached football) for $3 per day.
Under Lipka, ZAEP had 3 rules:
no talking
no sleeping
no gum chewing
I breezed through my assignments in ZAEP.  Lipka gave 2 options to kill time for students who completed assignments early:
Copy verbatim the Merriam-Webster Dictionary.
Copy verbatim worksheets from Lipka's days teaching gym at South High School.
A worksheet I copied at least 100 times during my 3 years at South Middle School was the story of Ruben Navarrette.  
So it was an honor when, 2 weeks ago, I was invited to sit in on a Google Plus hangout called "Dissecting Immigration" organized by VOXXI News featuring Navarrette & Pilar Marrero of La Opinión.  The hangout was moderated by VOXXI National Political Editor Carlos Sánchez and was particularly well-timed. Earlier in the week, the Latinos in Social Media (LATISM) sponsored 65 top Latina bloggers to visit the White House to talk, according to the great Adriana Maestas, "jobs and the economy, education, and health care."  
"Notably absent from the briefing agenda," Maestas writes in BlogHer, "was any mention of immigration."
The Obama White House has been perceived as being tougher on immigration than previous administrations. To put things in perspective, in fiscal 2011, the Obama administration deported nearly 400,000 people. This has caused a foster care crisis in many of the states, where U.S. born children are left without mothers and fathers.

One bloguera who attended, Maegan Ortiz of VivirLatino, asked Muñoz about the deportations and how she would respond to critics who have questioned her promoting the Obama deportation policies. Muñoz didn't depart from her usual talking points about finding partners to work with in Congress to pass immigration reform and how there are few administrative tools to use to alleviate the deportations. In essence, blaming Congress continued to be the default answer for why certain things were not being done or accomplished quickly enough. After answering Ortiz's question, Muñoz quickly left the room.
Maegan Ortiz of Vivir Latino is America's Top Bloguera.  Maestas is the Godmother of the Latino Political blogosphere.  Maria Hinojosa, the greatest Latina journalist of all time, brought FRONTLINE along with her to ask the White House about deportations, too.  Deportations are the most-evil policy every targeted at Latinos in my lifetime.  Ninety-seven out of every 100 deportees under Obama is a Latino.
¿DONDE ESTA EL GRAN SUEÑO AMERICANO? was written in haunting, emphatic letters at the end of a jailhouse letter to an immigration clinic in Virginia.  The letter was, for a time, posted on the clinic wall.  Where is this great American Dream?  I read it in a worksheet I copied at least 100 times in Lipka's ZAEP.  The American Dream is Ruben Navarrette's story.  Latino.  Harvard.  Writer against his father's wishes.  Last week at VOXXI's Google Plus hangout I asked Navarrette: If the American Dream Act Senator Marco Rubio puts on the table is insufficient, does it behoove Senator Bob Menendez to godfather in a better bill?  Navarrette said that he does not think that Marco Rubio's bill is insufficient, and that it would behoove Bob Menendez to get every Democrat on the Dream Act's side.  
So far I agree with at least the latter of Navarrette's assertions.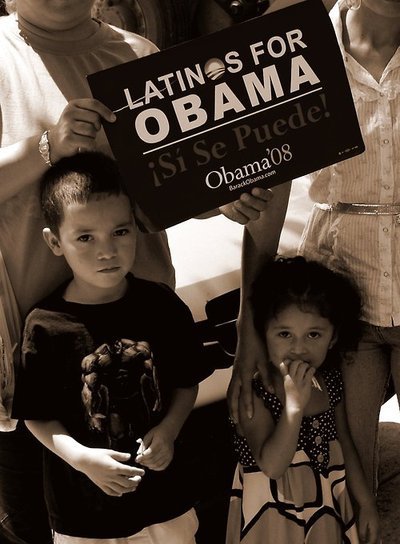 Photo by Pablo Manriquez in East Chicago, Indiana 2008