At once celebratory and elegiac, McEwen's art is sometimes an imitator of his life. He's now a key presence in the art world, as is his work at contemporary art auctions. Highly collectible, with a sharp, varied repertoire, here are eight steps to collecting Adam McEwen, available now in the Insider sale on Paddle8.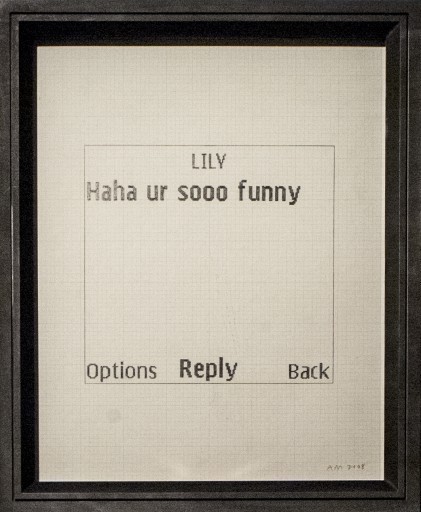 ADAM MCEWEN "Untitled Text Msg. [Lily]," 2008
Aesthetic
No one aesthetic defines McEwen's work. Spanning the abstraction of chewing gum on canvas and the detailed figuration of his graphite sculptures, McEwen's aesthetic generally boasts a sharp, straightforward quality, and varies according to the context of the work.
Story
McEwen specializes in reappropriating the overly-familiar, taking everyday iconography and injecting unrealistic events into it, like the obituaries. Equally distinctly banal events like text messages, are implemented into highly unrealistic circumstances, framed and exhibited. He occasionally entertains gravitas, like the ostensibly whimsical chewing gum works, which allegedly signify the bombing of Dresden during WW2.
Works on Paper
Ranging from editions of three c-prints ("Untitled (Dresden)," 2006) to acrylic and dayglo on paper ("I Was Very Disappointed," 2003), there is ample opportunity to find McEwen works on paper to start a collecting relationship with McEwen's oeuvre.
Obituaries
McEwen has made poster-size fake obituaries for celebrities ranging from Kate Moss to Nicole Kidman.
I'm interested in that brief second when you aren't sure whether Bill Clinton is alive or dead. I only need that moment in order to disorient them enough to sneak through to some other part of the brain -- to achieve that split second of turning the world upside down.
Graphite Multiples
Everything from yoga mats to ATMs have been sculpted into graphite by McEwen. The multiples are generally created in threes, and examples have garnered bids into six-figure territory, for example at Phillips New York's Under The Influence sale last week: "Step Stool (Rubbermaid)," 2010, $118,650 (est. $70,000-90,000).
Text Messages
McEwen takes text messages (sent to him or forwarded to him by friends), draws them onto paper and frames them. Rendered in the (once) familiar style of a Nokia cell phone screen and font, McEwen monumentalizes the everyday to entertaining ends. Their appeal means few let them go.
Chewing Gum Canvases
McEwen chews the gum himself, employing assistants to help him, before dirtying it on the streets and planting it onto canvas. It's redolent of Dan Colen (or vice-versa), and just like the Colen versions, these are prize auction items, with the artist's current record at a various owner sale set by one: Christie's London in 2012, $194,000.
Aluminium Panels
One of the newest series by McEwen, these were created in 2012 and only two have appeared in public sales, both at benefit auctions. One carries his auction record, and echoing the graphite multiples, these are the works to get for faithful McEwen collectors.
McEwen will exhibit new works at Galerie Rodolphe Janssen in Brussels, November 11 - December 21, 2013.
-Gabriel Butu, Paddle8
Like what you see? Become a member of Paddle8! Sign up to follow your favorite artists, bid on artworks from our themed and benefit auctions and to be notified when new auctions launch.