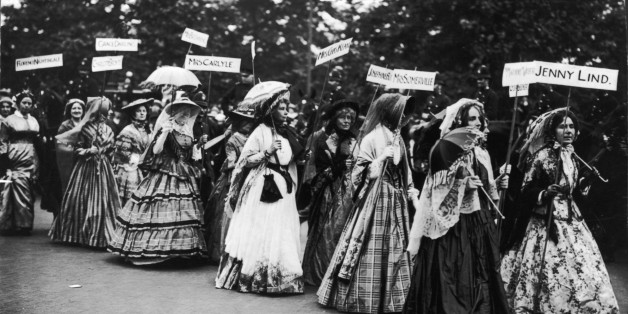 A century ago, as Americans debated whether women should be allowed to vote, one prominent observer scoffed at the notion of voter equality. Allowing women the right to vote, the critic wrote, "would tend to disorganize society" and "transform the whole political and social fabric." A constitutional amendment to grant women suffrage, the observer continued, "should be defeated by an overwhelming vote."
So who was that observer hell-bent on preserving the status quo? None other than the New York Times.
In a long-forgotten February 6, 1915, op-ed titled "It Must Be Defeated," the New York Times editorial writers took to Page A10 to ridicule the woman-suffrage amendment recently passed by state lawmakers in Albany. "The position of The Times has long been known," the Times thundered. "It is totally opposed to the extension of the suffrage of the grounds that it would not benefit the women in any single way and would tend to disorganize society."
Disorganize, no. Disrupt, yes.
Today, on Women's Equality Day, it's instructive to look back at how far we've traveled. How could a revered institution like the New York Times argue that allowing women into the ballot box would destroy society? The Times, of course, wasn't alone and didn't operate in a vacuum. Like many other newspapers -- not to mention both male and female talking heads of that era -- the Times felt that it would be too disruptive to take on the monumental issue of voting rights while a world war raged in Europe. Much of the American public agreed. Indeed, that same year, woman suffrage measures were defeated by (male) voters in Pennsylvania, New Jersey, Massachusetts and, yes, New York.
Five years later, of course, justice and sanity prevailed. In August 1920, three-fourths of the states ratified the 19th Amendment to the Constitution, and New York state was among the first to sign on. American women were finally granted the right to vote.
Today, on this great anniversary, it's rewarding to look back and honor the brave work of the suffragettes long ago. But we must also look ahead, and realize that the struggle for voting rights and equality in America lives on. We can't allow anyone to disenfranchise African-Americans, Latinos, unmarried women, young voters or any other members of the Rising American Electorate. That is why we set up the Voter Participation Center a decade ago and why, today, we join dozens of other non-profit and non-partisan organizations in supporting the #WEmatter Twitter campaign. Together, we hope to send a message to lawmakers that women's votes -- and core economic issues like equal pay, paid leave and affordable child care -- truly matter. And why in this age of Twitter, Facebook, Reddit and, yes, the New York Times, there are still issues worth fighting for.