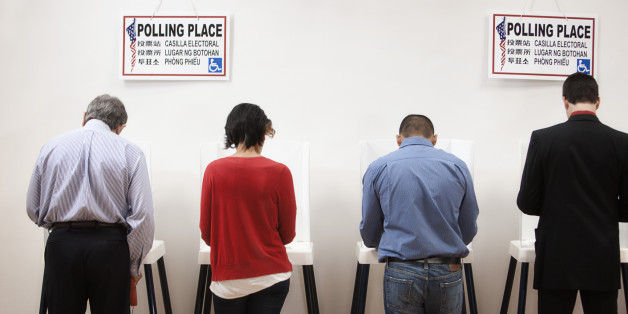 After nearly a month of forensic analysis, the 2014 midterm elections are shedding more clues than a late-night CSI marathon. While the initial diagnosis spelled disaster for Democrats, a more nuanced examination reveals encouraging data for progressive candidates running in 2016.
Consider the national survey we conducted with pollster Stan Greenberg and Democracy Corps. It surveyed both the 2014 electorate and likely 2016 voters and found that Democrats hold a 7-point advantage in the next presidential race. (November 8, 2016, may seem far off but, if history is a guide, the first presidential hopefuls will declare their candidacies in the next 30 to 40 days.)
Here, then, are the five most telling secrets of the 2014 elections. And why I remain hopeful as the 2016 presidential spectacle kicks off.
The Electoral Power of African Americans, Latinos, Single Women and Young Voters is Growing
The Rising American Electorate (RAE), which includes unmarried women, African Americans, Latinos and young voters, grew in strength this election year. Although they did not turn out at the polls in presidential-year numbers, members of Rising American Electorate represented 45 percent of all voters, or three points higher than in the 2010 midterms. Consolidating what we know after a decade's worth of research on the RAE, our future models predict that these traditionally under-represented Americans will represent a majority of all voters by the 2016 presidential race - or at least 50 percent of the electorate for the first time in our nation's history.

The Electoral Power of Unmarried Women is Increasing, Too
For more than a year, we have been predicting that unmarried women would follow traditional mid-term election drop-off trends. That is, they would shy away from the polls during the midterms following the historic turnout rates we have seen in past presidential years. But a closer inspection of exit polls reveals that the share of unmarried women actually grew this year as compared to the last midterm election. They represented 22 percent of all voters, one point higher than in the 2010 midterms. At the same time, the share of married women in the voting pool is predicted to decline in 2016. The result is that the electoral power of unmarried women--reliable supporters of progressive candidates--is growing.
And there's fresh evidence of the power of unmarried women voters in key Senate states, too. According to recent exit polls, the marriage gap (the difference in the party preferences of married and unmarried women) was 12 points greater for Democratic candidates in Senate battleground states than it was nationally.

Unmarried Women Are Rock-Solid Supporters of Progressive Candidates
The growing number of unmarried women should be welcome news for progressive candidates. Unmarried women this year favored Democratic candidates over Republicans by 60 percent to 38 percent, or a margin of +22 points, according to the exits polls. In 2010, by contrast, that margin was +16. The support of unmarried women for Democrats is expanding at the same time their population explodes.
Unmarried Women Want Progressive Economic Policies
When midterm voters got a chance to vote directly on progressive economic policies, their support was overwhelming. Voters in Alaska, Arkansas, Nebraska and South Dakota all voted to increase the minimum wage. And in New Jersey, measures to guarantee paid sick leave for workers also passed on Election Night.
Unmarried women, who are often financially strapped, told us in our election-week survey with Democracy Corps that they are looking for candidates who know what it's like to "walk in their shoes" -- candidates who understand the day-in-and-day-out struggles for equal pay, health care, child and family care, education and tuition assistance. These single women want an economic agenda that works for them and the middle class -- guaranteeing minimum wage increases, paycheck fairness and paid sick days. And they tell us that politicians who support these policies will win their support, in droves, come 2016.
Likely Voters in 2016 Support Progressive Candidates
Among all likely 2016 voters, Republicans have not raised their odds of electing a president. Our election-week survey shows that, in a presidential race, Democrats have a 7-point advantage in party identification for 2016.
The clues we are seeing today reinforce what we knew all along. The 2014 midterm map was next-to-impossible for progressive candidates. And presidential-year voters are different, and vote very differently than the midterm electorate. Come Election Day 2016, many midterm voters may very well experience a national case of buyer's remorse and progressive candidates could be celebrating a very different outcome on November 8.
--Page Gardner is founder and president of the Women's Voices Women Vote Action Fund.
--Originally published in The Hill.