Nanette Lepore began her dress design company in 1992 with $5000, a degree from New York's Fashion Institute of Technology and a dream. Her gross sales in 2007 topped $120 million, according to her husband and company President, Robert Savage.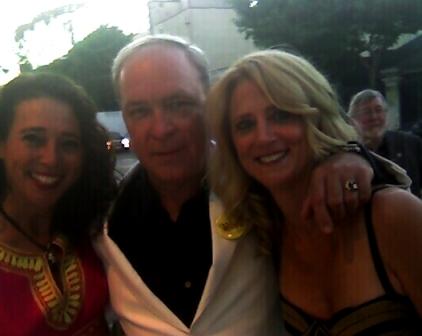 Michelle Lepore Hagan, Robert Savage, Nanette Lepore
She maintains shops that stretch from London to the West Coast of California. Nanette enjoys a strong following among chic style-makers and celebrities including Hilary Swank, Sarah Jessica Parker and Eva Longoria. Recently she was in Hollywood to help promote her second LA store opening, this one on trendy Melrose Avenue, just East of La Cienega. Nanette talked to The Huffington Post about her belief in the intersection of Politics and Fashion. In such an unprecedented Presidential election year, why not?
Paige Donner: How important is it to integrate politics into every facet of our lives? Fashion seems to usually stand apart but here you are encouraging people to vote at the launch of your new store.
Nanette Lepore: I didn't want to do an opening party that was just an opening party. I wanted to team up with a charity that had meaning. So when I decided to do this [with the Creative Coalition] it was the perfect match.

We think that fashion is the common thread in everyone's life. It's always there with you. You think about what you're going to wear always. So it's using something that's within our influence and our power to promote something that's good for the country.
Why does fashion have to be so separate? Why does it have to be treated like it's for brain dead women? My sister - Michelle Lepore Hagan - is married to a Congressman from Ohio (D).
It's so exciting that we have Obama running as our democratic candidate. It's such a turning point for our country. And, hopefully, the Democrats will win. Even though I know this is a bipartisan event [Creative Coalition].
I feel that it's really important for people to understand that we have an impact and we can make a difference. The youth of this country are so lost and their role models are so confused. We really need to let people feel empowered even if it's just for one "little" vote.
PD: What issues would you like to see a new administration address?
NL: Education is #1. I worry about the credibility of our country falling behind. I think we can be more open-minded, understanding. I feel we need to remember that there's a whole world out there and that we don't just live in US Weekly.
And I want them to save the garment district [of NYC]. Because we're losing that and we're losing "made in America." And I'm really fighting for that, too, right now. Because we're losing our factories. The landlords are pushing the small factories out. And I am the American Dream. I started my company with $5,000 and I couldn't have done it without NYC's garment district. And now we're not getting attention. The Mayor is not helping. That's what I want. I want individual help. And I want to be proud of our country. Especially when we go overseas.

The Creative Coalition was formed twenty years ago to help further social causes and issues using the leverage of the entertainment industry and industry professionals. Robin Bronk, Executive Director of the Creative Coalition was on hand for Lepore's opening of her newest LA Boutique.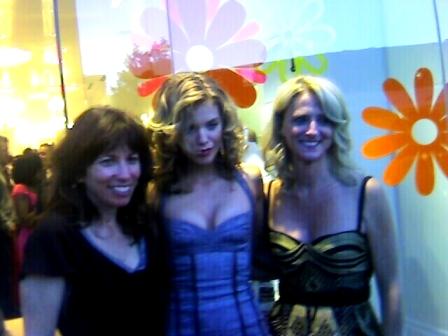 Robin Bronk, Fashion Model, Nanette Lepore

Paige Donner: What is your role with the Creative Coalition and what is the Creative Coalition's role here this evening?
Robin Bronk: I've been with the Creative Coalition for 10 glorious years. Our Board of Directors are leaders from the entertainment industry...Lawrence Bender, John Paul DeJoria, Kerry Washington...from every auspices of the entertainment industry - creative, executive, management, talent...so it's an interesting mix. Nanette Lepore is a company that has great fashion. So when they came to us and said, 'We want to have a meaningful opening of our newest store and we want to make it not just another fashion event but meaningful,' - well, that's what the Creative Coalition is all about: putting the platform of the entertainment industry behind issues of social importance. So it's not just great fashion, it's fashion with a purpose.

Vote Now and Often

RB: We're doing an event for both the Democratic and Republican National Conventions. We're rolling that out with a curriculum. We are getting everyone from the Girl Scouts to fashion behind it. It's all about women and empowerment. We think that's a good message.
The important thing is that we are in the most historical election of my time. And how wonderful to be able to exercise the right to vote because each and every one of us can make a difference this year. That is thrilling. It's thrilling to be part of history.

PD: Historical in what way? [Note: In 1872 Frederick Douglass was nominated as the first African American vice presidential candidate on the Equal Rights Party ticket with Victoria Woodhull, the first woman to run for President of the United States. Douglass had been an adviser to President Abraham Lincoln. He was fond of saying, "I would unite with anybody to do right and with nobody to do wrong."]
RB:Historical in the sense that we have our first Black [Presidential] Candidate and that's pretty awesome. And up until a few weeks ago, we had a potential woman Presidential candidate. It's going to be a close race. I really think that now, this time around, each vote is going to count - they're really going to count.

PD: In what other ways is the CC active in furthering causes and social issues?
RB: We've been in existence over 20 years. We use the power of the platform of the entertainment industry to push through social causes. We have a new initiative now called the Spotlight Initiative that partnered with Screen Media Films to take independent films that have a message to the public forum. So it's supporting movies that have a message. We're also about putting together an action plan - how to activate, how to motivate, how to get behind a cause.

Robert Baruc, President of Screen Media Films: One of the films is called 14 Women, and it's a documentary on the 14 U.S. Senators, female U.S. Senators. It's about their lives at home, in Washington, on the road, and how they pull it all together and how they became Senators. It's just inspirational...to girls, to young women; That anyone can become a U.S. Senator if you're interested, if you're motivated, if you're committed.

RB: The Creative Coalition takes the power of independent film and uses that to be a messenger in social causes.