Truly remarkable is the fact that this summit was an international meeting on climate change between regional leaders from around the globe. This truly remarkable element of the Governors' Global Climate Summit held in Beverly Hills Nov. 18th and 19th is what marks us on a path toward "thinking as one planet." What was heard at the Summit was a chorus of international voices.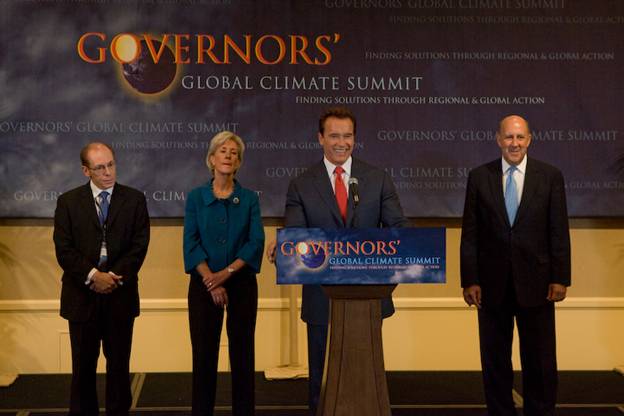 United Nations Framework Convention on Climate Change Deputy Executive Secretary Richard Kinley, Kansas Governor Kathleen Sebelius, Governor Arnold Schwarzenegger and Wisconsin Governor Jim Doyle
California's Gov. Schwarzenegger assembled a "Dream Team" of U.S. and international Governors and delegates, according to Carter Roberts, CEO of World Wildlife Fund. It was the Governors' (not the Governor's) Global Climate Summit so each voice was given time, significance and merit.
"This is like a mini United Nations," commented Mary Nichols, Chairperson of California Air Resources Board when she described the intent of the Global Climate Summit Declaration signed by participating countries' delegates. Representatives were from Brazil, Mexico, China, Indonesia, Canada, UK, European Union and India.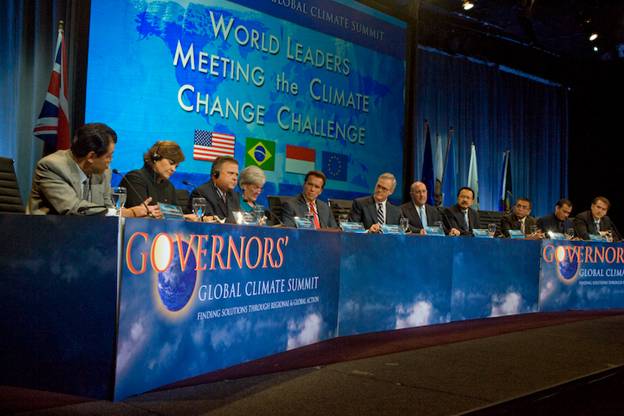 Left to right: Federative Republic of Brazil State of Amazonas Governor Eduardo Braga, Federative Republic of Brazil State of Para Governor Ana Julia de Vasconcelos Carepa, Federative Republic of Brazil State of Mato Grosso Governor Blairo Maggi, Kansas Governor Kathleen Sebelius, Governor Arnold Schwarzenegger, CBS Correspondent Scott Pelley, Wisconsin Governor Jim Doyle, Republic of Indonesia Province of Jakarta Governor Fauzi Bowo, Republic of Indonesia Province of Aceh Governor Yusuf Irwandi, Republic of Indonesia Ministry of the Environment Secretary General Arief Yuwono and European Commission Deputy Head of Delegation Ambassador Angelos Pangratis
"I have a global mentality," said Governor Arnold Schwarzenegger, "because I understand and relate to the fact that these countries have different challenges, struggles, histories and economies. We can find that sweet spot in Copenhagen [December 2009] but we must carefully listen to every single voice that has spoken. America, as the biggest polluter, has the biggest responsibility," said Gov. Schwarzenegger, and added, "We have no chance of leadership if we're the biggest polluter."
Governor Arnold Schwarzenegger on Monday, November 17th, signed Executive Order S-14-08 to increase the state's Renewable Energy Standard to 20% renewables by 2010, 33% renewable power by 2020. It also calls to streamline California's renewable energy project approval process. Pres.-Elect Obama, in his video address to the Summit, also embraced the targets to reduce emissions to their 1990 levels by 2020 and to reduce them an additional 80% by 2050. L.A. Mayor Villaraigosa has set the same targets adjusting for 35% renewable energy sources by 2020 for Los Angeles. Executive Order
"Not every state is in sync in Canada," the Governor cited as an example, "just as not every state here in the U.S. was in sync with Bush." Video

The U.S.'s Dream Team
Co-hosts of the Summit were bi-partisan Governors Charlie Crist, Florida, Rod Blagojevich, Illinois, Kathleen Sebelius, Kansas and Jim Doyle, Wisconsin. "It will dramatically accelerate our efforts to have a partner in Washington," said Sebelius referencing Pres.-Elect Obama's video address to the Summit promising Washington's global cooperation on climate change.
Jim Doyle, Gov. of Wisconsin referenced Obama's promise of a Federal Cap and Trade system, "What gets credited, this will be a big fight. Wisconsin is a major forestry state. All our forests are certified sustainable. The states that signed the forestry agreement [Memorandum of Understanding] last night have common interests," he pointed out referring to Tuesday night's REDD signing ceremony, the agreement to Reduce Emissions from Deforestation.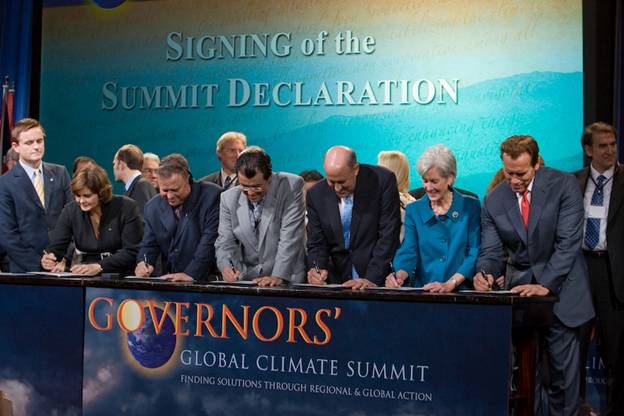 Left to right: Federative Republic of Brazil State of Para Governor Ana Julia de Vasconcelos Carepa, Federative Republic of Brazil State of Mato Grosso Governor Blairo Maggi, Federative Republic of Brazil State of Amazonas Governor Eduardo Braga, Wisconsin Governor Jim Doyle, Kansas Governor Kathleen Sebelius and Governor Arnold Schwarzenegger
States from the Federative Republic of Brazil and Indonesia, representing the largest tropically forested states in the world signed the MOU with the American States of Wisconsin, Illinois and California to work cooperatively to promote and develop joint REDD programs. A second signing ceremony took place Wednesday, the Declaration of The Summit, whereby 26 global leaders signed the agreement to partner on climate action.
The burning and clearing of tropical forests causes about 20 percent of total CO2 emissions - more than all the world's cars, trucks and airplanes combined.
The four largest nations that contribute the most CO2 emissions are: 1. China (first-time ever surpassed U.S.'s #1 ranking) 2. U.S. 3. Brazil 4. Indonesia.
In the case of Indonesia and Brazil, 90% and 70% of their C02 emissions respectively are directly from deforestation. In the panel discussion, "Climate Leaders Dialogue," Yusuf Irwandi, Governor, Province of Aceh, Indonesia, said, "We'll do our part. We'll reforest. We are the keepers of the forests. But I'd like to ask the developed nations to cut their emissions. But, really. Not just in the conference room. I personally have planted 3,000 trees to offset my Jeep Wrangler."
Governor Ana Julia de Vasconcelos Carepa of Brazil's State of Para said, "We want to achieve this reforestation in 5 years, using 1 billion trees. We need Copenhagen to include REDD," she added, significantly, "We need to combine this activity with the fight against poverty. The countries who have rainforests have responsibilities but the countries who emit the most carbon have responsibilities, too."
The Earth's ability to breathe comes directly from the world's tropical forests, according to Kevin Bryan, Environmental Resources Management, an environmental consulting firm to large corporations.
Governor Blairo Maggi, Brazil's State of Mato Grosso, said, "We need world help for a reforestation program so that people who live in the Amazon can have other forms of income."
"A Cap and Trade system is how we can help Brazil and the reforestation of their rainforests, with the carbon offsets. We have to listen to them," said Gov. Schwarzenegger. In Obama's video address, he said, "We will start with a Federal Cap and Trade system."
From Indonesia's Province of Jakarta, Governor Fauzi Bowo said, "We in developing nations need to be involved in Research and Development done in developed countries because we are the ones who are required to implement it."
Thinking As One Planet
Carter Roberts, CEO of WWF, promotes the notion of, "think as one planet." He said, "You Governors are moving us toward this carbon-free economy faster, in many cases, than the nations in which you exist. The ultimate prize is a global deal for Cap and Trade and Climate Emissions Reductions. We are witnessing now an increased sense of momentum. We are moving, even evolving, at an extraordinary rate. Even Darwin would be proud." He also noted that this is as much about saving ourselves as saving the planet.
Scott Pelley of CBS News who moderated several panels, stated, "Never in the course of the history of the world has it come together on a global level to solve a global crisis. We are separated by language but united by this issue of global climate change."
Governor Crist of Florida said, "I wasn't elected to mark time. I was elected to make a difference," and spoke about Florida's actions towards cultivating algae-based biofuels.
Governor Sebelius described her state of Kansas as "the Saudi Arabia of wind," and noted that many of their citizens are out ahead of their legislators on being informed about clean energy sources and technology.
Governor Eduardo Bours Castelo of the State of Sonora, Mexico, said, "Our new law: Whoever pollutes, pays." He stated they, too, have a project to produce ethanol by sea algae.
Barry Penner, Minister of Environment for British Columbia, Canada noted that for the first-time ever mountain lions were seen in the Arctic. "That's unheard of!" he noted. He shared that they have a program, "Tax less of what you earn, more of what you burn." He said their lowest income tax rates in Canada is what's attracting investment.
Arvind Kumar, Commissioner for the Government of Sikkim said, "The Himalayas as well as the oceans are the first to take the brunt of climate change. Glaciers provide drinking water for millions of people."
Governor Jose Guadalupe Osuna Millan, State of Baja California, said to Governor Schwarzenegger, "We have firefighters ready to go whenever you need them." He added that they have two power plants in Mexicali that export power to California.
Illinois Governor Rod Blagojevich said that they look to the West, to California as leaders on climate change initiatives and clean fuel technology. He mentioned they give tax credits to their citizens who drive flex-fuel vehicles.
Dr. Yufu Cheng, from China's Innovation Center for Energy and Transportation said that while different fuels can replace fossil fuels, not all are environmentally friendly. "Not all fuels are created equally. We want to give the government tools to measure cleaner fuels. We want to do the true green, not the so-called green."
Environmental Defense Fund's Annie Petsonk noted that three basic requirements must be met for collaboration on Greenhouse Gas Reporting: 1) Clearly stated mandatory caps on total emissions because that's what's important to the environment, 2) Transparent reporting systems, and 3) Verification and accountability: What are the consequences of surpassing your limit?
Governor Schwarzenegger concluded his two-day Governors' Summit by saying that "fairness and equity," are the key words. "We want to see that no one is held back. I see opportunities in crises," he said. He added that, "Technology is what needs to power change. Guilt trips don't work. We should still be able to drive the car we want but it should be powered by solar or electric." He also thanked his longtime adviser, Terry Tamminen, for "inspiring" him to become even more passionate about the environment after taking office as Governor of California, a state he said, whose "reach is like that of a continent's."

President-Elect Obama's Video Address to Summit