"UNLESS someone like you...cares a whole awful lot...nothing is going to get better...It's not."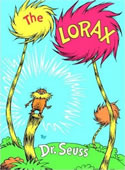 The Lorax's Save the Trees Game
The Lorax Project
Random House Children's Books is coming out with a new edition of the Dr. Seuss 1971 classic printed on recycled paper. Dr. Seuss spoke through his character, the Lorax, to warn us against mindless progress and the danger it posed to the earth's natural beauty. And this was long before saving the earth became a global concern.
Because, remember, it's all about "... those trees! Those trees! Those Truffula Trees! ... And Truffula Trees are what everyone needs. Plant a new Truffula. Treat it with care. Give it clean water. And feed it fresh air."
Thank you Dr. Seuss!
Recycled Art for Kids and Tots
Paintbox Kids gave kids the chance to make art from "trash" at its Re-use, Re-cycle, Re-purpose workshop over the weekend. The creative art space was founded by long time art teacher Terry Laurents and opened in October 2007 in Pasadena, California. She admits she's "living her dream" by providing the creative space and materials for kids and their parents to play together creating artistic oeuvres. This weekend it was the Earth-Friendly-Robot.
Why 'Green' Art is good? Says Laurents, "Providing a child with the opportunity to experience the possibilities that come from using everyday materials in new ways makes a great impact."
Come Halloween, Laurents is encouraging parents to save and bring in all the candy wrappers that might otherwise be discarded. She points out that they are colorful in and of themselves and make great material out of which to build "creative fun creatures out of the candy wrappers -- recycled art." Other materials used: McDonald's French fries container, tinfoil, old playing cards ... let your imagination go wild!
Paintbox Kids has been nominated for Nickelodeon's 2008 Parents' Picks -- to vote, visit www.parentsconnect.com/parentspicks. Paintbox Kids in Pasadena was featured in the movie State of Play starring Russell Crowe and Ben Affleck even before Laurents opened her doors when a production designer fell in love with the studio at first sight. Local Pasadena companies New Moon Textiles, Daisy Mint Cafe, Mary Falkingham Floral Designs and Motif donated some of the creative materials the kids use.
More Green Books For Kids (by Publisher"s Weekly)
And here are some anticipated titles as seen at Book Expo America held this past week in Los Angeles.
From Harcourt:
Wangari's Trees of Peace: A True Story from Africa, due out in September, by Jeanette Winter is about Wangari Maathai, founder of the Green Belt Movement and winner of the 2004 Nobel Peace Prize. Ages 3-7.
Book is printed on 100% recylced paper. For their Canadian printing, they have teamed up with ECO-LIBRIS , said Amanda M. Marples, Associate Director of Marketing, Harcourt Children's Books Division.
"ECO-LIBRIS: PLANT A TREE FOR EVERY BOOK YOU READ!"
About 20 million trees are cut down annually for virgin paper to be used for the production of books sold in the U.S. alone. Eco-Libris is a green business that works with book readers, publishers, writers, bookstores, and others in the book industry to balance out the paper used for books by planting trees. Eco-Libris provides book lovers with a simple way to do something about it: plant a tree for every book you read.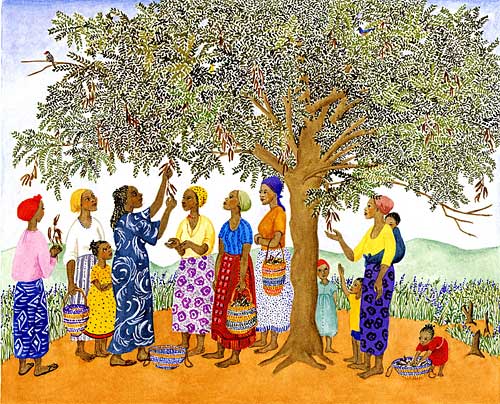 Farrar, Straus and Giroux
Planting the Trees of Kenya: The Story of Wangari Maathai by Claire A. Nivola ages 5-10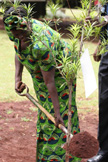 Wangari Maathai grew up in the highlands of Kenya, where "fig trees cloaked the hills, fish filled the streams, and the people tended their bountiful gardens. But over many years, as more and more land was cleared, Kenya was transformed." When Wangari returned to Africa from college in America, she found her village gardens dry, the people malnourished, and the trees gone. She had to think of a way, she realized, that she alone could bring back the trees and restore the gardens and her people.
This is the story of one woman's effort to change the fate of her land by teaching others to care for it. The book is printed on recycled paper, assured Margaret Ferguson, Editorial Director at Farrar, Straus and Giroux.