At Santa Monica's recent Eco Gift Festival, Tom Szaky, uber-EcoPreneur, sat down with Greening Hollywood for an interview. Szaky, Founder of TerraCycle, was both a featured speaker and a vendor at the event. Arianna Huffington was also a featured speaker at the Festival where she packed the room with a standing-room-only crowd of fans.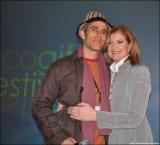 Arianna Huffington with Eco Gift'sTommy Rosen
Photo by: Janice Belson/Medicines Global
Musicians, including Jackson Browne, also stopped by to lend the three-day show extra pizazz. Vendors sold exclusively eco-friendly products at EcoGift.



Jackson Browne and Tom Freund.
Photo by: Derek Goes
TerraCycle Sees No Trash
Beauty is in the eyes of the beholder. We've all heard that axiom before. Tom Szaky, Founder and CEO of TerraCycle, offers up his own twist: He sees no trash.
"There really isn't any such thing as 'garbage,'" says Szaky, "Garbage is a concept that was invented only about 100 years ago." Looks like he knows what he's talking about. His four-year-old company, TerraCycle, based out of New Jersey, is doing business volume in the $8-10 million range this year. But Szaky is nothing if not a big thinker and says that it's really going to get fun and interesting when his novel "recycling" business starts operating in the $100's of millions and even billion dollar range.
That's a lot of garbage. Oops! That's a lot of raw waste material transformed into saleable, marketable consumer goods. Distributors for his products are WalMart, Target, Walgreen's, Whole Foods and other massive retail chains. WalMart is known for having the most sophisticated distribution system for consumer goods and as a manufacturer you can't even begin to think about playing with those big boys unless you've got everything in line and thought everything through.
But here's the real genius behind Tom's TerraCycle: Companies like Frito-Lay, Hershey's, Starbuck's and Kraft not only pay him to collect and use their discarded candy wrappers and juice drink pouches but are offering to build manufacturing facilities for him in countries such as Brazil and continents like Europe just so he'll help them do something useful, not to mention eco-friendly, with their trash.
"We've eliminated the idea of trash through design," he says noting that they've quickly acquired the nickname of "the go to guys for garbage." Companies like Procter & Gamble, Nabisco and Honest Tea pay TerraCycle to collect and use their polymer-based, landfill indestructible, candy wrappers, juice pouches and chip bags. They actually write him six-figure checks at a time to do so. "The economics of waste are amazing. Waste is the biggest material economy this country has," says Szaky.
He points out that another way to look at a landfill is a really poorly managed warehouse. The definition of waste is there is no value. But there is value in garbage. Waste is the only commodity he's ever seen, he says, that people are willing to pay to get rid of. Typically these commodities are very valuable.
TerraCycle started off making tote bags, pencil cases and lunch boxes out of reclaimed Capri Sun juice pouches, Chips-A-Hoy cookie packages and Honest Tea's Honest Kids ice tea pouches. "When we first started this we went to Capri Sun and asked them if we could make stuff out of their discarded drink pouches - because of trademark and intellectual property issues surrounding their packaging - their response was to cut us a six-figure check," he recalls. TerraCycle diverted 52 Million juice pouches in their first year. 4.5 billion juice pouches are thrown out every year.
Drink Pouch Brigade
They have since set up the Drink Pouch Brigade which is a "reverse NetFlix" whereby at 20,000 locations throughout the entire U.S. they have collection points for people to drop off their used drink pouches. They pay 2 cents per pouch to your charity of choice, shipping is free and you can sign up to participate on the TerraCycle website.
"We want to solve the problem of recycling through business," says Szaky. In this sense he embraces the "rewards system" of green business rather than the guilt-trip tack. "Our landfill is WalMart. We repackage our own waste and sell it to WalMart, Home Depot, Target," he explains.
Szaky started TerraCycle as a "Worm Poop Factory" back when he was a Freshman at Princeton not too long ago. Now he's doing deals with companies like Brooks Bros., for whom he takes their scrap materials and makes designer quality bags out of that "waste" material for, Purina and Friskies, and even Warner Bros. for whom he designed and makes a bag out of used 35mm movie film.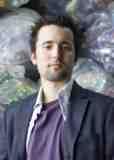 Tom Szaky, Founder/CEO TerraCycle
Better Cheaper Greener
In this economic climate, what are guys like Szaky doing differently that sets them so far apart from the pack and allows them to thrive by any economic standards?
Paige Donner; Did you have to do a lot of arm-twisting to get in to do business with these big companies?
Tom Szaky: It was the exact opposite. We have never received a 'no.' It's the easiest thing to sell because they produce a product that ends up as waste. And we're coming in and saying, 'Look. We're going to take your waste and we're going to make it into something new. It's a slam-dunk, no-brainer. And really, there's about 30 mega-conglomerates globally that control all the relevant brands. When I say relevant brand, I mean like Windex or WD-40, some really blown out brand. We're more or less in partnerships with all those companies.

We're really creating a system around all garbage. And then taking all this material in, at no cost, and producing them into products that we then sell at the world's biggest retailers. The irony is that by making a product out of waste, you can make the world's greenest product, by far, and it's cheaper and better, but most importantly, it's cheaper. All of our products are not premium priced.
PD: How is your approach to green business different from many of the companies you see here, for example, at Eco Gift Festival?
TS: We're a very different company in the green space because we're looking at waste but we're also trying to work with the biggest companies in the world.

Also, our idea is such an intuitive win that it flies up the chain-of-command in a heartbeat at these large corporations and we get approvals really fast. Even internally, the folks that we work with, tell us they've never seen their organizations move so quickly in saying 'yes' because it's such a great win.
PD: Can you identify some remedies in how to approach "green business" strategy?
TS: I have some problems on the green business movement as it stands. One is that the people who are trying to change these big companies are going in and not necessarily offering things that are a big win to the company. They're offering things like offset your carbon, build green roofs, these sorts of things, and many times that's an economic spend. And that you have to spend money to do the right thing for the environment. In our case, yes you have to spend money, but we will make more money for them than if they had put that money into television. People will just buy more of their products.

Same thing on the retail side. The two biggest challenges the green business community has is, I mean, look at where we are [EcoGift Festival, Santa Monica]: people like to stay small, they almost have this fetish for being small, and there's this anger for going big, which is a big mistake I think because you're not going to change the world that way. The same thing goes for premium pricing and for changing consumer habits.

Green people will say, you should use a re-usable cup, you should spend more. The green business community if they want to create real change, shouldn't be saying 'shame on you.'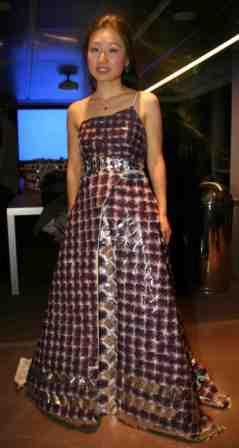 Soyeon Lee, Szaky's wife, models a TerraCycle dress at her Carnegie Hall piano recital.

PD: What are some key things to remember as we work towards turning our economy green?
TS: Here's the key thing if we want to turn this economy completely green, you have to do it without people even knowing it's happening, totally beneath the surface. Right now most green products are sold on the virtue of being green. But the ultimate green products are the ones that you don't even have to say that they're green. It's a nice thing to have, of course, it's a great thing to have, but it's not the main reason why I buy the product.
And that solution has to be available at every store, which is WalMart, which is Target. That's where people shop.
Currently Szaky operates his sewing plants from areas on the border of Texas and Mexico and plans to expand globally. His main. offices in an economically depressed New Jersey neighborhood, are purposefully repainted by graffiti artists every few weeks. "Every few weeks we have a completely new building," he says. As of yet, he doesn't have many employee incentive programs to speak of but we'll keep checking back as this start-up matures into a full-blown, sustainable global business.
Eco Gift Festival 2008's Green Score Sheet

Event signage was made with recyclable, reusable or biodegradable materials.
Event collateral was printed on a "green printer" with vegetable-based inks and recyclable paper.
Food sold at the event was packaged in biodegradable, compostable food ware, and biodegradable cornstarch or potato plates and utensils were mandated.
Implementation of a carbon offsetting program reduced emissions generated by equipment, heating/cooling, shipping and electricity.
Complimentary purified water was provided on-site and will be served in biodegradable cups to eliminate plastic water bottles.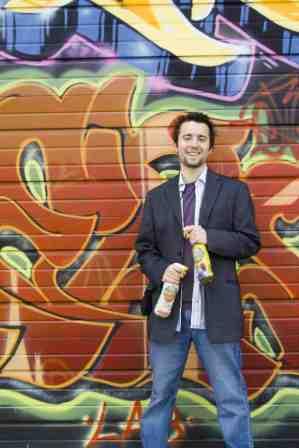 Szaky In Front of Graffiti-decorated Office Building Wall