"We're doing a full retrofit of Los Angeles. L.A. 2.0. We're creating a sustainable prototype by retrofitting Los Angeles with a functioning forest," said Andy Lipkis, TreePeople's founder, president and visionary, at their most recent An Evening Under The Harvest Moon celebration. TreePeople is responsible for the planting of over two million trees in the Los Angeles area over the past 35 years.
To kick off the evening's festivities, the Walt Disney Company announced a grant of $1.5 million to TreePeople to help reforest fire-ravaged areas in the mountains surrounding greater Los Angeles. Disney is the biggest financial supporter of TreePeople's ambitious California Wildfire Restoration Initiative for which thousands of volunteers will plant an estimated 60,000 new trees over the next three years. As I write this, another wildfire is raging just 20 miles north of Los Angeles, devouring thousands of trees and over 750 acres in its path.
"It's a great way for Disney to give back to the community that we have called home for the last 85 years," said Disney President and CEO Robert A. Iger. Addressing the crowd of donors and stakeholders, Disney's Harry Dolman said, "Walt Disney has always been focused on environmental education. More businesses and NGO's must join together to help with environmental, educational and material programs." Dolman is an executive vice president at Disney Consumer Products and a TreePeople board member.
Lipkis, who took a moment to acknowledge and give thanks to Dorothy Green, one of TreePeople's first supporters and founder of Heal The Bay, said, "We are here celebrating our investment in trees and people, city and community. TreePeople exists to help people engage with nature to heal ourselves and our cities." Each year, 100,000 kindergarten through twelfth-grade kids participate in its hands-on, science-based environmental curriculum.
Earlier this year, Disney, with a $250,000 grant and the support of its VoluntEARS, including the Jonas Brothers in cooperation with Mayor Villaraigosa, launched with TreePeople an initiative to green Los Angeles school campuses and parks in support of the city's Million Trees LA initiative. Twenty L.A. schools have been greened so far this year.
Seeding Future Generations
Debby Ryan, 15, of Disney's Suite Life on Deck said, "Trees are really important. This affects me and my kids and my kids' kids." She said she really loves going horseback riding and that she and her family picnic in a different L.A. county park every Sunday as a way of getting out in nature and spending quality family time.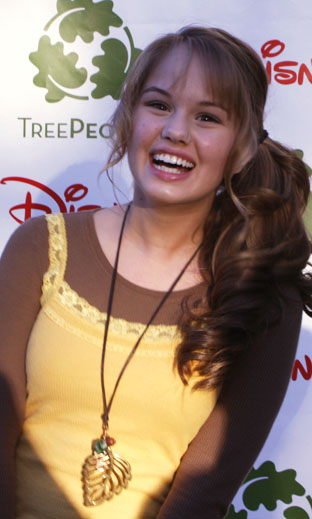 Disney's Debby Ryan
TreePeople was also celebrating its Grand Re-Opening of its Center for Community Forestry, which enjoyed its Annette Bening-hosted dedication ceremony a few weeks ago. The TreePeople Center located up where Coldwater Canyon meets Mulholland Drive now sports an Environmental Learning Center, Foundation Nursery, Urban Watershed Garden, LEED platinum-certified Conference Center, four acres of water-saving landscaping, miles of nature trails in its 45-acre park and a 216,000-gallon cistern and Parking Grove.
"If L.A. put a million cisterns in a million homes we would capture 10 billion gallons of water every time it rains an inch. Right now, we lose 7.6 billion gallons every time it rains an inch," said Lipkis who mentioned they are working with public agencies such as LADWP on water conservation strategies. Capturing rainwater not only helps reduce the amount of pollutants and storm water flowing through storm drains to the ocean, but could reduce our need for imported water by as much as 50 percent. In times of emergency, the water can be made available to the local Fire Department.
Victoria Principal has supported and engaged with TreePeople since 1974. "My grandmother instilled in me a love for nature. There were a lot of trees on our farm where I grew up. I try to live close to trees and close to nature. TreePeople is healing the city through nature. It helps people connect not only to nature but to themselves," she said.
Volunteers are an integral part of the functioning of TreePeople. "We teach. We inspire. We play," said TreePeople's Laurie Kaufman. Volunteer Tim Barone, a bio-chemist by profession, said, "The volunteering and tree planting events are really great because they are long enough so you feel like you did something but they are not so long that you don't want to come back." He added that he gets to volunteer with a great group of people including a cat named Thelma and the upside is that the headquarters are in the middle of a park.
"Because of the foresight and generosity of Disney, we are going to be able to send thousands of people, including students, up to the mountains to restore the burned areas," said Lipkis. "Just as these forests have been sending rivers of clean water to the city for all these years, the city can now be sending a river of human hands and caring back to them."
Andy and Kate Lipkis were named to the UN Environmental Program's Global 500 Roll of Honor. They also hold American Forest's Lifetime Achievement Award.
Helping Hands is another exemplary nonprofit that assists in fire disaster relief and was founded by Jeff and Jacki Lake. When the wildfires devastated San Diego county last October, Helping Hands stepped up to provide victims with necessary relief in the following ways:
Helping Hands established Free Stores. They gathered donations of money, clothes, housewares, appliances, food and medicine. They had volunteers man the store and give away what was donated to the victims for free. After the San Diego fires last year, Helping Hands held 2 free stores and gave away over $50,000 worth of money and items to nearly 300 fire victims.
Helping Hands has given over $20,000 in gift cards and cash donations directly to victims and to other organizations in partnership to provide the victims food, clothing and shelter. Helping Hands also offers valuable information services. Helping Hands is networked into the system of other nonprofits like the San Diego Foundation and Red Cross so they can get information to victims such as where to get their FEMA card, how to contact other nonprofits, their insurance carriers, and other places to get what they need.
Trees and forests as well as people are victims of wildfires. How else can you help? By planting trees.
Why Plant Trees?
Trees Clean The Air
Trees Provide Oxygen
Trees Combat The Greenhouse Effect
Trees Cool The Streets and The City
Trees Conserve Energy
Trees Save Water
Trees Help Prevent Water Pollution
Trees Provide Food
Trees Create Economic Opportunities
Trees Bring Diverse Groups of People Together
Trees Provide Habitat For Wildlife
Trees Beautify A Community
Trees Increase Property Values
TreePeople's fruit tree program distributes free fruit trees to community groups in L.A. neighborhoods. Every winter TreePeople gives away 9,000 trees.
TreePeople, 12601 Mulholland Drive, Beverly Hills, 90210 (818) 753-4600 www.treepeople.org