According to the U.S. Census Bureau, 20 percent of New Yorkers live below the federal poverty line of $10,830 per year. Forty percent of New Yorkers live below 200 percent of the federal poverty line, making $21,660 per year or less. To anyone who has lived in or even visited New York City, it is obvious that these are not livable wages. For so many of our families and our children, the challenges of living in this wonderful city are not subway delays or long lines at Starbucks, but putting food on the table. Driving down the Henry Hudson, FDR Drive, or the BQE, we pass by so many of the affordable housing developments that house thousands of low-income families each year. One such community is the Polo Grounds.
Located at 155th Street and Eighth Avenue in Harlem, the Polo Grounds is a multi-tower affordable housing facility. At the base of one of the towers in an unassuming community center, the Children's Village provides a supportive and vibrant safe space where passionate mentors and volunteers coordinate family game nights, summer camps, after school teen programs and community celebrations. The Polo Grounds is situated in Central Harlem, where according to the Census, 28 percent of families fall below the federal poverty line, a number much higher than New York City's average. This number climbs to almost thirty five percent when focusing on children under the age of eighteen. Home to several LitWorld Boys and Girls LitClubs, the center is a haven for families and children who hope to pave a better life for their future.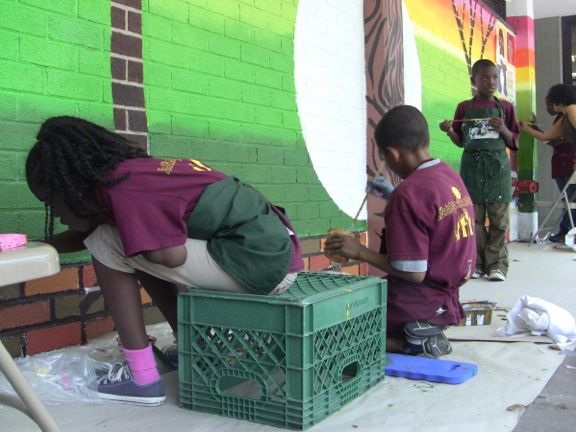 As you walk into the center, past blooming trees and the laughing sounds of children playing on the playground that sign the thawing of winter and beginning of spring, you pass a beautiful mural. All of this past summer and fall, artist Tova Snyder worked with children and teens from the center, as well as volunteers from CITYarts, to create a mural that captures the great hope in this community, despite the odds. Since its founding in 1968, CITYarts has organized more than 284 projects -- among them murals, playgrounds, mosaics, sculptures, and gardens -- that have empowered youth through collaboration with professional artists on public works of art that revitalize and beautify local neighborhoods. Says Tsipi Ben-Haim, executive and artistic director, "When kids create, they do not destroy."
Within the mural, amongst images of Peace and Kindness, is a poem crafted by teens from our LitWorld Girls LitClub at the Polo Grounds. These girls, despite the innumerable challenges and hardships they have faced through their lives, created a work that captures the incredible love and spirit of the families that reside within the surrounding towers, and which the community center fosters:
When we unite
We remember we are equal
We unite through our dreams
Unity is the key to our success
Changing worlds, changing people.
The girls who wrote this poem are now preparing for college, and giving back to the community that nourished them. Why? Because of this spirit of collaboration, because of the idea that if we come together to achieve our dreams, our chances for success only grow. This is a powerful message for all of us in the 21st century -- to look to our commonalities instead of focusing on our differences.
All children around the world deserve to be afforded the same opportunities and to have the chance to learn and grow. Unfortunately, that is not the reality. Yet, organizations such as Children's Village and CITYarts who so value the dignity of children and cultivate young people into empowered leaders in their communities, are changing this reality for many who society has overlooked.
Despite all the odds, there is hope. Just as winter always ends and spring always blooms, so to are challenges faced and bridges of strength built to usher children to their dreams. Our organizations may not be able to remove every challenge our children will face, but we are there to stand with them as they face their obstacles. We are proud of the incredible children and families we work with at the Polo Grounds. We are proud of their voices and their determination and their love. And we are proud to be part of such an incredible project that empowers youth to transform their community.