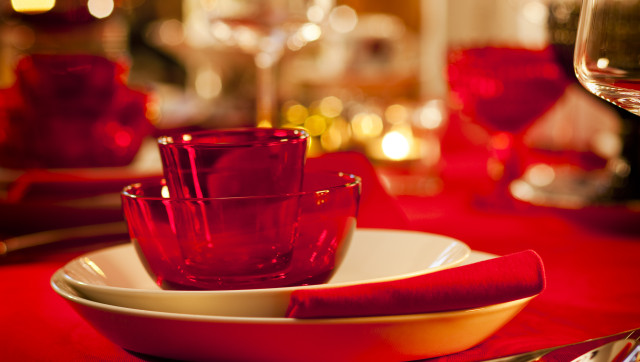 Style moments are everywhere -- a gloriously colorful salad in a ristorante in Como, a bundle of ancient books tied up with twine next to a stack of pewter plates in Copenhagen, a vintage sailboat at the Paris flea market, spools of thread in a lace shop in Bruges, a row of porcelain pitchers on a mantle in Galway, bowls of fruit in a kitchen in the Italian mountains of Liguria -- they are vignettes, either planned or unintended, that catch the eye with their simple charm and beauty.
Every home needs a style moment, especially at the holidays. Here are a few ideas, inspired by my travels around the world. Anyone can do this.
Mantle/Sideboard
I recently art directed the renovation of an old house in Liguria, Italy for a television show. When it came to styling the house for the final "beauty shots," I had to rely on what I could find outside, because the location was in a remote village the mountains, far from any shopping opportunities.
I cut wildflowers and branches and picked fruit off trees, placing them in bottles, pitchers and bowls that I'd found in the basement of the house or borrowed from neighbors. One of my favorite style moments were the bowls of quince, apples and figs that I arranged on the kitchen counter.
With this experience for inspiration, here's an idea that could be used on a mantle, a sideboard or even as a centerpiece, down the length of a long table.
Gather together a selection of pottery or porcelain bowls, compotes and small platters that are various sizes and heights. I've used my collection of vintage ironstone. It's best if they're all a neutral color, so the content stands out as the focus.
Fill each one with a different type of fruit. (This might be a little OCD, but please don't mix different types of fruit together in one bowl -- each kind gets their own container.) Sometimes the vessel will determine what, and how much, fruit works best: my ironstone compote was perfect for two Bosc pears and four little Seckel pears stood up side by side in the low oval bowl, tiny Lady apples fill up a vintage jelly mold and a small oval dish holds a mound of figs.
Tuck sprigs of evergreen in amongst the fruit, and arrange the bowls on whatever surface you are using.
While I was in Italy, I found crates of empty wine bottles in the basement of the house we were renovating -- they became my go-to for vases and candleholders.
Back in the states, I discovered these wine bottle candelabra inserts. Take your empty wine bottles (a pretty label is always a plus) and place a "wine bottleabra" in each one. Ecco! Candleholders that are inexpensive and, best of all, charming.
Holiday style moment!
Table Setting
Anyone can do this. Trust me. First of all, step away from the red and green. Pick just one. Red or green. Just try it. Here are my ideas for a green (and white) table setting:
Surface: Choose a neutral table cloth and napkins as the backdrop for the more decorative elements of the table. My tablecloth is actually a length of linen damask fabric, which is not only less expensive than a tablecloth, but there are many more options. The napkins I used are simple linen ones.
Plates: Find unique dinner plates at a thrift store to use as a charger for a simple white salad plate. These Limoges plates, with snow geese flying around the rim, were found in a funky antique store on my travels.
Glassware: It doesn't have to be expensive crystal. Inexpensive clear glasses are perfect in this scenario.
Centerpiece: Fill a bowl that fits the color scheme with pale green Christmas balls. Tuck sprigs of evergreen amongst the balls and you're done. (If you don't have access to pine trees, go to a place where they sell Christmas trees and ask for branches that have been cut off.) Small arrangements of flowers and votive candles finish off the centerpiece.
Flowers: Carnations have gotten a bad rap, partly because they are often dyed colors that are not found in nature. Never mind, go to the grocery store and buy white carnations (these are regular size and minis) and arrange in small glasses. (I've used Moroccan tea glasses, but you can use any small scale vases or glasses, or even glass jars.) Strength in numbers: The trick is to use a lot of carnations, so they are packed together into a tight bundle. Mix in some sprays of evergreen for contrast. Also, multiple small arrangements trump one big one because they are unexpected and low enough to see over. My table is round, so I've grouped them around the centerpiece, but if you have a long, rectangular table, alternate them with votives, on either side of the bowl of Christmas balls, down the length of the table.
Place cards: You don't have to do place cards, but it's a detail that makes a holiday table festive. The ingredients for these are simple: a spray of evergreen, a ribbon, a scalloped tag made with a craft punch, and a hole punch. Instructions, self-explanatory.
Centerpiece
Here's another take on a holiday style moment centerpiece. Orange and brown can be just as festive, in a sophisticated, Hermès, sort of way.
Ingredients:
Large bowl
Wide brown ribbon
Oranges
Clementines
Whole cloves
Bamboo, or other skewer chestnuts
To start, you'll need a large, neutral-colored bowl. Lay a length of wide, chocolate brown, ribbon in the bottom, leaving the ends so they drape onto the table.
Pomanders: Puncture the orange peel with the skewer and insert clove. Be creative... you can make patterns with the cloves or just make a simple band.
Have fun with it, and enjoy the delicious fragrance of citrus and spice.
Arrange large oranges in the bowl and place clementines around them. Sprinkle chestnuts around the perimeter.
Place candlesticks, votives or pillar candles on either side.
(My tips for dinnerware with this centerpiece: white or cream plates, amber or clear glassware and dark brown napkins... très chic.)
PHOTO GALLERY
Home Holiday Style