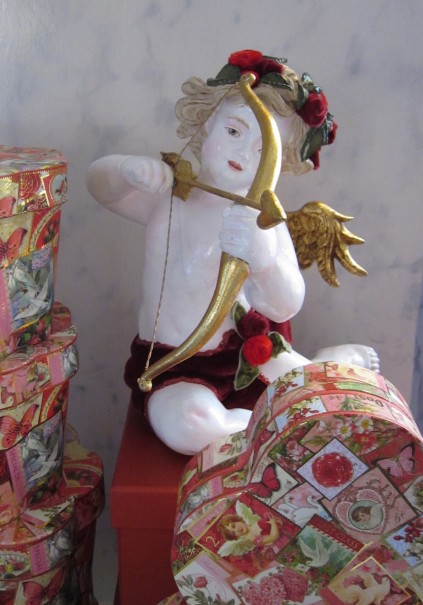 Around every corner in Paris there is an enticing patisserie or chocolatier. I usually stop momentarily to gaze through the window, and then go on my way. One quiet Sunday afternoon I was walking through the Marais, when I stumbled upon Meert. The windows were spilling over with beautifully packaged Valentine's Day sweets, and I stopped momentarily to gaze through the window... and saw the marshmallows, la guimauve.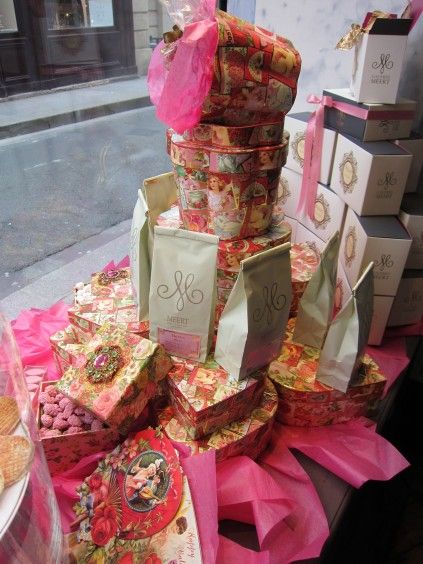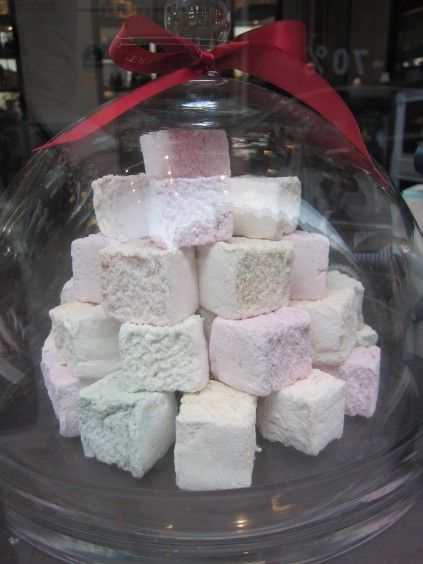 I love marshmallows. These were big and fluffy and colored in shades of soft pastel, hinting to their flavors, which turned out to include orange tree flower, raspberry, violet, passion fruit, chocolate, pear and blackcurrant. The guimauves, as they are called in French, were piled into footed glass jars, with pink ribbons daintily tied to their shapely lids.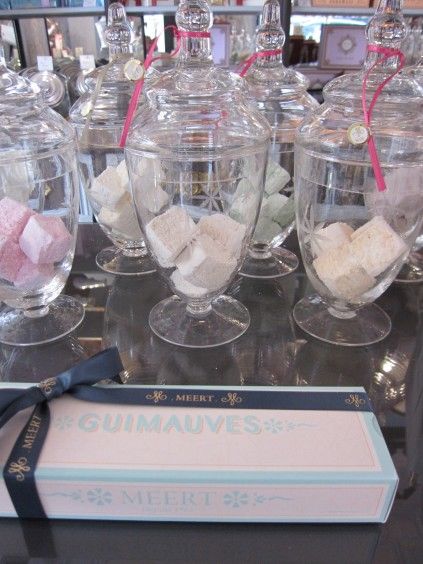 Like sirens, the guimauves lured me in. Inside was an enchanting wonderland of confectionery, exquisitely displayed on shelves and counters... and the air was scented with sugary sweetness.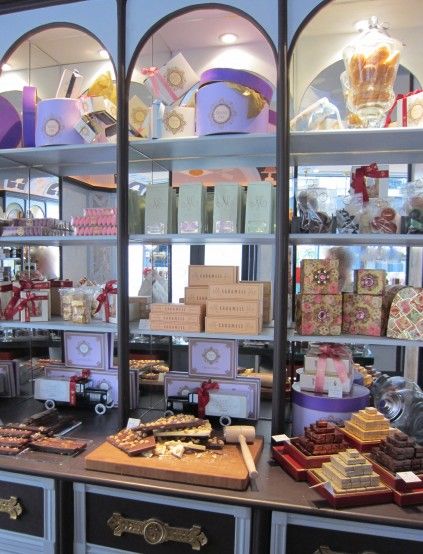 Meert opened their first shop in Lille, France in 1761. When the Count of Lille sang their praises, Meert became the meeting place for high society. In the 19th century Meert became the official chocolate supplier to the King of Belgium. They became famous for their gauffres (waffles), which were a favorite of President Charles DeGaulle, who grew up in Lille.
I was thankful that the the only other customer in the shop was monopolizing the salesman with a particularly complicated order, as it gave me time to linger and peruse, and come up with a reason that I was in there other than to eat a marshmallow, which seemed really lame.
There were the famous gauffres, and platters of marzipan, boxes of sugared fruit, and caramels, and a seemingly infinite variety of chocolates. Slabs of white, milk and dark chocolate dotted with hazelnuts sat next to a mallet on a wooden cutting board, waiting to be hammered into bite-size pieces.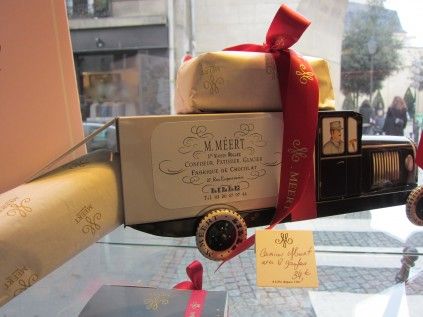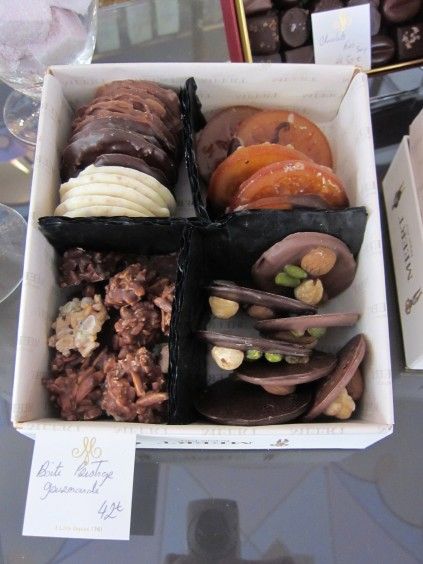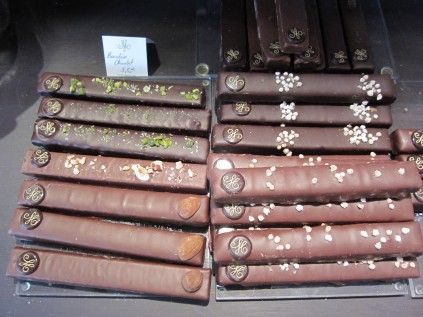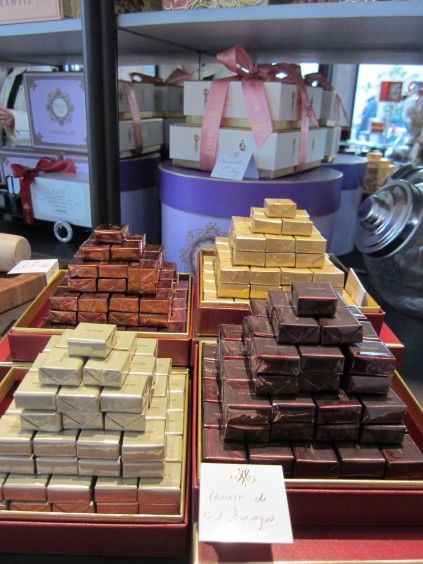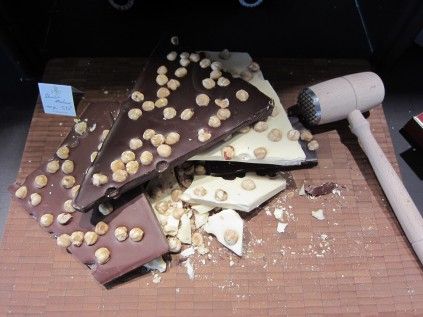 Then it was my turn, and I put together two little gift boxes of chocolates. (Which, naturally, required me to taste the options so I could decide what should be included.)
While the boxes were being wrapped, I nonchalantly asked if I could try the guimauves. (We all know that's what I was really there for.) I chose violet and raspberry, and reveled in the delicate, airy, melt-in-your-mouth deliciousness. They were every bit as delectable as I knew they would be. I would even say that they were the crème de la crème of all marshmallows.
Everyone loves flowers and chocolate for Valentine's Day... but give me marshmallows and I'll be yours!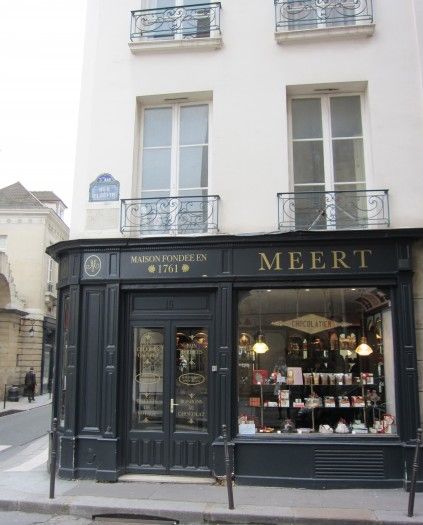 Meert
16 Rue Elzévir
75003 Paris, France
01 49 96 56 94
www.meert.fr
See my blog for more tales of my travels.