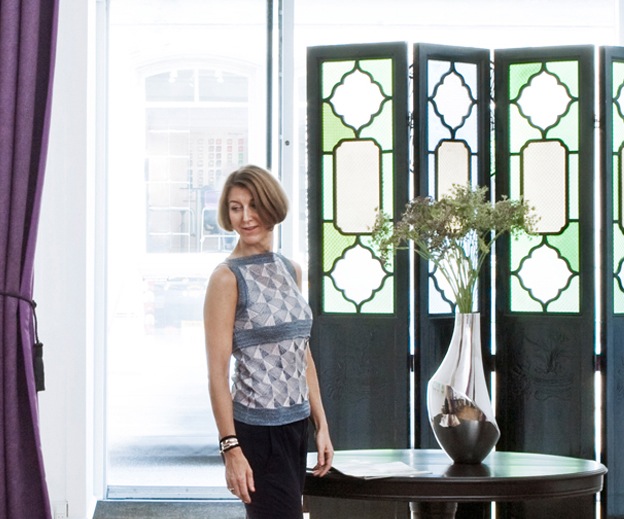 Photo: Lerkenfeldt Photography
When I stepped into the charming Copenhagen shop, I found that its proprietor, Danish jewelry designer, Rebekka Notkin, was every bit as lovely as the elegant jewelry displayed in the window.
I had walked right past the small shop, and then doubled back, because of the gorgeous ring I'd glimpsed out of the corner of my eye. It was perfection in its simplicity...curvy interlocking loops in gleaming gold. I had to try it on.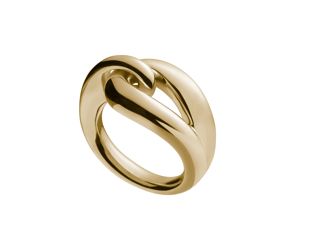 Dressed impeccably in classic cigarette pants and ballet flats, Rebekka showed me her stunning collection of jewelry. In her expert hands, gemstones are artfully combined with gentle curves of precious metals. As I tried on the ring, she told me about her life as a jewelry designer. She began making jewelry as a child...for her Barbie dolls. (How peculiar that we grew up in different countries, yet began our design careers in exactly the same way!)
In 1997, Rebekka opened her first shop in Copenhagen, and in 2009 she moved her atelier and boutique to a well appointed space on the fashionable street of Bredgade. Sunlight streams in through the door, illuminating the understated glass boxes on the walls that display carefully placed glistening jewelry. Georg Jensen vases are filled with flowers, and an antique stained glass screen provides a splash of color and touch of character.
Her philosophy about designing jewelry is similar to my feelings about design for the home.
"I'm very preoccupied with the relationship between aesthetics and function and how it can evolve in new ways."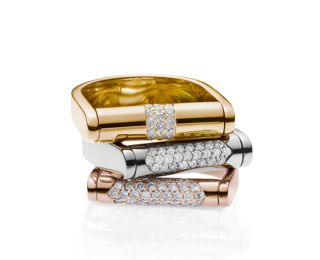 "My designs have no superfluous ornamentation..."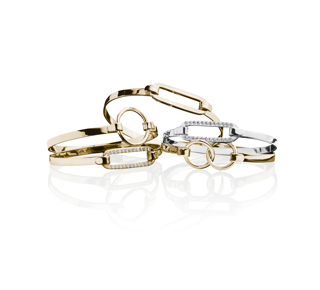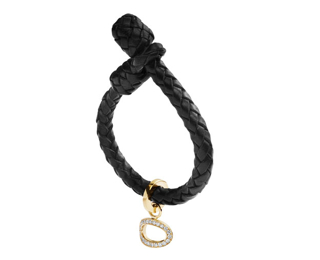 "The jewelry is a symphony of luxurious gemstones and precious metals."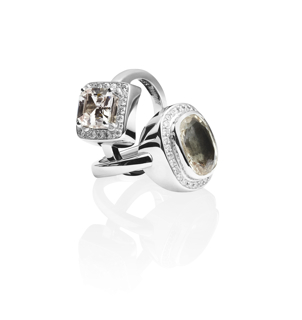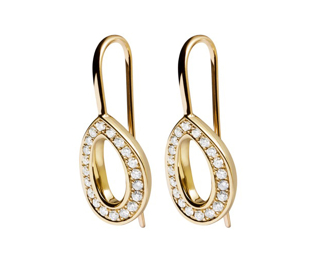 Jewelry photographs: Thomas Ibsen
Rebekka's passionate approach to craftsmanship was inspired by her father, a goldsmith. She started working with him as a teenager, and then went on to study the art, and apprentice in the field. The tools she works with were passed down from her father, and also her grandfather, who was a dental technician.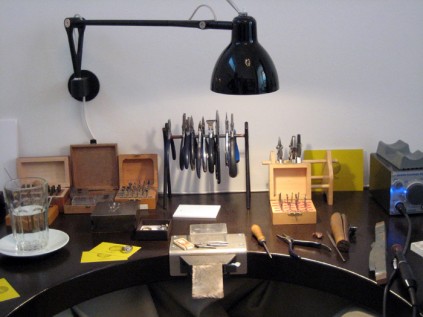 Beyond the boutique is her workshop, through a violet draped arch. Both shop and studio are illuminated by bold Achille Castiglioni for Flos "Taraxcum" pendants. The airy space with its tall ceilings makes an ideal environment for a design studio.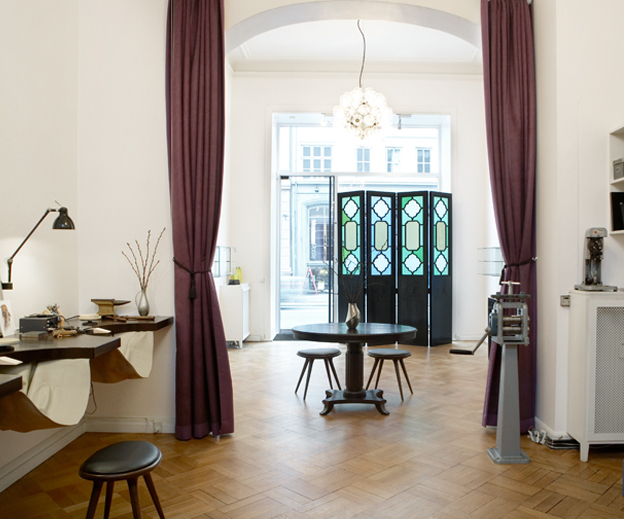 Photo: Lerkenfeldt Photography
The delicate "Deco Fan" wallpaper is by Danish designer, Helene Blanche.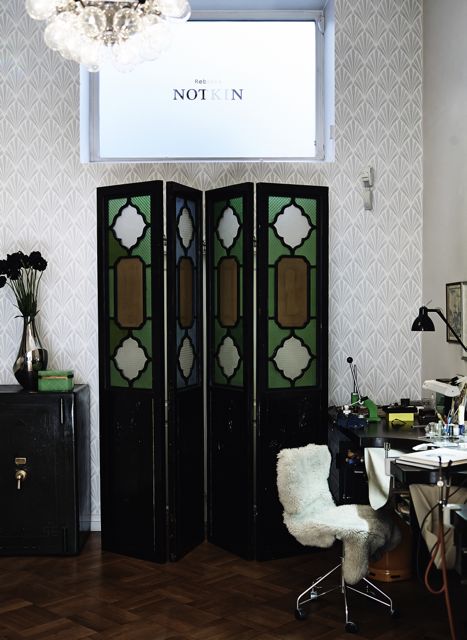 Photo: Asger Mortensen
As with most designers, inspiration can pop up anywhere and at any time, and the line between work and play is blurry, so Rebekka always carries a sketchbook with her. Many jewelry designers work on computers, but she feels more of a connection to the art by putting pen to paper.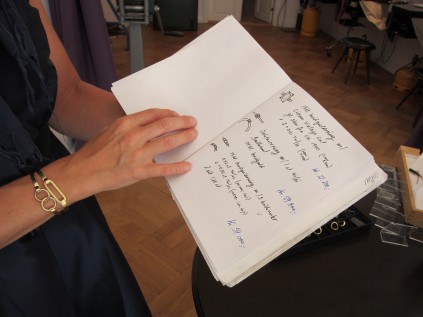 Design is constantly being influenced and shaped by history and culture, and Rebekka speaks eloquently of their impact with regards to jewelry.
"I am inspired by the magic that surrounds jewelry and gemstones in a historical perspective. Jewels represent their times, a trend or art movement. History has influenced jewelry design throughout the ages, be this in gifts of affection, objects of trade, part of a garment, or symbols of knowledge, power, wealth or beauty.
My style icons are Jackie Kennedy and Elizabeth Taylor; Jackie Kennedy for the subdued elegance of her exclusive jewelry, and Elizabeth Taylor for her passion for ostentatious gemstones."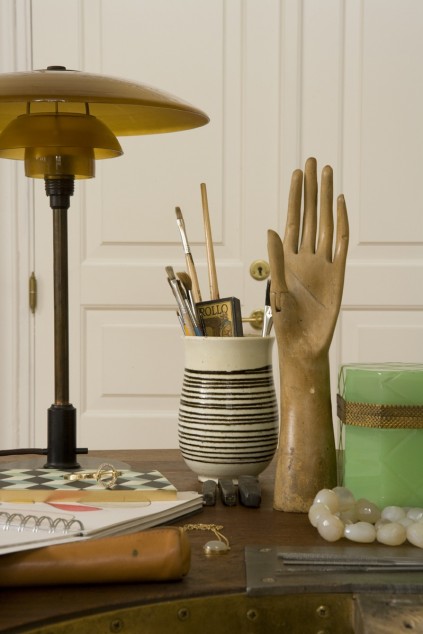 Photo: Lerkenfeldt Photography
I love seeing inside designer's homes, so Rebekka sent me photos of hers. What is it about the Danish that they can effortlessly and successfully mix centuries of history together in one room? Sheer design perfection. I love the juxtaposition of the Poul Henningsen table lamps with the classical reliefs on the plaster walls, and the mid-century Danish modern furniture sitting under that stunning antique chandelier.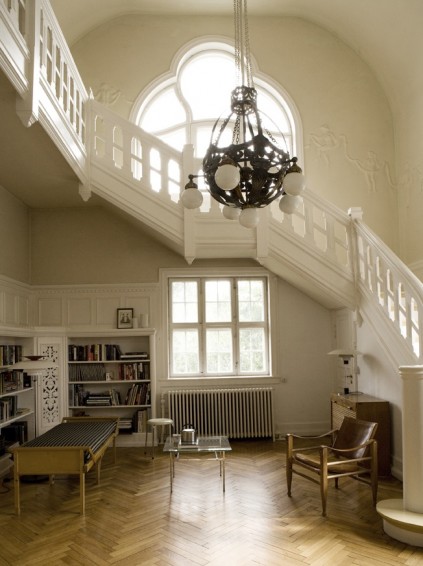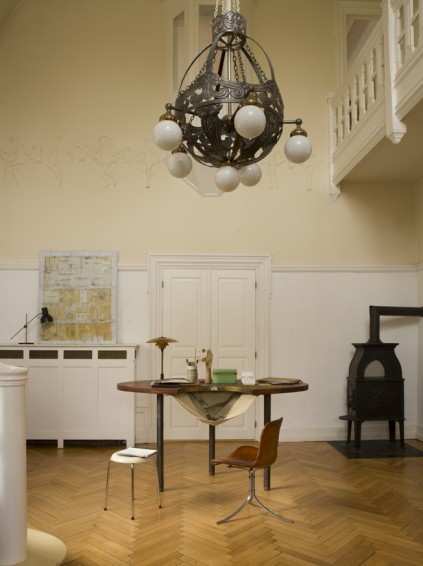 Photos: Lerkenfeldt Photography
(Rebekka recently moved to a new home, which is featured in the June/July issue of Elle Decoration DK.)
Rebekka Notkin's jewelry exemplifies contemporary sophistication, elegance, and style...words that would also describe Rebekka herself.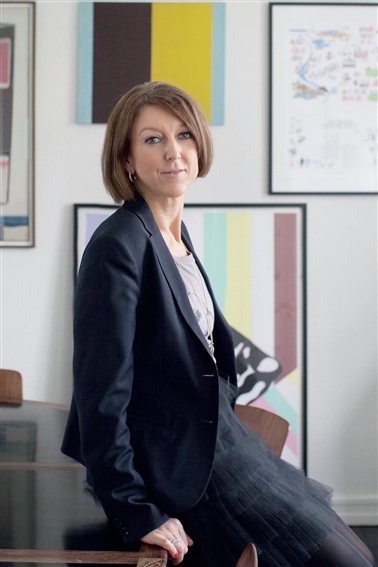 Photo: Katrine Rohrberg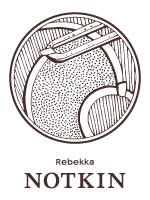 Goldsmith Rebekka Notkin
Bredgade 25
1260 Copenhagen K
rebekkanotkin.dk
FOR MORE STORIES OF FASCINATING TRAVEL ADVENTURES, AND A SOURCEBOOK OF PLACES TO EAT, STAY, SHOP, AND SEE, CHECK OUT MY BLOG, JUST ONE SUITCASE.COM