To me, Easter screams brunch. And with the right planning, it can actually be stress free (well, maybe not stress free, but low stress...). It's all about finding the right menu, and the right menu needs balance. A good menu has a variety of dishes that include a little sweet and a little savory, and a mix of dishes that are served hot vs. cold. Most importantly, there should be a balance between dishes that can be prepared in advance vs. those that need to be made Easter morning. The more you can do ahead of time, the happier you will be. These are three of my favorite Easter recipes that incorporate tradition, but also bring a modern, sophisticated flair. The richness of the Onion Gruyère Tart is perfectly balanced by the light and clean Tuscan Kale salad, and if there is ever a time you can get away with serving candied bacon, Easter is the day!
Tuscan Kale Ribbons with Pomegranate,
Grapefruit, Toasted Pecans and Shaved Parmesan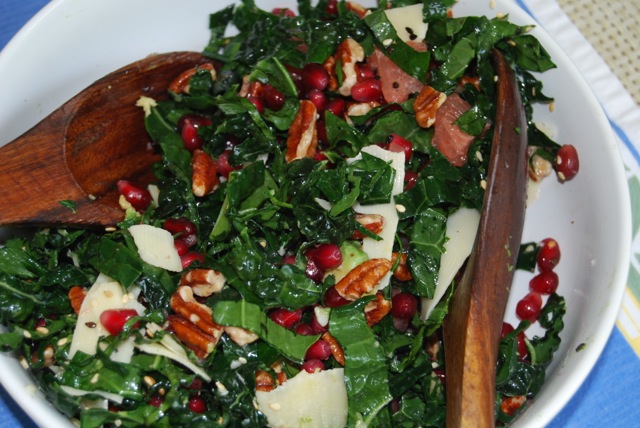 Lemon Vinaigrette:
1 Shallot, minced
3 Tablespoons Lemon juice
3 Tablespoons Rice wine vinegar
1 Tablespoon Honey or Maple Syrup
2 teaspoons Dijon mustard
¼ teaspoon kosher salt
¼ teaspoon freshly ground black pepper
¾ cup olive oil
Kale Ribbon Salad:
2 bunches of Lacinato kale, tough center stems removed, torn or cut into bite size pieces
1 cup pomegranate seeds
½ grapefruit, cut into segments
½ cup toasted pecans
6 oz Parmigiano Reggiano,
1 avocado, sliced
• Whisk together all ingredients for lemon vinaigrette, except oil, until well combined. Slowly drizzle in the olive oil while whisking to emulsify.
• Use a sharp knife to cut out the tough midrib of each kale leaf, and discard. Slice the leaves crosswise into thin, 1/4 inch wide, slices or "ribbons." Place the kale ribbons into a large bowl. Drizzle with enough of the vinaigrette to moisten all the kale. Let the kale absorb the vinaigrette and soften for about 20 minutes.
• Use a vegetable peeler to peel thin shavings from the block of parmesan cheese.
• Add pomegranate seeds, grapefruit, toasted pecans and parmesan shavings to the kale and toss to combine, adding more of the vinaigrette if necessary. Top with avocado slices just before serving.
Make ahead: All ingredients can be prepped a day in advance, and kept separately until Easter morning. The only exception is the avocado, which should be cut just before serving.
Serves 6 to 8
Caramelized Onion & Gruyère Tart with Pancetta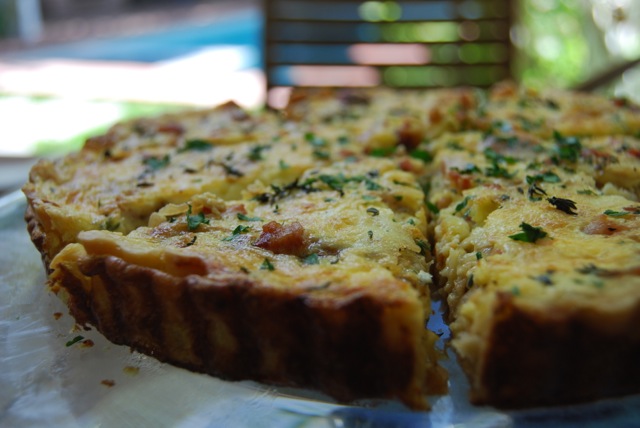 1 recipe Pastry-Dough (see below) or 1 package refrigerated pre-made uncooked pie-crust (ie Pillsbury)
2 tablespoons olive oil
8 oz Pancetta, diced
2-3 medium brown onions (about one pound total), thinly sliced
Salt and freshly ground pepper
1 teaspoon balsamic vinegar
1-2 tablespoons Dijon mustard
2 eggs, plus 1 egg yolk
1 cup heavy cream
3/4 cup grated Gruyère cheese
pinch of freshly grated nutmeg
salt and ground black pepper
• On a lightly floured surface, roll pastry dough into a 12-inch circle. Fit into a 9-by-1 1/2-inch round tart pan, pressing dough into corners. Transfer to freezer to chill for about 10 minutes.
• Preheat oven to 350°. Line pastry with parchment paper or aluminum foil, pressing into the corners and edges. Cover the parchment or foil with baking weights (dried beans, rice, or aluminum pie weights). Bake crust for 15 minutes then remove from oven and let cool a few minutes. Carefully remove parchment paper/foil and weights. Poke the bottom of the pie crust with the tines of a fork (this lets air escape so the crust won't shrink). Return tart pan to oven and bake an additional 10 minutes or until lightly golden. Transfer to a wire rack to cool to cool for a few minutes before filling.
• Meanwhile, heat olive oil in a large, heavy-bottomed sauté on medium heat. Add the diced pancetta, and cook for about 5 minutes, stirring occasionally, until the pancetta pieces are cooked and begin to get slightly crispy and brown. Using a slotted spoon, remove the pancetta pieces to a paper towel lined plate, leaving the rendered fat from the pancetta in the pan. Turn the heat to medium low heat and add the onions. Cook the onions, stirring occasionally, for about 20 minutes.
• Add the balsamic vinegar, and increase the heat to medium high. Cook, stirring often, for about 10 minutes more, or until the onions are caramelized. Remove pan from the heat.
• While the onions are cooking, mix together the eggs, egg yolks, cream, gruyère cheese, and seasoning.
• Place tart pan on a baking sheet to catch any run-off there might be. Spread the pastry case with the mustard and top with the onions. Pour egg mixture over the onions. Transfer to oven, and bake until just set in the center, 30 to 35 minutes. Cool on a wire rack for about 10-15 minutes before slicing.
Make ahead: Tart can be made a day in advance and stored in the refrigerator. Bring to room temperature before reheating. Place tart in 350 F oven for 10 minutes to reheat.
Homemade Pastry Dough:
1 ½ cups all-purpose flour
pinch of salt
6 tablespoons butter, diced
1 egg yolk
• Sift the flour and salt into a bowl. Add the butter and rub into the flour with your fingertips until the mixture resembles fine bread crumbs. Add the egg yolk and 1 tablespoon of cold water and mix to a firm dough. Press dough into a round disk, wrap in plastic and chill in the fridge for about 30 minutes. Well-wrapped dough can be stored in fridge for a couple of days, or in the freezer for up to 3 weeks.
Sweet and Spicy Candied Bacon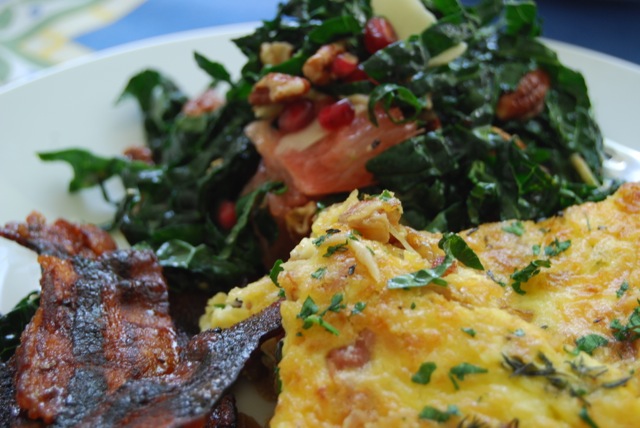 12 slices bacon, about 1/4-inch thick
Finely ground black pepper
1/3 cup light brown sugar
2 teaspoons cayenne pepper
½ teaspoon sea salt
• Preheat the oven to 325 degrees F. Cover a baking sheet with parchment paper or aluminum foil.
• Combine brown sugar, cayenne and salt on a plate (I like to use my hands for this). Lay a slice of bacon onto the sugar mixture, coating it with the sugar. Flip the bacon slice to coat the other side, then lay the slice onto the prepared sheet pan. Repeat with remaining bacon slices, arranging them in a single layer on the baking sheet. Top with another layer of parchment or foil and top it, squarely, with another baking sheet (the weight of the baking sheet will keep the bacon from curling while it cooks).
• Place the tray in the center of the oven and bake for 20 minutes. Check the bacon by lifting the top tray and parchment. If it is not golden brown and fairly crispy, cover again and cook for an additional five minutes (but keep in mind the bacon will get crispier once it's cooled). Once cooked, remove the tray from the oven. Use tongs to carefully remove the bacon from the tray, placing the slices on a wire rack to cool and crisp up. Bacon can be served warm or at room temperature.
Make ahead: Bacon can be made up to a day in advance. Store at room temperature in an air-tight container. Bacon can be re-crisped in at 325 F oven for 5 minutes.