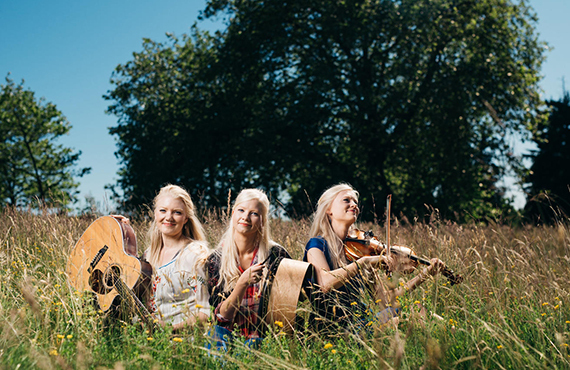 Photo by Gabriel Bienczycki, Zebra Visual
The Gothard Sisters, three sisters who are "multi-instrumentalist Celtic-influenced folk musicians, songwriters, and performers from the Pacific Northwest, USA," have a new CD out this week, Mountain Rose (released Tuesday, June 23, 2015). I asked Greta Gothard, the oldest of the three sisters (Willow is second and Solana is youngest), to chat with me briefly about the album and their musical life.
Q: Tell me about the new CD. What were your inspirations, is there a theme, and is there a story behind the cover art?
A: The new album is called Mountain Rose. It comes from a line in one of the lyrics, as well as the name of a waltz on the album, but to me the mountain rose is symbolic of our musical sound -- the classical rose becoming a rugged little mountain rose -- one who survives the elements and ends up with a grittier, more folky, earthy sound.
The album wasn't intended to have a theme, but it did! There is a theme of hope, simplicity, patience (what does that mean again? They haven't texted me back for 30 MINUTES!) and community. There is also this kind of subplot of little wild animals running through the album -- there is a tune set called "Cat in a Bush," which is lovingly dedicated to the neighborhood cat that keeps squashing our lavender bushes, as well as "The Bandit," that Willow wrote about a raccoon. So that's where the cover artwork came from -- Rosalind the Raccoon, wearing a skirt made out of Nootka rose petals and dancing and playing the fiddle. It's all very authentic, really; we have always come up with stories about little characters.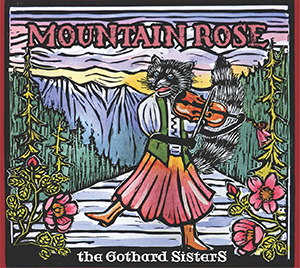 From the album's dedication: "Mountain Rose was inspired by the love of simple, timeless, and transcendent things -- patience, courage, community, the beauty and adventure of nature, and most of all the feeling of comfort in being with those you love as the sun sets on summer nights."
The album artwork was done by Molly Hashimoto, who is a local Seattle artist who is quite well known, and who teaches art at the North Cascades Institute and the Burke Museum, as well as many other places. The cover art is a wood cut block that was hand-carved and tinted by Molly just for the album and we are just so honored that she wanted to help create the art for this project!
Mountain Rose is our third album of original material as well as new arrangements of traditional Celtic and folk songs. In my opinion, it is our most traditional, yet also the most contemporary album that we have done so far. There are definitely older traditional songs on the album -- "Auld Lang Syne" is one of my favorites, and we tried to put a new spin on the song, to do something that hasn't been tried before. It ended up turning into an almost folk-rock finish from a traditional ballad. Doing something new with this classic material is really fun -- we love doing that. There are also original songs on the album. Solana came up with the idea of writing a song about Grace O'Malley, but instead of telling the usual story about the infamous pirate queen and her adventures, this is a song about Grace when she was only nine years old. It's based on a true story -- when she was a little girl she used to sail with her father on his voyages, and once they were attacked by pirates and she saved her father and his crew during the fight. She was a girl with gumption!
There are also love songs -- "I Courted A Sailor" is about a woman waiting for her fiancé to come home from an ocean voyage, and "The Boatman's Call" is about a chance encounter that turns into a simple love story. And of course we always have to have a waltz on the album, so this time it is "Mountain Rose Waltz," which is a lovely country dance. So many fun songs on this album!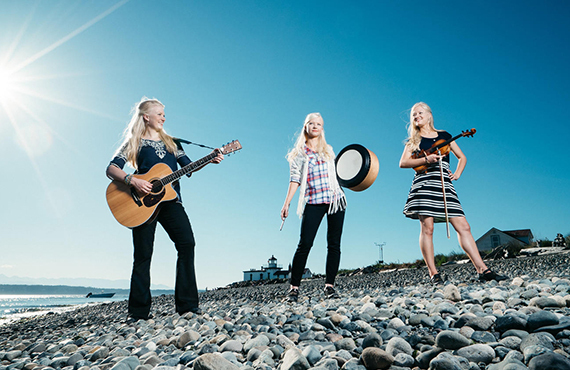 Photo by Gabriel Bienczycki, Zebra Visual
Q: You guys have a really full tour schedule. About how many shows do you do a year?
A: Yes the tour schedule is really full this summer! I think last year we did about ninety shows total, but were away from home a lot longer than that. Someone did the math and found out that we spent a third of the year away from home.  
Q: How many years have you been performing?
A: We've been performing together for almost ten years now -- officially. But we always did little performances together when we were kids so it has probably actually been a lot longer than that!
Q: What do you love most about being musicians? Least?
A: Music is a universal language. It is what feelings sound like. It is cultural heritage and tradition easily shared in a current way. So I love being able to speak and communicate in that language -- to literally be able to sit down with musicians from anywhere in the world and find something that you can play together and enjoy each others' company without even having to speak.
What I like least about being a musician? Having to travel on airplanes with musical instruments and fear for their lives!
Q: I've seen evidence of how much you all work. Have you ever figured out about how many hours a day your work on average? 
A: That's a great question! Our work takes many different forms. There are hours of online work -- maintaining websites and social media, booking concerts and advertising concerts -- then there are hours spent discussing new ideas and writing new music, which can either happen in a very short period of time (all in one day) or be something that you pick away at for months before it finally clicks. Then of course, there's practicing each of our instruments and rehearsing things together as well!
Sometimes it can be hard to tell what time is "work" and what time is "time off," so we try to be organized with our time as much as creative people can be. Usually we'll be working through an entire normal workday, breakfast 'til dinnertime, and a lot of the time we work through the weekends as well. But one of the perks of the job is that we can also just decide to take an entire week or two off whenever we want. We try to keep it balanced!
Q: What are your short and long-term goals?
A: Short term goals would be to send Mountain Rose out into the world and to keep writing new music and songs. Mountain Rose is actually one of the first albums we've put out that has original lyrics on it, and we've gotten a  positive response so far, so we're really excited about that idea! We're hoping to write more songs and pick up ideas for good stories while on the road this summer.
As for long-term goals, we're hoping to always do creative things together, no matter what they are! We love making and writing music together, and mostly hope to bring a little joy in some way to other people's lives.
Find out more about The Gothard Sisters at their website, on Facebook, and on Twitter.
Also published at pamstucky.com.
Somewhere between funny and philosophical lies the truth in Pam Stucky's writing. Pam is the author of several books including the Wishing Rock series (Northern Exposure-esque contemporary fiction, with wit, wisdom, and recipes); the Pam on the Map travelogues (wit and wanderlust); and the YA Sci-Fi The Universes Inside the Lighthouse (wonder and wisdom). Pam's driving forces are curiosity, the pursuit of happiness, the desire to thrive, and the joy in seeing others do the same. Pam is currently working on writing a screenplay, because life is short, so why not try?
Find out more about Pam and check out her personal manifesto at pamstucky.com
Follow Pam on Facebook and Twitter.