In 2013, I visited the town of Akureyri in Iceland's far north, and had the honor of chatting with the town's Mayor Eiríkur Björn Björgvinsson for the travelogue I was writing at the time. When I saw that Lonely Planet recently named Akureyri as one of its "Best Places in Europe 2015," I wrote the mayor again to ask him to share more thoughts about his fabulous town, and he graciously agreed.
From my own experience, I agree that the north is a gorgeous place, and largely under-visited, as many people stick closer to Reykjavík on their travels. But getting to Akureyri is easy (see below), and it's a fantastic base for a longer visit in the north. You can read even more about Akureyri and the surrounding area in my book, Pam on the Map: Iceland.
Thank you again, Mayor, for your time!
Eiríkur Björn Björgvinsson / image via akureyri.net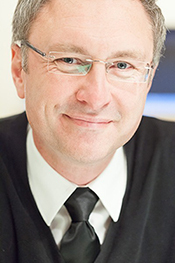 Q: What is Akureyri's population? General location? Demographics?
A: The population is about 18,200 people and the municipality stretches over the Arctic circle, because the island of Grímsey (population of about 100) is a part of the municipality and so is the island Hrísey (with a population of about 150). Akureyri lies at the bottom of the longest fjord in Iceland in the north part of the country. We put high emphasis on family values, since we have lots of young couples with children and also many students who move to our town from the neighbouring municipalities to get education -- Akureyri is sometimes referred to as "the school town" in Iceland.
Q: I had a heck of a time learning to pronounce Akureyri. Can you give us some tips? How is it pronounced?
A: Maybe it is easiest for you to think of the words "accurate," "ray" and "riff" and put them together like this: accu-ray-ri. :)
Q: Do people who want to visit need to worry if they can't speak Icelandic?
A: Certainly not. Almost everyone in Akureyri speaks English and many also other Scandinavian languages, plus German and French.
Akureyri city at dawn
Q: When I visited, I took the long way there, driving the Ring Road counter-clockwise through the south and east before cutting over to Akureyri. I know there are faster ways to get there! How can people get to Akureyri?
A: Yes, you probably took the longest way to Akureyri! If you drive through the west of Iceland from Reykjavík, the trip will take you about four to five hours, depending on how many times you stop to stretch your legs. It's about 380-kilometer drive. Then we have scheduled buses driving from Reykjavík to Akureyri two times a day and that trip takes a bit longer, since the bus stops in a few villages on the way. The domestic airline Flugfélag Íslands has scheduled flights from Reykjavík to Akureyri six or seven times a day and the flight takes 45 minutes. [See also this page for more transportation/travel info.]
Road 1 (the Ring Road), near Akureyri
Q: If a person flies in from Reykjavik, are car rentals available in Akureyri?
A: Yes, all the biggest car rentals in Iceland operate in Akureyri the biggest one in Iceland is Bílaleiga Akureyrar (Akureyri Car Rental) -- Europcar.
Q: Are there any companies that offer day trips from Akureyri?
A: Yes, there are a few of them and more are coming into business every year. Of course, you understand that I can't mention any of them because then I would have to mention all, but you can find information about companies offering day trips on our web page.
Goðafoss waterfall (Waterfall of the Gods) near Akureyri
Q: Akureyri is pretty far north -- just a little farther north than Fairbanks, Alaska, and even farther north than Greenland's capital, Nuuk. Tell me about the weather? What can a person expect in summer? In winter? Is Akureyri accessible in winter?
A: Akureyri is accessible all year round. We have long dark winters and short bright summers, truly an Arctic kind of atmosphere. The summer is rather short, maybe about three or four months, and then you can expect temperatures from maybe 12 to 24 degrees Celsius [53 to 75 Fahrenheit], and often we have sunny days. But you should note that the Icelandic weather can be pretty unpredictable. Icelanders tend to believe that Akureyri is one of the best places in Iceland during summer to enjoy camping and the nice weather. We have fairly harsh winters. Then the weather can be very cold and every winter we have a few beautiful snow storms. That's just positive since Akureyri is the ski capital of Iceland with a magnificent ski resort in Mt. Hlíðarfjall just ten minutes drive from the city centre.
Street in Akureyri
Q: What are some of the top highlights of Akureyri for visitors?
A: Like I mentioned above, during winter it's the ski resort in Mt. Hlíðarfjall, but all year we have many interesting museums, a folk museum, a renowned art museum, aviation museum, museums commemorating famous Icelandic poets and so on. The botanical gardens are always a great attraction for foreigners visiting our town and so is our beautiful church on the hill above the city centre, designed by one of Iceland's most famous architects. Our geothermal swimming pool is one of the best in Iceland, with hot tubs and sauna, and then you can take short trips to watch the sunset, enjoy the bright summer nights, see the northern lights during winter, go hiking in the steep mountains, or take a trip to Hrísey Island to see he shark museum and Grímsey Island to see the puffins during high summer. We have a lot of great restaurants and eat delicatessen from the Icelandic nature. I could go on and on, but for visitors it's best to visit our Tourist Information Centre which is open every day to get some tips and what to do and what to see. You'll find information on opening hours of the Tourist Centre on our site and there you can also read about the many attractions in town and some fun things to do.
Q: Are there annual festivals in Akureyri (or nearby) that people might enjoy? What are they?
A: We have many annual festivals, some say too many! You can read about them on the web page I've mentioned, but the biggest festivals are probably the family festival held on "Verslunarmannahelgi" (Commercial Workers' Weekend) when there's a general holiday the first Monday in August and then there is the Akureyri Wake at the end of August, on the weekend closest to the day the municipality was founded in 1862, which is the 29th of August. Both of these festivals put strong emphasis on the family, music, dancing and outdoor fun.
Geothermal activity near Akureyri
Q: Akureyri is not just a great city, but also a great hub for people who want to visit the area for a few days. What are some other points of interest?
A: Akureyri is like a "little big city" with many museums and all the service you need, for example, international hospital service. For that reason and because of its location in the middle of north Iceland, it is a great base for those wanting to see all the natural gems in the close vicinity. It takes you about an hour to drive to the beautiful Lake Mývatn with all its diverse bird life and hot springs and lava. Then you can go to Húsavík which has become a kind of capital for whale watching in Iceland (although you can also go whale watching from the docks in Akureyri). I could mention the old turf house in Laufás twenty minutes or so from Akureyri and to the west, the Icelandic Emigration Centre in the village of Hofsós and the very popular little fishing village of Siglufjörður. And you can also go horsebackriding on different farms in the neighbourhood.
Old Rectory and Farmhouse Laufas (1866-70) near Akureyri
Q: What are some hidden gems of Akureyri or surrounding areas that you think visitors too often miss?
A: In town I could mention the geothermal swimming pool because I think tourists are not well enough aware of its healing powers and the cleanness of the geothermal water and the hot tubs. It is very popular with the locals, but visitors often seem to miss it, although that has been slowly changing. Also I could mention the river Glerá which runs through town and has beautiful gorges to explore. I would like to mention the reserve area at Krossanesborgir which consists of many rock formations made of basalt which is about five to ten million years old. And don't forget our beautiful islands of Hrísey and Grímsey. Then I would also recommend that our visitors try to stay up all night (at least for one night) to experience the bright Icelandic summer nights.
Bridge in Akureyri
Q: How many days do you think a person needs to really get the full measure of Akureyri and the north?
A: To really get the full measure of Akureyri you would have to move there! But for a person visiting I would recommend four to five days, one or two days exploring our sights and then taking trips to the natural treasures nearby. Once again I point you to our official visitors home page.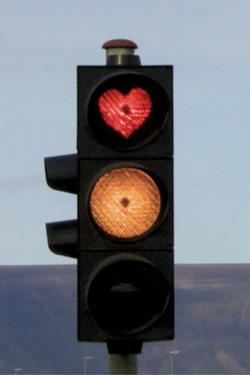 Akureyri traffic light by Matito is licensed under CC BY 2.0

Q: When we spoke before, we talked about the heart-shaped stoplights in Akureyri. Can you tell me the story again about the origin of these hearts? And there was a heart on the hill, too?
A: The hearts appeared as a consequence of the financial crash in Iceland in 2008, when there was a need for some positive thinking and to put emphasis on what really matters. Since then the red hearts in the traffic lights are visible, as well as plenty of red hearts made of the flower "forget me not" decorating windows, cars and signs throughout the town. The huge heart that "pounded" in Mt.Vaðlaheiði opposite the town on the other side of the fjord was made by a private initiative of an electrical company in town together with other supporters. The heart was the size of a football field and was made of about four hundred bulbs.
Q: Why do you think Akureyri is a "can't miss" destination in Iceland?
A: Akureyri is an easy-going town with a very friendly atmosphere. It is relaxed and in that way very different from the hustle and bustle in Reykjavík. Almost everyone in Iceland thinks Akureyri is one of the most beautiful towns in this country and I think visitors can agree with that. Some say the capital has become overcrowded with tourists and so Akureyri is a great option for those wishing to visit a friendly place which offers everything you need and is a great base if you want to explore the wonders of the north.
Mývatn nature baths near Akureyri
Also published on my blog at pamstucky.com.
Somewhere between funny and philosophical lies the truth in Pam Stucky's writing. Pam is the author of several books including the Wishing Rock series (Northern Exposure-esque contemporary fiction, with wit, wisdom, and recipes); the Pam on the Map travelogues (wit and wanderlust); and the YA Sci-Fi The Universes Inside the Lighthouse (wonder and wisdom). Pam's driving forces are curiosity, the pursuit of happiness, the desire to thrive, and the joy in seeing others do the same. Pam is currently working on writing a screenplay, because life is short, so why not try?
Find out more about Pam and check out her personal manifesto at pamstucky.com
Follow Pam on Facebook and Twitter.