In March, I attended the What's Next Boomer Business Summit, a conference focusing on the characteristics, interests, and needs of the baby boomer generation. This year, the oldest boomer is 68, and the youngest turns the big 5-0.
What struck me most during the conference was how younger boomers are changing the aging game. As the most prosperous of all American generations, there was a certain lifestyle to which baby boomers became accustomed, and this is reflected in the changes and choices they are making as they confront the aging of their parents and anticipate their own.
We all know that the physical and cognitive abilities of older people can deteriorate, leaving them unable to manage ordinary tasks and vulnerable to exploitation. It sucks.
Fortunately, thanks to today's tech, we've come a very long way from the "I've fallen and I can't get up" necklace! That phrase became a cultural meme, usually a joke. But you have to admit that this groundbreaking tech gadget created way back in 1987 (and still used today) by Life Alert was a sign of things to come.
Below are a few examples of tech making the lives of elders and their caregivers better and safer. They also demonstrate that the concerns of the members of this generation as they begin to age are style, connectedness, and generally refusing to be hindered in the pursuit of their happiness...
I instantly wanted a Breezie for my mother. This brand-new U.K. company has created a platform that comes pre-installed on a Samsung tablet (it can be bought separately if you already have the tablet). Breezie provides simplified interfaces of apps and platforms (if they have an application programming interface) to make them accessible to people who might be overwhelmed by all the "clutter and confusion" (to quote Mrs. J., a Breezie client) of a regular site.
(Imagine if you could just get rid of all the crap you didn't want or need on Facebook. That's the concept. Makes me want to get a Breezie for myself...)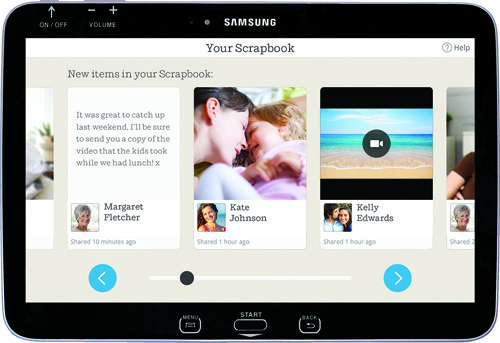 Configuring the Breezie (choosing apps, adding contacts, etc.) is done through the Hub, an online interface, which the user or a trusted friend or caregiver can access at any time, from anywhere.
There is an annual subscription fee that covers access to the Hub and unlimited support. Users (or caregivers) can customize the apps on their Breezie to make them more or less simplified.
Another thing I want to point out -- the tablet is a stylish object, the case comes in fun colors, and the Breezie interface is clean and attractive. It decidedly does not look like "an old person thing," which I think any modern senior would appreciate.
(You should see the iPad case my elderly mother bought. Pink +leopard. Wacky and fun. Unfortunately, it was too complicated for her. So now I have both the iPad and the case...)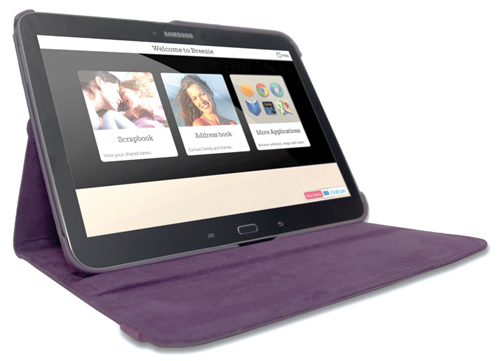 I know exactly how badly people can react when they have to relinquish any control to caregivers, especially when it comes to money. That was the first thing I thought of when I heard about True Link, a prepaid visa card designed to "protect seniors against fraud and other spending mishaps," which seemed to me like the debit cards with training wheels you give teenagers. Not something that would necessarily be well-received by aging parents. But then again, it could relieve stress for some.
The second thing that came to mind was the elderly aunt of a friend who TV-shopped herself into bankruptcy. At which point True Link suddenly sounded interesting. Unfortunately, you can't currently set a budget limit for specific companies (like those shopping channels) with True Link; it's all or nothing. Hope they'll change that soon.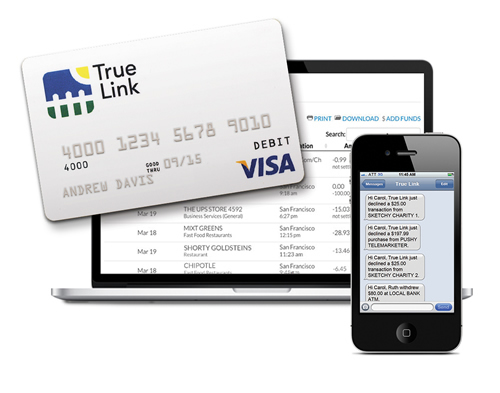 The service, which costs $10 per month, comes with a prepaid credit card that can be funded in the usual ways: direct deposit of Social Security payments, transfer from other bank accounts, etc.
There is a web-based interface the caregiver uses to keep track of purchases and an alert feature that informs the caregiver of transaction activity by sending notifications to his or her mobile phone. The alerts are based on the settings the caregiver has entered into the Spending Monitor: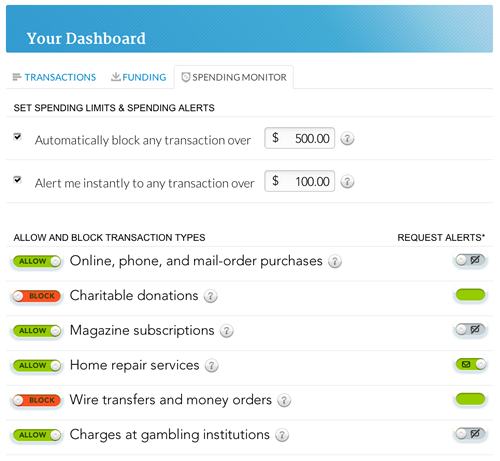 One day the founder of ThinOptics was out biking with a friend when he got a text message. He handed his phone to his pal because he couldn't read the message and didn't have his reading glasses with him. Turns out it was an important message from his son...
ThinOptics makes "insanely" thin and flexible reading glasses that you'll always have with you because they live in the barely noticeable slot on the back of your ThinOptics mobile phone case. And they're not bad looking either.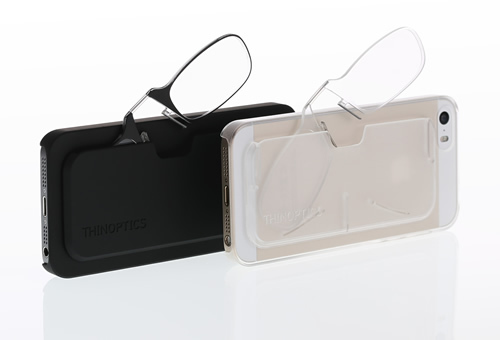 ROVA: Pedestrian Assistive Technology
Kim Goodsell is an endurance athlete who used to bike 50 miles a day and regularly engage in other extreme sports until she came down with a neurodegenerative disorder that is reducing her mobility. Understandably, someone like Kim (pictured below) would not take being slowed down sitting down...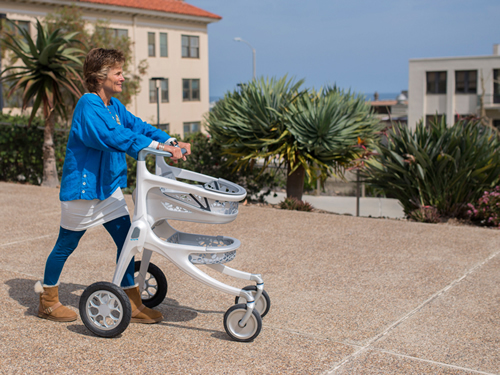 Kim and her husband decided to create a company and build a device that would be more functional and better adapted to our modern lives than traditional walkers. To help them, they engaged DDSTUDIO, a design shop that created the ROVA "mobility platform." DDSTUDIO called in an origami expert to design the folding baskets. The aesthetics of the ROVA, and the materials used echo those of the bicycles that were so much a part of Kim's life. Engineers made sure that it's so well balanced that you can lean on any part of it and it won't tip over. And, yep, that's a spot for your smartphone right there, front and center.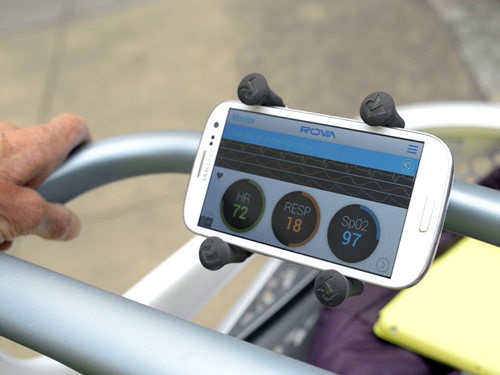 The way DDSTUDIO describes the ROVA pretty much sums up the interests of the Boomer generation: "The sleek, attractive and convenient ROVA allows people to maintain their mobility, dignity and social calendar."
Unlike the other items in this post, Famatic is not a project I saw at the Boomer Summit, but it belongs here with the rest, and I hope they'll be at the summit next year. Famatic, described by its founders as "the social photo frame connecting generations," brings the digital photo frame concept into the 21st century.
The concept is simple. You take a picture of your adorable kids and send it to your grandma with the Famatic app (or through the web interface). It instantly appears in her Famatic frame, which is sitting on the end table right next to where she's sitting and watching TV 1,000 miles away... Priceless!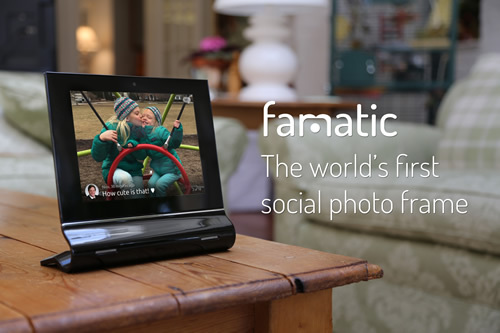 I wish I could have sent my Mom the picture my son sent me by MMS of himself in a Santa hat at work on Christmas Day. If I had Framatic, I could have. This wonderful project, inspired by one of the founder's elderly relatives in a nursing home, is still in the prototype stage, and is raising funds through Kickstarter.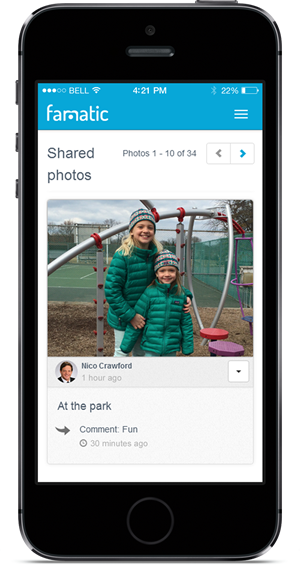 Earlier on Huff/Post50:
PHOTO GALLERY
Top 10 Car Technologies For Aging Drivers